As might be evident by its name, Namecheap comes as a really cheap web hosting and domain name company.
It is headquartered in Los Angeles, United States.
Richard Kirkendall is serving as the CEO of the company for the last 15 years.
Namecheap is growing from strength to strength.
It has a hosting division as well as a domain name counterpart.
Presently, Namecheap boasts around 2 million happy customers.
They started operations in the year 2000 as an ICANN-accredited domain name registrar.
However, they now offer a complementary array of hosting solutions.
Besides hosting services, they also provide domain name registration, email, SSL, website builder, and various services studded with 24-hour support and a 30-day money-back guarantee.
Here, we have come up with Namecheap Review.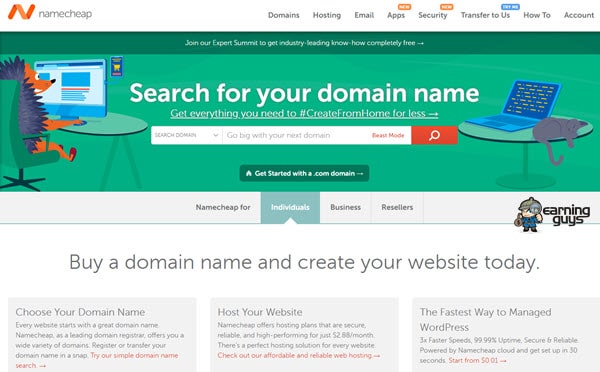 Basically, it's a shared hosting review on Namecheap with insights detailing the advantages offered by this leading hosting company.
Well, we do admit that it's a tough job to pick a hosting service.
Choosing the "best" host depends on lots of factors.
In fact, you have to choose the right fit for your project based on your goals, budget, expertise & experience.
However, when you get a secure, reliable, high-performance, and cheap hosting, you can then hope that you have joined hands with the "best" web host.
Namecheap is surely a good contender when it comes to choosing the best web host.
It's precisely the reason which prompted us to up Namecheap Review.
Here, we take a look at its advantages so that you can exactly figure out where they fit for your hosting needs.
It's a deep and thorough look into their hosting services.
So, let's get on with the Namecheap Review:
Namecheap Hosting Pricing
One of the big plus with Namecheap is its pricing.
Namecheap is shockingly cheap.
Its shared hosting plans start from $17.28 per year.
The true value of Namecheap hosting solutions lies in its renewal prices, bonuses, and caps. It demands a look into how it has structured its hosting prices.
However, it's necessary to point out that with Namecheap you get both Core hosting features as well as Bonus hosting features.
The core of hosting features revolve around the 3D's of web hosting comprising domains, databases, and disk space. It is to be remembered that the core function of a hosting server involves serving website files whenever someone types in your domain name. Namecheap does a good job here.
Domains related to how many domain names you can point to your hosting account. When you have to host multiple websites, you need to have multiple domains allowed. Then there are email addresses per domain.
Databases related to the number of website software that can be run on your hosting server. For instance, a WordPress install needs one database. However, if you have any apps, then you will need more.
Disk space relates to the number of files you can have on your server.
Other features comprise things such as website builder software, advertising credits, backend software, etc.
Namecheap has come up with four pricing tiers.
The baseline Stellar plan
The Stellar Plus Plan
The Stellar Business
All these hosting plans have one thing in common – they have absurdly low intro pricing.
Here's how the plans work out.
Starting with its Stellar plan, this plan comes at $17.28 per year and renews at $34.56 per year. It gets you 20GB in SSD disk space, up to 3 domains and 30 subdomains, 50 MySQL databases, 30 email accounts, and unlimited bandwidth. These attributes of the baseline Stellar plan make it suitable for most users.
Coming onto the Stellar Plus Plan, it is available at $29.28 for the first year, and renews at $58.56 per year. The storage space that you get Unmetered SSD storage. It supports up to Unlimited Website hosting and offers Unlimited MySQL databases. It also adds PostgreSQL support as well. This plan comes with Unlimited email accounts.
There's another plan which can be a better choice for managing lots of websites. Its Stellar Business plan which is a cloud hosting plan and available for $53.28 for year one and renews at $106.56 subsequently. It offers up to Unlimited domains with no limits on webspace, FTP users, email accounts, subdomains, and MySQL databases. It is a great value for money for anyone who requires hosting lots of domains.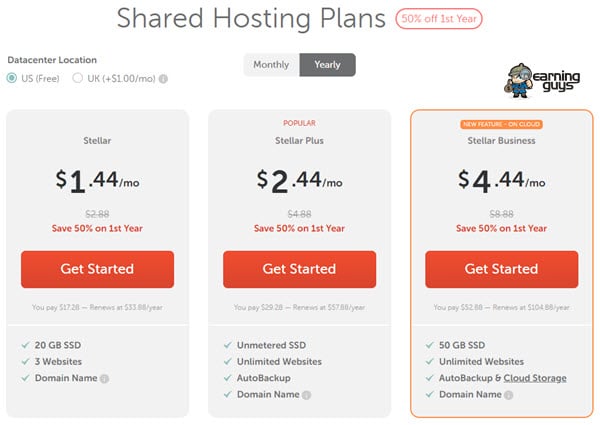 All the above hosting options give you the choice of hosting in the UK or US data center. You even get a 99.9% connectivity guarantee. Plus, Namecheap offers a 30-day money-back guarantee if you have any issues.
So, Namecheap proves to be a solid option for your hosting needs.
Other "Big" Advantages with Namecheap
Namecheap takes a unique approach to hosting infrastructure thereby delivering amazing server speeds, superb website performance, together with a 100% uptime guarantee.
These claims are further strengthened by their assurance to issue account credits in case they fail to meet their 100% uptime SLA.
Moreover, they use the latest Dell server technology which is instrumental in delivering unparalleled uptime, reliability, and performance.
cPanel which is #1 control panel worldwide is included free with all the shared hosting packages. So, you get instant and full control of your website through your web browser.
Namecheap has security standards to match with the best in the industry. Their servers use hardware and software firewalls together with the in-house security package resulting in the most secure servers around.
Namecheap backs its hosting service with its round the clock support team which is available 24 hours a day via Live Chat and Helpdesk. They are ready to help you whenever you need it.
Plus, they make it easy to upgrade at any time as your site grows. If you are expecting a traffic spike, you can move to an appropriate package and power your website, big or small.
To top it all, their hosting services come with pioneering Hosting Guarantee. The guarantee itself signifies the Namecheap commitment in providing excellent hosting services. Plus, you have the freedom to subscribe, modify, or cancel any service at any point in time, without penalty.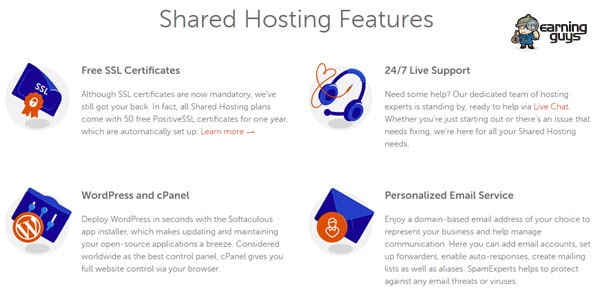 Namecheap Domain Registration
They are very popular as a domain name registrar. They register thousands of domains each year.
Namecheap domain pricing starts as low as $0.48. You can book a domain name with them and get Reliable DNS, Privacy Protection, and 27/7 Support.
Our Verdict
With its cheap pricing, a number of hosting options, and world-class hosting features, Namecheap is surely a good contender for your hosting needs. Moreover, together with shared hosting packages, Namecheap also offers VPS hosting solutions, WordPress hosting, Dedicated Servers, as well as Reseller Hosting options. Namecheap turns out to be a reliable, trustworthy, and secure hosting service provider. It is suitable for websites, big and small.
Namecheap Promo Code
If Namecheap impresses you for your hosting needs, there's more great news coming your way.
We are featuring the Namecheap Promo Code.
It's your best chance to avail of the fantastic discount on the world-class hosting services by Namecheap.
We have listed the Namecheap coupon using which you get a "big" discount on its hosting subscriptions.
It applies to all the hosting plans.
So, get going and make use of this wonderful opportunity.
Hurry!
The offer is only for a limited period.
Go on to use the coupons and save your hard-earned money.
Namecheap Promo Code gives you a "Big" Discount.
This offer is exclusively available for our readers.
Make the most of this wonderful discount deal/offer on Namecheap hosting packages.
Professional hosting from Namecheap from only $1.44/mo
Register your domain names from Namecheap at only $0.88
Get PositiveSSL for just $5.88
Namecheap VPS Hosting: Virtual private server from only $11.88/mo