Print on Demand Sites has become a revolution. They offer the opportunity to earn money online. They are people who are making hundreds of dollars yearly by selling print on demand products.
You simply need a design for printing on a product to start making money from this business. Here, we have shared 20 Best Print on Demand Sites for artists and designers.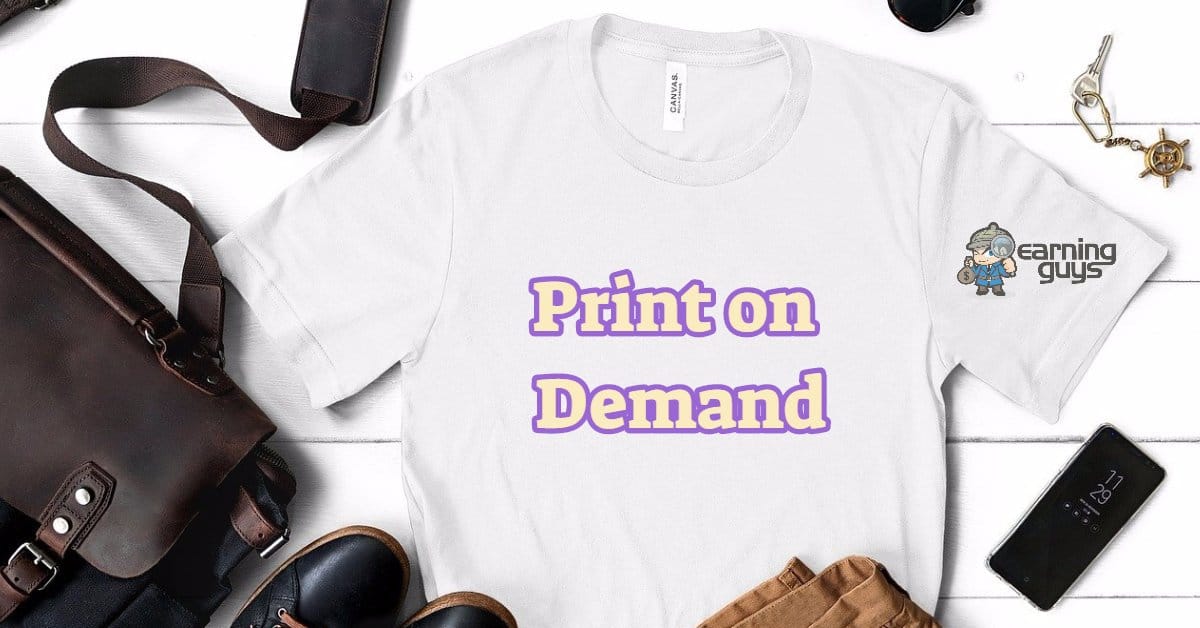 Print on Demand Sites enables you to create your designs online. It can bring your art to life. So, you can set up a shop or get a link to share on social media and sell without having to own any inventory or manage a shipment.
You can make simple text shirts and even put your hand-drawn designs on water bottles or mugs.
With print on demand, you have the opportunity to make passive income. People will love your designs, and you can deliver sales while you sleep.
These are sites where printing is carried out in small quantities based on the order. They are different from publishing houses and garment companies in the sense that they are more customer need-based.
Print on demand sites allows you to print books, clothes, mugs, mobile cases, and home décor items.
Artists and designers can upload their designs on these sites. They get paid out for whichever art has been used. It's a big platform as your art gets noticed by people across the globe. Another good thing is that most sites do not require any upfront payment for showcasing your designs.
On the other hand, customers get products that are custom made and unique. Many people out there do not want to support big brands and want something "different."
So, these sites and services prove useful for such customers.
Many services in the market offer print-on-demand. However, quality, cost, and ease of use vary. To help you out in your search, we have featured 20 Best Print on Demand Sites. So, this post can help you to kick-start your new side hustle.
From t-shirts to posters, mugs to mobile cases, you can put your design on everyday products and sell them online. There is no need to buy and hold your inventory. So, there is no fear of a pile of products that aren't selling.
With Print-on-demand sites, you can bypass the time, investment, and risk linked with managing inventory. It means that you can sell custom products at a fraction of the cost.
What is Print on Demand?
Print on Demand can be understood as a process where you work with a supplier for customizing white-label products with your own designs, which can be sold on a per-order basis under your brand.
It means you don't pay for the product until it is actually sold. So, you don't have to buy in bulk or hold any inventory yourself.
The best part with print-on-demand services is that your supplier handles everything after the sale (such as printing and shipping). So, it's a matter of only a few clicks to fulfill an order once a sale is made.
Let's give you an example.
Let's say you pay $10 for a t-shirt with your custom design on it. On your digital storefront, you list the same t-shirt for $25.
When a customer happens to buy this t-shirt, the order is forwarded to your printing partner that caters to printing the t-shirt and shipping it to your customer.
Since you sold the t-shirt for $25 and paid $10 to the supplier, you get to make a profit of $15 to keep.
The good thing with print-on-demand is that you don't have to be a great graphic designer or artist to make money with this side hustle. You can come up with text, photos, simple graphics, and witty slogans. These are the things that quickly sell online. You can make designs right in the print-on-demand service for free!!
The print-on-demand services can be used for:
Testing a business idea without the risks of buying and holding inventory
Monetizing an audience that you've built. It's a great option if you're a YouTuber, Cartoonist, or Social Media Influencer. It means that you can spend your time creating content rather than just fulfilling orders.
Creating original products for a niche of customers. For instance, apparel for people who are interested in sports.
Easily print one-off items such as t-shirts, bags, books, phone cases, mugs, clocks, laptop skins, and so much more.
Pros
Create Products Quickly: Once you create the design, you can put the product for sale in minutes
You don't have to do shipping. Shipping and fulfillment are taken care of by the supplier. After the sale, you are only responsible for customer service.
Low investment & low risk: You do not need to hold any inventory physically. So, products can be easily added or removed. You can test ideas or change your approach
Cons
On-demand products yield thinner profits as cost per item is higher than if you buy in bulk. However, it depends on how you price them and acquire customers.
Less control over shipping. Your options are limited if you want to create a standout unboxing experience.
Your ability to customize products is limited by the vendor and the product. You need to weigh base costs, customization options, available sizes, as well as printing techniques when deciding on which products to customize.
How to earn with Print on Demand?
Print on Demand can be a great source of passive income for anyone who has built an audience, including Influencers, YouTubers, Podcasters, and established businesses.
It's a form of drop-shipping wherein you don't need to hold any stocks for selling online. Print on Demand can turn out to be a great source of revenue for you when you have a passion for design or background in graphic designing, or when you want to share your artwork with the world.
However, it will require time and effort for building up, especially when you don't already have an audience. You don't have to be a world-class designer to get started with Print on Demand. Here, even text-based phrases sell.
Moreover, you don't need any fancy software for creating excellent graphics. You only need to have creative ideas and make basic artwork to get started with Print on Demand. Therefore, Print on Demand turns out to be easy for beginners to get started.
Print on Demand (or POD) Services handle printing and shipping of products on your behalf. So, you don't need to invest your money in printers or stock. POD Services pay you a commission or a flat fee for each sale.
Here, we share with you the steps of making passive income with Print on Demand:
Step #1: Pick a niche you are passionate about
Choose a topic of interest. It will help you to stand out against other competitors. We suggest that you should choose an area that matches your favorite hobbies. You should target a market that you are already part of.
You can even search for Google Trends. You can explore Pinterest to find ideas for graphics that are in trend about a specific niche. However, you should not copy other people's designs. The internet should only come out as a source of inspiration. So, you should create your artwork or original designs.
Step #2: Create your Artwork
If you are a graphic designer, you may already possess a decent collection of digital artwork. So, collect your best ideas if you already have what you need. Otherwise, you have a couple of options:
You can use any free online tools (e.g., Canva) for creating your designs
If you can afford some money, you should go for Adobe Illustrator to create more complex designs. It will enable you to have professional designs. If you need help, then you can access tutorial videos on YouTube.
If you are not good at designing digital artwork, logos, or catchphrases, then you can get it done at a very low cost on Fiverr.com. You can have beautifully crafted artwork at around $5. You can get the designs that can attract the right attention from your potential market.
Step #3: Select a Print on Demand Platform
You need to choose the right print-on-demand platform to have your orders fulfilled and shipped. These companies also take care of returns and payments.
The right platform will allow you to get the greatest level of success with respect to product and printing quality. You should look at what each platform has to offer for products.
In fact, you should choose a platform depending on the products that you would like to sell. Here, you will find much powerful Print on Demand platforms such as Redbubble, Printify, Printful, TeeSpring, and more.
Step #4: Create Your First Product
You should come up with your product. Make sure that you describe it well when you create your titles and descriptions. You should ask your clients why you created that design and what it means to you or your brand. When you develop good product descriptions, it helps your SEO be found in search engines such as Google.
Step #5: Promote your Products
Finally, you should promote your products. It is not required for you to go for paid advertising to attract an audience. However, you should share your work on social media.
For example, Instagram proves an excellent platform for clothing and lifestyle products. You can sell on platforms like Amazon, eBay, etc. You can also market your work on Pinterest since it is very image-oriented.
What else you need to know about Print-on-Demand?
Print-on-Demand is a very passive way of earning an extra income, especially for YouTubers, Influencers, and Instagrammers.
All you are required to do is to create digital artwork and upload it to the right platform. The POD platforms will handle everything else (from shipping to returns).
When there is a demand for your products, you can keep making money off them. So, Print on Demand turns out to be a great way to make extra revenue.
Startup Costs
The startup costs for the Print on Demand model is very low. You simply need a laptop, or a phone, or even a tablet and an internet connection to get going. So, you don't need to procure much for starting this business. A little creativity is all you need.
Time
It can take some time to create your products (unless you already have the artwork). However, you can have it done on Fiverr and save time. All you are required to do is to upload your products and design your online store. This can be done relatively quickly.
Difficulty
If creating artwork is your hobby, then it's somewhat a cakewalk to create excellent designs. So, Print on Demand is a reasonably effortless model.
You need to upload your work to the right platform so that people can order your products and get paid for your efforts. However, you have to market and promote your products.
Seasonality
Print on Demand is not primarily seasonal if you are selling non-seasonal products. However, if you're selling seasonal products (e.g., Christmas sweaters), you can experience a slump once the season is over. Otherwise, Print on Demand is not very seasonal and remains a relevant business all round the year.
Risk
POD is a pretty low-risk business model because you don't need to invest much to create your online store. So, there is little to lose in case the idea does not work well.
However, there can be no guarantee that your designs interest your audience. There is also the risk of fees. You can lose profits on fees.
ROI (Return on Investment)
Print on Demand offers an average return on investment because of profit margins. Having said that, POD is essentially a passive income source that can help you make decent money online.
20 Top Print on Demand Websites
Now, we head over and showcase you the 20 best Print on Demand Sites. Here is the list of best Print on Demand Sites. Let's have a look.
TeeSpring is one of the top Print on Demand website out there. They have one of the best designs and U.I.s on this list. Initially, they only allowed the selling of t-shirts. However, now they have added several products in their marketplace.
You could either choose an existing design on the portal or create one on your own. They have a minimum quantity requirement for printing. You need to launch campaigns and wait for a minimum of three days to finish them before the orders are fulfilled. They pay you once you sell enough products (shirts).
TeeSpring offers various categories that can be browsed by interests, hobbies, animals, music, age, locations, sports, and more. So, you can browse hundreds of designs on TeeSpring.
TeeSpring can ship worldwide, but the USA is their favorite country where shipping times are from two to five business days. However, for international shipping, it takes 10-16 days to ship to CA/UK or more if you're in other countries.
TeeSpring allows you to set your prices and margins. The more you sell, the less you can pay per product. With TeeSpring, you can sell products such as t-shirts, mugs, hoodies, canvas, home décor, pants, tank tops, gifts, etc.
TeeSpring allows you to create a store if you wish to sell more than just a few designs. You can contact your customers via email. With their analytics dashboard, you can check every step in this game. Their easy-to-use platform allows you to make money selling your designs on loads of products.
They handle everything for you from printing, shipping, and customer service. So, TeeSpring turns out a great option when you're just starting to create your designs, or when you already have a well-known brand and want to offer merch to your fans in an easy way.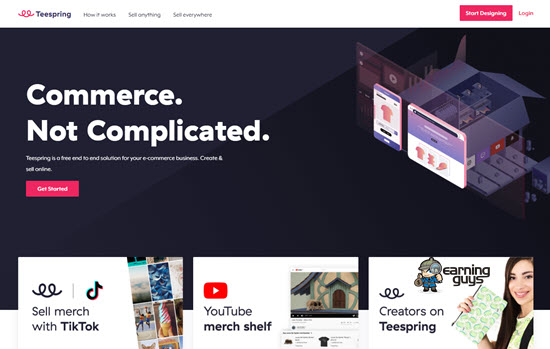 Zazzle is known for its customization capacity, which is unique as well as incredible. Here, you can create more than 1300+ items and can even customize them.
You can choose the art of an artist or design something on your own. The website has become hugely popular and sees as much as 30 million visitors each month.
You can print t-shirts, buttons, mugs, invitations, tote bags, stickers, business cards, kid's clothes, and more at Zazzle.
Main Highlights:
Lots of products for artists
High traffic
Select your royalty
You get tutorials and tips from Zazzle for improving your product
You are required to sign up for an account.
It offers three account options, such as:
You can upload your designs on the platform, select the products you want your designs to be printed, and post them for sale.
Zazzle takes care of manufacture, printing, and shipping.
Makers can manufacture their products and upload them on Zazzle for sale. However, you need to handle manufacturing and shipping.
Affiliates can sell whatever is on the platform and earn from it.
The Zazzle Advantage
Zazzle is free to join. It allows you to set up your store for selling a wide variety of products
Zazzle allows you to make your own designs available for others to sell. You can set the pricing on your items and earn significant discounts (volume) based on monthly sales
Zazzle handles production, payment processing, shipping, returns, as well as customer service so that you can focus on creating and selling your products.
There are promotional tools on offer, plus useful tracking reports
It has come up with a dedicated customer support team that can help you with your questions via email, call, or online chat
Extensive knowledge base so that you don't have to contact support on every minor issue.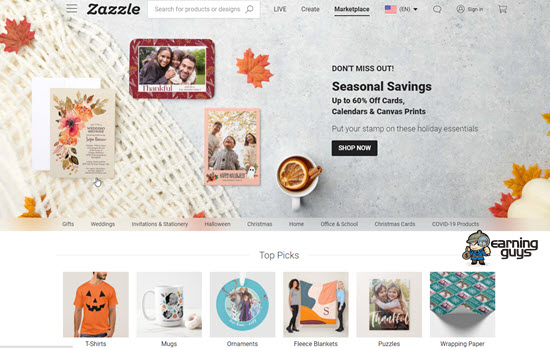 Redbubble is a reputed online marketplace for a number of products. Here, the artwork is submitted by a diverse community that remains a big player in the game. It is one of the best sites on the internet, having a big consumer base.
At Redbubble, you can print a wide variety of merchandise, including t-shirts, skirts, notebooks, postcards, scarves, duvet covers, stickers, and more.
Main Highlights:
Free to join
Easy to use interface
Fast upload process
You can sell your art for a diverse range of products
You can set your own margins & pricing
You can sign up with a free account with Redbubble.
You get to receive email updates on features and promotions. Moreover, there's no formal vetting process. You can have to give your consent to the User Agreement, and you need to be above 16 years of age. You have to open the Redbubble shop for uploading your designs. You can choose a design of your choice on a product you want.
Redbubble works with a global third-party printer and shipper network. So, your customers' orders are sent to their doorsteps. You can choose a payment option that is available in your country. Redbubble allows you to set profit margins for each product. It charges only base prices. So, anything above that is yours.
The Redbubble Advantage
The platform is easy to navigate, simple, and straightforward. There are self-explanatory features and buttons.
Redbubble meets high standards of quality for the products offered. It offers a wide array of products such as men/women/kids and baby items, bags, gifts, stationery, home décor, stickers, device cases, and more.
Redbubble does not ship for free. However, their service is of high quality. The costs are based on the type of shipping and location.
It has a highly responsive and dedicated support team. The response time is close to 4-hour. You can contact support through live chat, Twitter, email, as well as other options.
It offers a help center for sellers and buyers to get answers to their questions.
Payment is made through direct bank deposit and Paypal. The payment cycle runs from the 15th of a month to the 15th of the next month.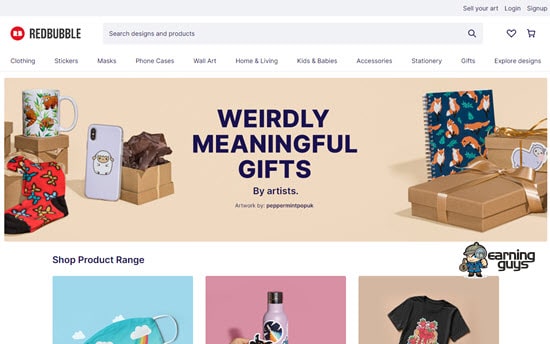 TeePublic is another very potent option for getting started in the Print on Demand business. It has a big community (like Design by Humans) that supports artists and helps you with creativity.
TeePublic offers excellent customer service. It has many unique items for customizing like mugs, t-shirts, and laptop cases.
TeePublic works as an indie community. It allows you to sign up and create a digital store without the need to have your own site.
Some of the other products you can sell here are wall art, notebooks, home décor, mugs, tapestries, etc. Here, you can upload your artwork and sell it to the world as apparel and many other products.
TeePublic even offers you an opportunity to become an affiliate seller. So, you don't have to come up with your own designs to make a profit. They are headquartered in the United States and have fulfillment centers in the U.S., U.K., and Netherlands.
It has a wide array of items on which you can print your designs, such as adult & kids t-shirts, infant onesies, posters, hoodies, art prints, phone cases, mugs, canvas prints, notebooks, stickers, laptop sleeves, and crewnecks.
TeePublic is known for its sustainable production model. The products are sourced from ethical suppliers, and they use recyclable shipping materials with biodegradable inks.
Here, customers get the option to hire a designer. So, if someone likes your design style, they can contact you and work directly with you. It means that at TeePublic, you get multiple ways to create and sell your art.
Payment methods include PayPal and Payoneer. The payment is made on the 15th of every month for the sales made during the previous calendar month. So, for sales in January, you get paid for these on February 15th.
TeePublic gives you the option to change your payment method in your account. The best thing with TeePublic is that it is free to use and requires no initial investment. It allows you to upload your designs and sell them without any initial payment.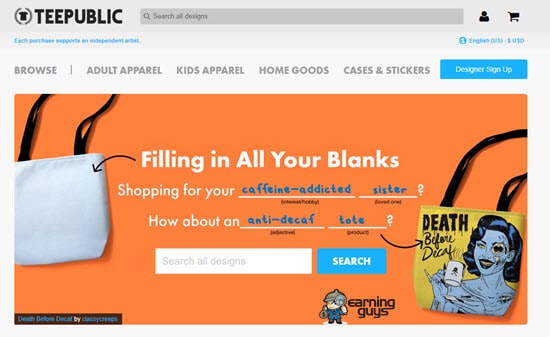 Printful is a well-reputed and an old player in the Print on Demand business. They are running successfully since 2013 and have developed a very potent model for entrepreneurs.
In fact, entrepreneurs can advertise their products on other e-commerce sites. When they receive an order, they communicate with Printful, who goes on to print and deliver the product to the consumer.
Printful can be used to print a wide range of products such as clothes for all ages, accessories like tote bags, phone cases, décor items such as pillow covers, towels, and wall art and other items.
Main Highlights:
You will not face any hassle of stocks, printing, and production-related issues
Entrepreneurs need to concentrate only on creating products and selling them
They deliver high-quality products
They take to drop shipping
You are allowed to connect your online store to Printful. It goes on to fill it up with products covered in your own custom designs. Your customers can place their orders. Products are printed and shipped on Demand under your brand.
Orders are automatically sent to Printful, where they get printed, packed, and shipped. You get a notification with the tracking number when orders are shipped. The best thing is that your clients receive their orders in packages that are covered with your brand. So, it appears as if you shipped it out yourself.
The Printful Advantage
The following are the reasons which make Printful one of the top Print on Demand sites out there:
Everything gets printed and shipped under your brand.
There is no need to keep inventory. You can order as you like. Everything is printed on-demand.
You need to pay only when an order is submitted and only for products ordered.
Four fulfillment locations in strategic spots such as North Carolina, Charlotte, and Rigia or Latvia in Europe. It means that you can be closer to your customers.
Automated order import from your online store into the Printful system that is sent to fulfillment.
Printful works with global carriers such as FedEx, DHL, USPS.Com, and APC Postal Logistics, thereby giving you reliable and affordable shipping options
Printful has set up a reliable and customer-friendly support team that is ready to answer all your questions any time
Printful integrates with many platforms including but not limited to Etsy, Amazon, eBay, WooCommerce, Shopify, and BigCommerce.
The Printful app allows you to stay informed and manage your store. You can receive notifications, track your orders, report any problems, call or email Printful support.
Fine Art America is another reliable and reputed Print on Demand Site. It is one of those POD sites that doesn't print apparel. In fact, it is a platform that is heavy on art. You can see many paintings and images of paintings that are not commonly found in other sites.
So, Fine Art America turns out one of the best places for art lovers.
Fine Art America allows you to print: wall art, posters, tapestries, art prints, home décor items such as cushions, bath towels, shower curtains, select beach gear, tech products like charges, and phone cases.
Hundreds and thousands of independent artists and iconic brands are connected with Fine Art America. Millions of unique products are on offer at Fine Art America. It is headquartered in Santa Monica, California. It runs 16 global production facilities in five different countries that function 24 hours per day.
It was launched way back in 2006. Fine Art America has become one of the largest online art marketplaces in the world. It is home to more than 500,000 living artists and photographers who currently offer ten million images for Fine Art America.
Key Highlights:
Here, you can sell for free
You can set your prices and margins
License your artwork or sell the rights
Although artists can set their sale prices, they do not know the final price of the product. So, the profit margins made by Fine Art America remains unknown to them.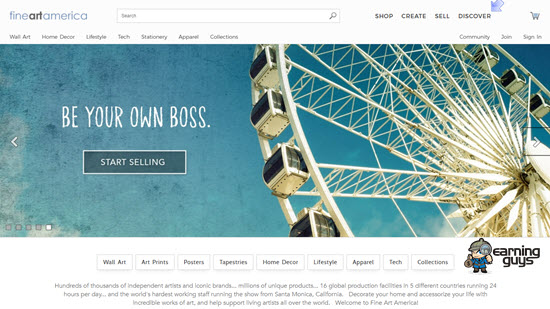 The unique thing about Society6 is that it has no geographical borders. So, artists from across the globe can upload and sell their art. Its niche area is Art prints. It's one of the best Print on Demand Sites for creative people that love design and aesthetics.
Society6 centers on home décor items for making one's home beautiful. However, it also allows you to design art, apparel, gifts, and furnishings. Customers can order art prints, shower curtains, yoga mats, tapestries, and more.
You can sell on Society6 and still hold the rights to your artwork. You can set the prices and select the products you are comfortable with being made from your designs. Society6 appreciates artists for their hard work. Moreover, artists get a commission when they recommend fellow artists sell more.
Society6 offers hassle-free shopping once you place your order. The expected delivery time is four to fourteen days if you are in the U.S. or Australia. However, you can expect delivery within 2-4 weeks if you live anywhere else.
Society6 is a huge supporter of the community of artists that use their marketplace for earning an income. Art prints are surely a big focus at Society6. However, they also sell other products from apparel to stationery and even home goods.
You need to upload your artwork with the right dimensions. You have to select the products that you want to sell your art on. Finally, you need to promote your work so that buyers can know where to find your items. Once you sign up to sell, you get an artist shop customized with an avatar, artist bio, and a cover image.
Society6 makes selling super easy, no matter where in the world you are located. They take care of printing and shipping as orders come. They even take care of customer service so that you can focus on art designing. You also get support from other artists when you join one of their many communities.
So, Society6 has become the best place for art-focused customers as they know that they can find what they want.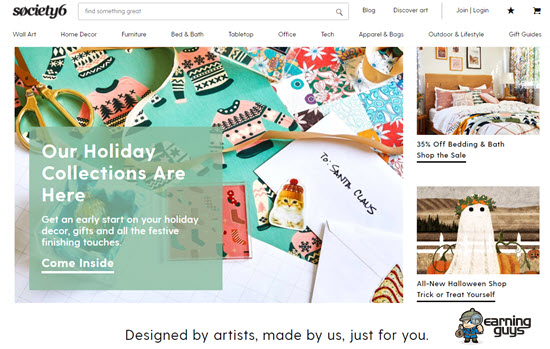 Spreadshirt is one such POD company that allows you to create and sell custom products. They have a wide array of items and are headquartered in Germany (most of the companies that have been showcased in this list are based in the U.S.). It was founded in 2002. The platform is available in 12 languages and 18 markets.
Spreadshirt offers a user-friendly interface and has plenty of options that you can use as an artist. In fact, they have over 100 items. So, you can do a lot of work with them.
The products you can sell at Spreadshirt include kid's clothing, tablet cases, phone cases, and water bottles.
They are one such POD company that goes for trending items. So, whatever is making waves in the market can surely be found at Spreadshirt. Moreover, the products are super easy to customize with your designs.
In fact, they have sold over 20 million items already. Spreadshirt makes payment through Direct Deposit and PayPal on the 15th of each month.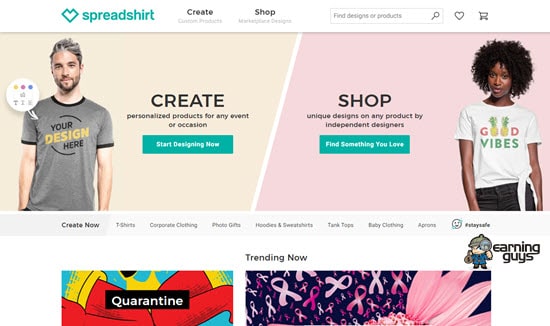 Displate is a relatively new player in the POD business arena. However, they have experienced great growth and have a very large social media following.
They have a well organized and well-categorized site. So, customers can easily find what they want. Artists can easily figure out where their work might fit best.
Displate has a very high social media numbers (such as on Facebook) and shows consistent growth in brand searches. So, if your work fits with their audience, you could get a reasonable slice of that action.
They have an easy upload process. They are good at custom printing your photograph or artwork onto large metal plates. They have also come up with an online store where they host different art designs by different artists.
It enables you to sign up as an artist and sell your prints right through their marketplace. You can upload your art and sell it through the website. It is free to join. You don't need to invest anything except your time and energy into it. They pay through PayPal, and the minimum payout threshold is $50 only.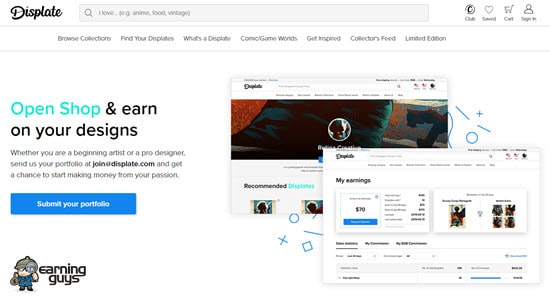 Threadless is one of the most interesting Print on Demand Sites out there. It has a unique way of working. Here, people can submit designs, and they are only approved for sale when the community votes them up. The whole process requires one to two days. So, plan accordingly.
This might turn out to be quite challenging for you as it means that Threadless has a stringent selection process before the designs can be made available to the consumer. However, the nice thing is that you could get feedback before launching failed products.
Well, you can sell quite many products at Threadless, which include: home décor, apparel for all ages, mugs, beach towels, hats, notebooks, phone cases, and more.
Another good thing with Threadless is the fact that it can ship worldwide. They make payments through PayPal, which is credited after the end of the month.
Highlights:
As an artist, you can set up shop at Threadless
Original designs and exquisite talent
Artist's designs can be customized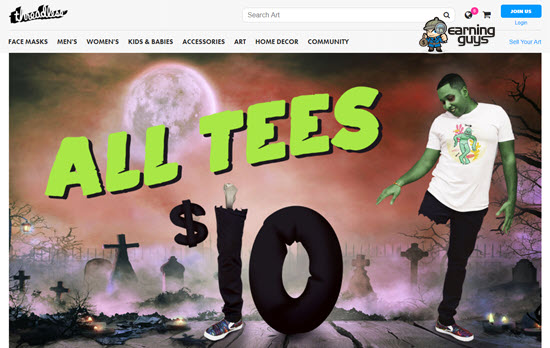 Gooten is one such POD Site that proves useful for those who can't handle the influx of orders. It offers help handling customizable product creation and shipping together with all the added duties that go along with it.
Gooten allows you to consolidate your store operations. It makes the selling of creative wares as easy as possible.
Gooten offers quite many products that include the following:
Clothing
Travel bags
Umbrellas
Dog beds
Framed prints
Fleece blankets
The good thing with Gooten is that it doesn't charge any setup or monthly fees. The only charge is levied for the products that are made and shipped.
Gooten has many integration options for the following sites:
Etsy
Shopify
Gooten API
Amazon
Your mobile app
Custom order form
Most of the Gooten products are being printed in the United States of America. In fact, Gooten has 40 different manufacturing locations.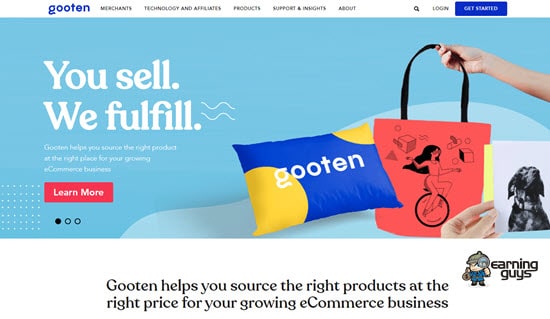 Bonfire is a design and technology company that allows you to create custom apparel and sell your designs. However, initially, Bonfire was dedicated to helping people for raising funds for different types of campaigns.
The best thing about Bonfire is that the platform is 100% free. It makes it super easy for you to raise funds or simply sell custom apparel.
Here, sellers can design and sell apparel for profit like most print-on-demand services.
Moreover, you can even raise funds for a cause, whether it's a personal one, a political campaign, or an NGO. This feature of fundraising for a cause is one of its most unique features.
Bonfire is based in Richmond, Virginia.
However, it offers worldwide shipping enabling anyone to get their hands on your merch.
It is easy to sell your designs on Bonfire.
You can upload custom artwork. You can even create your t-shirt designs by using their free graphics in their powerful design tool.
Once the apparel has been created, you can launch your campaign, which runs from 7 to 21 days. You can promote and can even sell your products to your community. You can even create your own store, which can be customized to fit your campaign or brand.
The good thing about Bonfire is the fact that all of the profits go directly to you. You can decide the pricing of your products, which can help you to reach your goals. Bonfire makes payment through PayPal. It will send you 100% of your product's profits.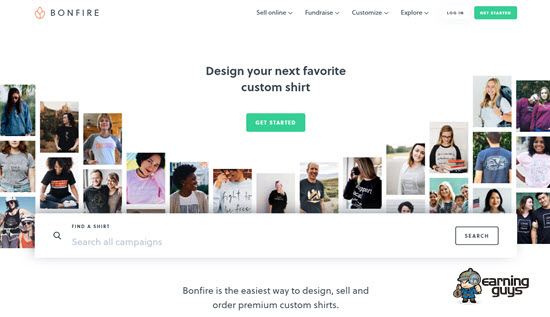 Printify POD platform is known for its low-cost, fast printing, and high-quality. It enables you to sell directly to your own stores online. Printify is based in Riga, Latvia, and was founded in 2015. It is one of the best POD platforms for designers and artists.
Printify allows eCommerce businesses to sell their products on their own sites. So, they do not need to take the pain of going through other online marketplaces. Printify is working its B2B magic. It makes selling easy for online site owners. It does all the work, including printing, shipping, and more.
Online business owners can put their handiwork on the following items:
T-shirts
Mugs
Accessories
Phone cases
Hoodies
Other personalized products
This POD platform allows businesses to focus their expertise on building their brand name.
Key Features
Hundreds of products
Competitive item pricing
Printing partners in over 90 locations across the globe including the United States, Australia, United Kingdom, Germany, and China
Integrates with WooCommerce and Etsy
Automatic syncing with your online shop
Although Printify charges a small fee, it allows you to set up the product prices. It means that the profit margins are up to you. So, you're in control as you set the price.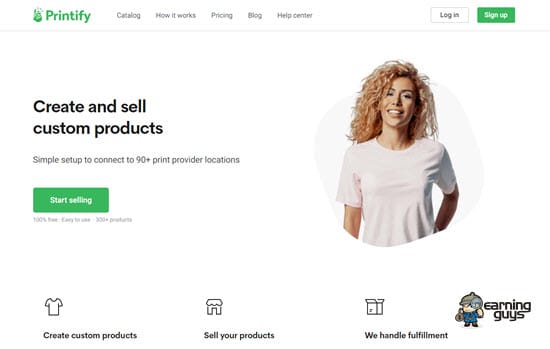 Custom Cat is one such POD platform that offers hundreds of customized products. So, it allows you to decide which designs you want to add to the mix.
The good thing with Custom Cat is that it has no minimum order requirement. Moreover, it offers quick, on-demand product fulfillment.
Products on offer at Custom Cat include:
Shirts
Hats
Mugs
Tanks
Flip flops
And other customizable products, as well
Integration options are as follows:
WooCommerce
API
Shopify
Orders by CSV
Fulfillment occurs at the historic Corktown (neighborhood of Detroit).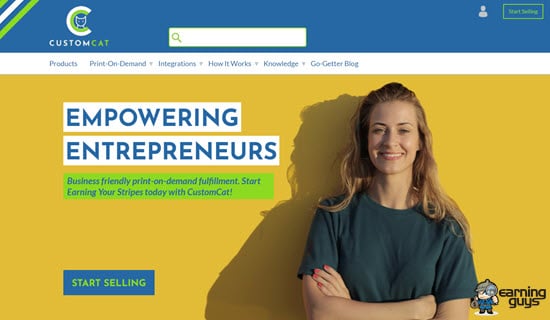 Design by Humans is a community of artists, YouTubers, and designers. It's home to some of the best pieces of art over the internet.
An artist's commission is dependent on the sales that happen. You can print apparel for all ages, accessories like mugs, hats, buttons, and art by itself in prints of various sizes.
They do not charge an artist for uploading their art.
They pay out using PayPal.
Key Highlights:
A supportive community that works to empower artists worldwide
The best marketplace for prints
Good profit margins for artists
Good for both artists and shoppers
One of the most trusted POD sites
Merch by Amazon began its operations as a resourceful POD service in 2015. It has focused on clothes, special shirts. It targets online business owners. With Merch by Amazon, you're selling your designs through the Amazon website, where it is put on t-shirts and sweatshirts for Amazon shoppers to buy.
Some Key Features
It offers short-sleeve shirts, long-sleeve shirts, sweatshirts, hoodies, and Pop Sockets
Access to millions of customers
Limited products as compared to other POD platforms
Service by invitation only
Sell directly on Amazon
No integration options available
Merch by Amazon is a good option when you only want to sell t-shirts and other similar items. It offers a large audience opportunity.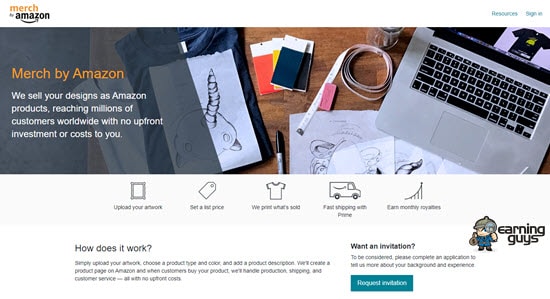 Sunfrog is one of the best POD platforms which are known for their shirts and t-shirts. However, they offer a number of categories to choose from. It specializes in print on demand clothing items. Moreover, they have a good customer traffic. Although the printing is done in the United States, it ships worldwide.
At Sunfrog, you can print the following items:
Short-Sleeve T-Shirts
Long-Sleeve T-Shirts
Sweatshirts
Hoodies
Shirts
Apparels of all sizes
Shorts
Pants
Tank tops
When ordering products with Sunfrog, you can use a template, or if you want, you can create a design all on your own. The cost for customized printing (clothing) is at a flat rate for large order fulfillment. It uses CSV integration for ease of use and quick production.
Sunfrog caters to printing at its Gaylord, Michigan facility.
Some Key Highlights:
Wide variety of designs
Good pricing for consumers
Its academy is one of the best for artists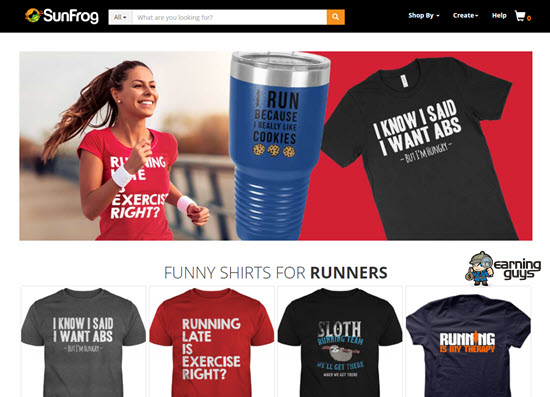 Teefury is one such POD platform which is known for its high-quality t-shirts, hoodies, and posters. The best thing with Teefury is that it keeps it simple and sticks to a limited product choice. The site works on a unique marketing strategy. Designs are made available for a limited period of time at a low cost. So, they easily get good customer traffic.
You can print t-shirts, hoodies, and posters.
Chief Highlights:
Offbeat designs
Artist friendly marketplace
Diverse collection in their merchandise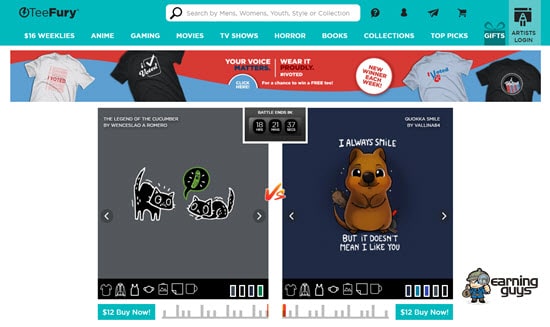 C.G. Pro Prints is one such POD site which focuses on photographers and graphic designers.
C.G. Pro Prints specialties include:
Fine Art Prints
Metal
Canvas
It offers the following products:
Banners
Wall peels
Canvas wraps
Wood floating frames
Brushed aluminum prints
Signs
Canvas prints
Moreover, more
C.G. Pro Prints charges by-products.
It functions as an ideal POD site for photographers and graphic designers searching for printing and shipping help for individual jobs.
Items are printed and shipped from Longmont, Colorado.
Individuals can pick up their orders directly from the manufacturing or fulfillment area.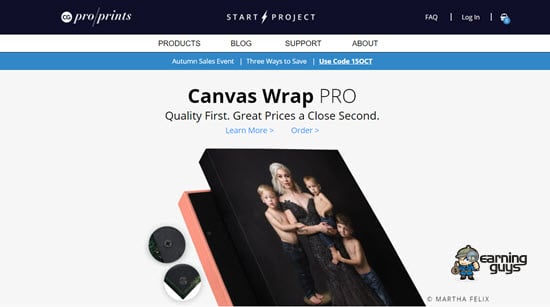 CafePress is one such POD site that has a strong following. Moreover, it is running successfully for quite a year now. Its product list is large and jaw-dropping. It offers everything from t-shirts to stuffed animals.
One of its outstanding features is the ability to create designs featuring T.V. shows, movies, and more. CafePress has secured usage permission from the copyright owners.
Some of its popular items on offer include:
Hoodies
Mugs
Ornaments
Buttons
Greeting Cards
Aprons
Pajamas
Notebooks
Moreover, other great items, as well
CafePress has integration for the following:
It allows setting product prices with the desired profit in mind. CafePress is based in Louisville, Kentucky, which also happens to be the headquarter for fulfillment across the United States.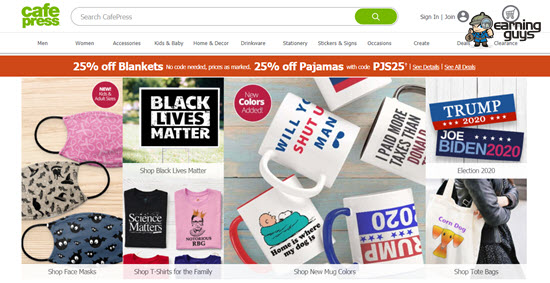 Well, with this, we have come to the end of this post.
We hope that it proves useful to you.
Thanks for visiting.
Please share the post across popular social network channels.