Suppose you haven't lived under a rock and are even somewhat active on social media. In that case, you must have encountered a YouTuber/Social Influencer named Mr. Beast.
Jimmy Donaldson, aka Mr. Beast, is a YouTuber known for his unique and sometimes outrageous videos.
He started his channel in 2012, and since then, he has amassed a large following of dedicated fans.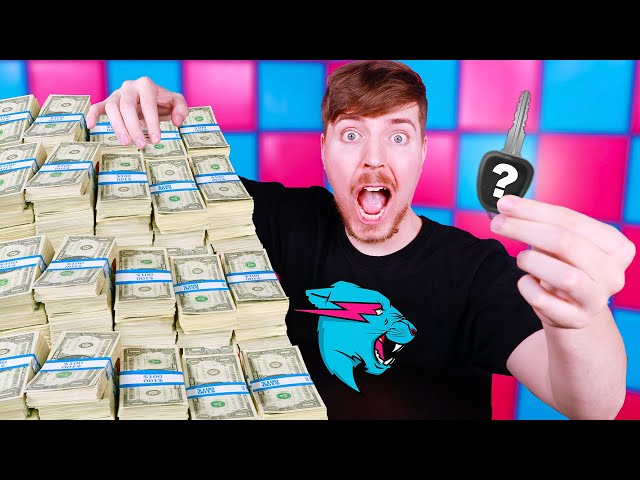 While MrBeast has gained most of his popularity because of his recent videos, which often involve him doing stunts or giving away large sums of money. He has a long history of making entertaining and engaging content. Some of his earliest videos are still some of his most popular ones.
If you're curious about who Mr. Beast is and what he's all about, this blog post is for you! Herein, I've included several stages of Mr. Beast's life, from before he started his YouTube account to how he became one of the most successful YouTubers.
Who is Mr. Beast?
Mr. Beast's real name is Jimmy Donaldson, and he was born on 7th May 1998. He was raised in Greenville, North Carolina, where he completed his education via private schooling.
He lived with his stepfather, his Mom, and his brother (who is also a content creator).
Jimmy started his YouTube career in 2012 when he was only 13 and posted videos under the YouTube handle "MrBeast6000".
His early content stretched from game walkthroughs (like Minecraft and Call Of Duty), estimating the wealth of other YouTube personalities, giving tips to aspiring creators, and commentaries on popular topics on YouTube.
Though he availed of higher education and even joined the college in 2016, he was always interested in making videos and had a knack for it. That's why he dropped out after two weeks and focused entirely on his YouTube career.
His mother wasn't thrilled with his choices and made him move out when he was 18. But she came around when he gifted her $100,000, after which she retired and began managing his finances.
Mr. Beast's YouTube Journey
Mr. Beast is a real-time example of the saying, "Good things take time."
Although Jimmy had uploaded tons of videos from 2012 to 2014, his efforts to gain popularity were in vain. At the beginning of 2016, his channel started to pick up when he posted videos poking fun at the "worst-designed YouTube intros." By mid-2016, he had gained 30,000 subscribers.
Mr. Beast confessed that he wanted to be a successful YouTuber so badly that he and his friends spent 10+ hours every day for over 1000 days studying every aspect that affects YouTube's algorithm.
They learned filmmaking, graphic design, video lengths, color psychology, etc., to ensure they'd go viral.
Mr. Beast's real YouTube career began in January 2017, when his "Counting to 100,000" video received 5 million views in a few days. He stated that completing that video took him 44 hours, and his dedication impressed the audience.
As soon as it happened, Mr. Beast understood what the audience liked, and he went on to do more challenging videos like "Counting to 200,000", "Spinning a fidget spinner for a whole day," or listening to Jake Paul's flop song "It's everyday bro" continuously for 10 hours.
These videos went extremely viral, and Mr. Beast's channel eventually grew to 750,000 subscribers in just a few months. This was when he signed his first brand deal with Quidd. But, instead of celebrating, he re-invested his earnings into making a video wherein he handed a $10,000 check to a homeless man.
This video was pivotal in his journey and helped him massively cross the 1 million subscribers mark in November 2017.
Since then, he changed to more giveaway-focused videos, such as "Tipping waiters with Gold Bars" or "Helping students pay off their education loans," and became increasingly popular with every video he uploaded.
By the end of 2018, he had understood his niche. Not only was he making six figures every month solely from YouTube, but he also had donated over $1 million, earning him the title of YouTube's biggest philanthropist.
Jimmy started his dedicated philanthropy channel back in 2020, wherein he has undertaken several high-profile charitable efforts. This includes the #TeamTrees campaign, in which he set a goal of planting 20 million trees worldwide after obtaining $20 million in contributions, #TeamSeas, which seeks to remove 30 million pounds of garbage from the ocean; and other fundraising programs.
Mr. Beast's Contoveries
When you are on your road to becoming a famous internet personality, controversies are bound to happen. So did Jimmy. In 2018, he was accused of being homophobic and tweeting gay jokes. Later, he clarified that he wasn't homophobic and was not meant to hurt anyone.
Next year in 2019, a YouTuber by the name of FlyyDoesYT accused Jimmy of mistreating his employees and giving out fake donations, to which he responded by challenging FlyyDoesYT to go to the people (he had donated to) and ask if they received fake or real money.
Now that you know his life and family background before YouTube, you may wonder where he got the money to do this expensive stuff.
How did Mr. Beast progress from recording gaming-commentary films in his bedroom to building a content-creation empire worth millions in less than a decade?
Mr. Beast's Net Worth
As of 2022, Mr. Beast's net worth is estimated to be $105 million.
But even before becoming a millionaire, Jimmy often donated large sums of money to his friends, subscribers, strangers, etc., while actively uploading videos performing all kinds of eccentric stunts on his main channel. The sets of a single stunt would've cost him thousands of dollars.
So, where did he get the money to donate these huge sums or shoot such expensive and bizarre stunt videos while also building his wealth?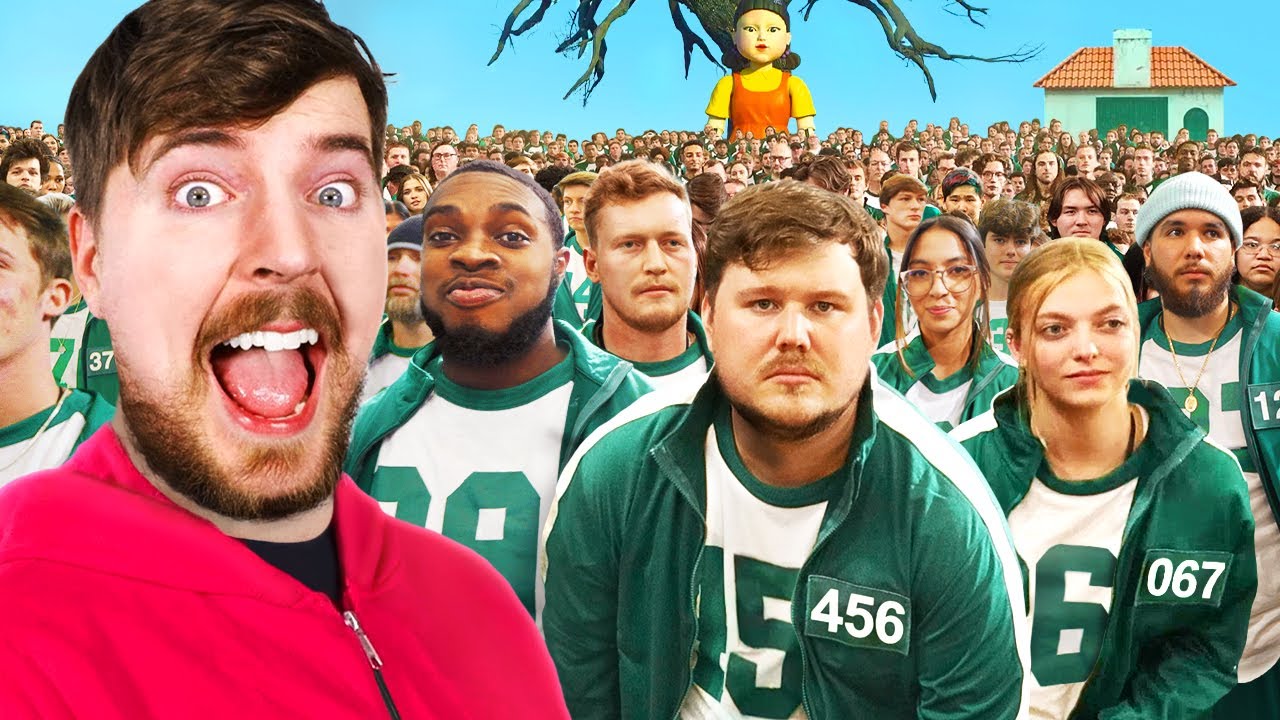 The answer is that Mr. Beast has three major ways he earns through YouTube.
Ad Revenues:
It's a no-brainer. One of the first and easiest ways he makes money is the ad revenue he gets from his videos. Although it's tough to tell exactly how much he makes per video, even if we take the worst-case scenario, here's the result :
○ He is from the United States, where the average CPM is $13 but let's assume YouTube pays him $6-7 per 1000 ad views.
○ His main channel has crossed billions of views, and most of his videos easily get 100 million+ views, which means for every 1 million views, he earns $6000, which turns out to be roughly around $600k for 100M+ views.
○ But that's not all because, besides his main channel, Mr. Beast has ten more channels, including Beast Philanthropy, Mr. Beast Gaming, Beast Reacts, Mr. Beast Shorts, and Mr. Beast 2, among many more.
○ All of these channels have a combined subscriber base of 300+ million people and are monetized for YouTube ads.
Sponsorships:
His videos' sponsorships are probably the biggest contributor to Mr. Beast's wealth. Most of these sponsorships are worth six figures and appear frequently on his channels.
○ Some of his most popular sponsors are Quidd (the first brand I mentioned previously), CSGO, Litto, Honey, and TikTok.
○ In an interview, Mr. Beast accepted that he could only afford to do these giveaways and make such expensive videos because of his sponsorships.
○ Other types of sponsorship include Collaboration, Affiliate Brand Marketing, etc.
Merchandise:
Lastly, another large portion of his earnings comes from his merchandise. Mr. Beast has ventured into several different businesses outside of YouTube using his YouTube popularity.
○ For example, Jimmy has an online store called Shop Mr. Beast, wherein he sells a range of products, including clothing collections, everyday essentials, fashion accessories, etc.
○ To give you a rough idea, in 2021, Mr. Beast earned $54 Million annually from his merchandise.
○ Other than his store, Mr. Beast also has a fast-food chain across the United States, and he recently launched his chocolate bar named Feastables.
According to sources, Mr. Beast earns about $8-10 million monthly from all his YouTube videos and businesses combined.
But here's what is really surprising, his main channel Mr. Beast is running at a loss.
MrBeasts Philosophy
Mr. Beast's philosophy plays a major role in his success. As stated before, he is one of the most prominent philanthropists on YouTube, possibly even worldwide. However, making donations and running these charitable programs is a small part of the bigger picture. Here's why:
In His podcast with Jake Paul, Jimmy stated that even though he earns millions a month, he barely keeps it for himself. Instead, he uses most of that money and re-invests it for future videos. It is estimated that an average MrBeast video costs approximately $300,000 to make.
That's also the reason why he started his other channels. His other videos don't require much investment, and he earns good revenue, which helps him use that for his main videos.
Furthermore, his interaction with Joe Rogan (another popular YouTube personality) stated that it has never been about money for him since the beginning. Instead, he always wanted to make the best YouTube videos.
He further said, "I think living your life chasing like a nicer and nicer car and a bigger and bigger house to live in is kind of like a stupid way to go about life."
Besides good security for himself and his family, Jimmy has no luxury possessions; all he makes goes directly into his YouTube.
The latest one is a video inspired by Netflix's most popular show in 2022, "Real Life Squid Game," which cost him $3.5 million to make and has over 200+ million views. This also earned him the title of the "most popular YouTuber of 2021".
The Secret Sauce Of Mr. Beast's Success
There's no denying that no one factor makes anyone successful. Instead, it's a mix of a lot of factors.
Until now, I have talked about two factors, i.e., Dedication and Philosophy (mindset), but one more ingredient played a major role in Mr. Beast's success.
That factor is timing. Jimmy started uploading at a very young age. At that time, YouTube or Social Media wasn't as popular, nor was there a concept of personal branding.
Social media or YouTube began catching pace in 2015-16, as did Jimmy's channel. Over the years, he has stayed consistent and experimented with a lot of content. As a result, he has successfully built a profitable personal brand for himself.
Also, Mr. Beast also has his digital marketing strategies figured out. Wherever he launches a new product, accessory, etc., he markets it in such unique ways that it's nearly impossible not to attract attention.
For instance, when he launched Feastables, he sent mystery boxes to several YouTube/twitch creators with a lock on them. The lock had a timer and opened when Jimmy officially announced his brand of chocolate bars on his channel.
These genius marketing strategies have also helped him branch his dominance into other social platforms like Instagram (18.3 Million) and Twitter (14 Million). He has started investing his wealth into various startups and expanding his business empire.
Conclusion
Mr. Beast started his journey at a time when "being a YouTuber" didn't make any sense, and cut to today, he is more popular and richer than some Hollywood celebrities.
His consistency, curiosity, and dedication to becoming the best YouTuber have made him a millionaire.
You may not watch his videos or buy his products. Still, you have to agree that from just 7000 views at the age of 13 to a whopping 13 billion views in 2021, Mr. Beast has come a long way, and his story is nothing less than an inspiration.
I hope you liked this article on Mr. Beast and how he makes money with YouTube. Do share this post on social media with your friends and family.