You must have heard the idiom "A stitch in time saves nine."
It holds good even for internet marketing and more so in the SEO sphere. If you can get the right help at the right time, it goes on to save your efforts and time.
So, if you are facing an SEO issue, you should not hang on to it. Rather, you should take appropriate rescue measures and find correct answers for solving your SEO issues.
So, it does not matter whether you are a professional or newbie, an SEO issue can stump you at any time. Moreover, search engine algorithms can change fast, and you just cannot remain updated on SEO matters.
Here, the important thing for you is what options you have on your sleeves when you face SEO issues.
Well, you can read SEO blog posts, consult an SEO Expert, or better still head to an SEO Forum.
Yes, you can take the help of Search Engine Optimization Forums.
SEO Forums are a perfect place for getting answers to your SEO related issues.
That's why we decided to come up with a post featuring 10 Best SEO Forums. Here, you will get a list of best Search Engine Optimization Forums in which you can post questions and get appropriate answers from the contributors or community.
Most of the time it happens that SEO issues turn out to be complex in character. You might be stuck up with link building strategy or might not figure out what impact does it have by making changes to your web pages.
The best way to overcome such SEO issues is to use the wisdom of the crowd in SEO (Search Engine Optimization) Forums. There is no need to work in a silo and waste your time, effort, and money in solving SEO issues.
In most of the cases, you may see that someone has faced the same issue as yours before.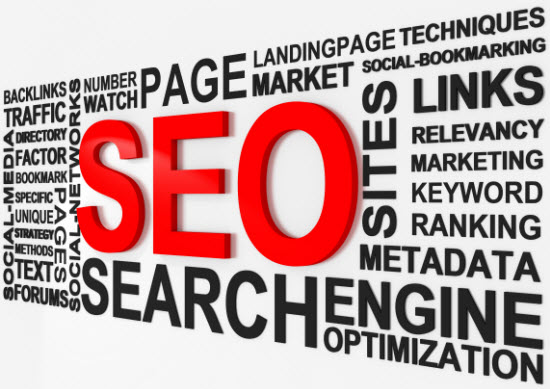 The best part of SEO Forums is the fact that people are willing to share the solutions with you. They have already worked on the problems and have their set of solutions for you. You can even get advice from SEO experts at Search Engine Optimization Forums.
Apart from the benefit of receiving advice at the SEO Forums, there are other potential benefits of participating in discussions.
Here, we list out some of the major benefits of participating in SEO Forums:
SEO Forums prove a useful medium for bringing in website traffic and help to raise the awareness of your business.
Mentioning your business in such forums gives you an opportunity to expose your brand to more people who can search for your brand in future.
You can get feedback on your website and its SEO capability.
Search Engine Optimization Forums provides the opportunity to get latest industry news and trends.
SEO Forums help you to collaborate on projects and make new contacts.
So, which SEO Forums you should choose?
Well, you should choose an SEO Forum which is active, have a moderator, requires registration for posting or commenting, and should be using sub-categories.
However, you don't have to take the pains of searching the best SEO Forums. We have done the hard work for you and have provided the best Search Engine Optimization Forums list to you.
So, you just need to explore these SEO Forums and get started with it. It's the best way to learn about SEO techniques, and plus you can make some useful contacts in the process.
So, here's the Best SEO Forums for you.
10 Best Search Engine Optimization Forums (SEO Forums)
Warrior Forum is one of the biggest internet marketing forums, with a specific SEO section. It has been around since 1997. It covers link building tactics, optimization, and other technical SEO issues.
Besides the above subjects, you can even discuss on tactics and strategies for making money online. It's a place to discuss PPC advertising, selling digital marketing services, copywriting, and product creation.
The biggest benefit of using Warrior Forum is the fact that you get quick replies to your questions and posts.
Warrior Forum has garnered huge respect in the digital marketing space. In fact, almost everyone with an even little bit of interest in digital marketing has been a member of the Warrior Forum.
It's a place for both newbie and professionals in the digital marketing space.
It includes a wide range of threads for beginners as well as experts. You get lots of in-depth answers to a particular thread in SEO section.
Plus, you also get informative threads for Social Media, E-Commerce, E-Marketing, and more. It is even good for promoting your blog. It stores tons of useful posts and insightful details in the digital marketing sphere.
Warrior Forum also offers the opportunity to create a Special Offer (WSO) wherein you can launch your course, product, or service for a highly focused market of marketers, SEO specialists, affiliate marketers, and entrepreneurs.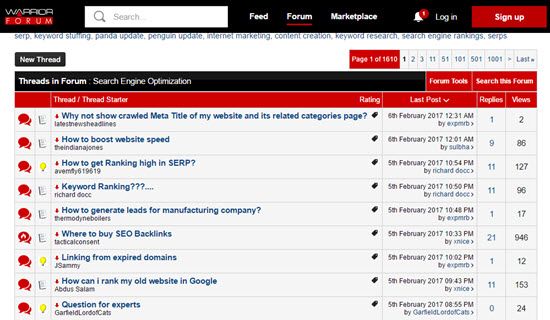 Google Webmaster Central Help is one of the best SEO Forums out there. You get SEO advice from Google employees who post and respond on this forum. So, you can be sure of authoritative advice from SEO Experts at Google.
You can easily get answers to many common questions here.
You simply have to search in the box provided at the top of Forum's home page.
There is a high probability that your questions already got answered, and so you can save a considerable amount of time.
However, if you do not get answers to your questions through the search box, you can always post your questions in this forum. Your questions get answered by other webmasters, forum top contributors, and Google employees.
Anything you post will generally be indexed and appear in search engines. In case you do not want your site's URL to be associated with your post, you can always post in with a URL shortener.
Plus, you can reach out the community in this forum in languages other than English such as French, Spanish, Portuguese, Italian, Russian, Polish, Turkish, Japanese, Chinese, Hindi, etc.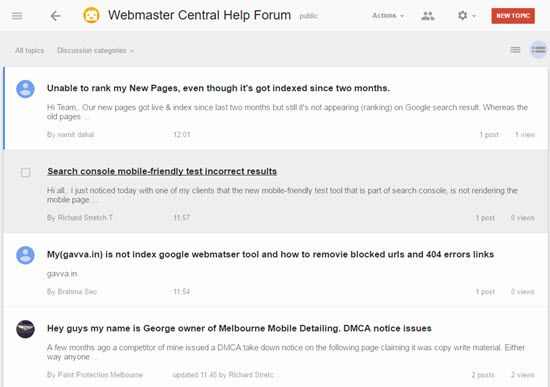 V7N features a variety of forum sections including webmaster forums, business forums, and web marketing forums, web development, webmaster marketplace, support forums, and others.
You have to register for posting questions. It provides informative SEO strategy threads and replies are pretty quick. It even enables registered members to send direct messages to other members.
Usage is free. You can view the messages posted in various forum sections here. Clicking on a forum's name will lead you to the list of threads it contains. A thread is a conversation that happens between members or guests.
Each thread begins with a single post and grows as more individual posts are added to it by different users. To read a thread, you need to click on its title.
You can even post a reply to an existing thread, by clicking on the 'Post Reply' button. The 'Post Reply' button appears when you are logged in as a member.
However, you need to register to use all the features of the forum. Registration is free. Registration gives you access to an extended range of features such as posting new threads, replying to other peoples' threads, editing your posts, and much more.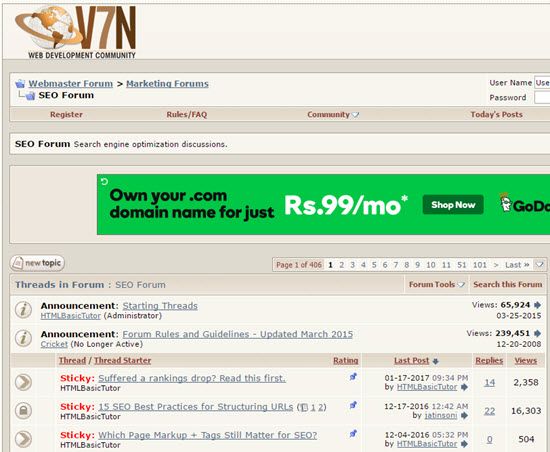 Wicked Fire provides a good forum to interact with developers, internet marketers or webmasters. It's a good place to learn everything about website optimization.
It's a place for Internet Marketing Forum, Affiliate Marketing Forum, Webmaster Forum, and SEO Forum.
Usage is free.
However, it requires registration.
You can view the boards as a guest wherein you get limited access to features and view most discussions.
Once you join WickedFire, you gain access to post topics. You can communicate privately with other members. You can even respond to polls, upload content, and have access to many other special features.
Moreover, registration is simple, fast, and free.
It has over 210,000 members.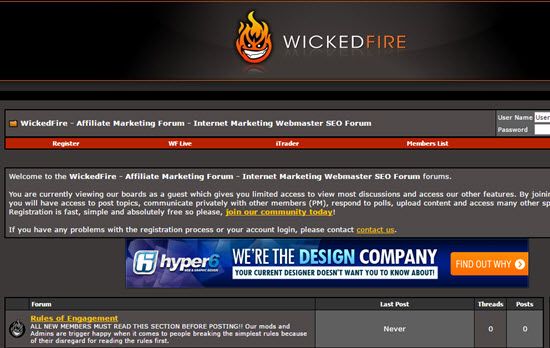 SEO Chat is one of the most popular SEO Forums. In fact, SEO Chat Forum comes as a free forum for all those who want to learn and sharpen their skills in Search Engine Optimization.
It enables you to get SEO tips and tricks for optimizing your website so that it is ranked high in SERP. Besides SEO tips, it also provides informative posts relating to Social Media Marketing, PPC, and other internet marketing topics.
Its usage is free.
SEO Chat Forum offers access to experts in the SEO field. With SEO Chat Forum, you can increase your blog or website presence on the Internet.
It offers topics such as SEO, Social Media Marketing, Pay per Click, Affiliate Marketing, Keyword Research, Link Development, Mobile Optimization, etc.
Moreover, SEO Chat has gained the reputation of being one of the most trusted sources for learning SEO tips.
Signing up for SEO Chat Forum can be the most important step for you to gain knowledge about SEO. However, you need to participate in the forum actively. You should post new threads and reply to others query regularly. You can use the free tools provided by them, such as the SEO Chat Keyword Tool.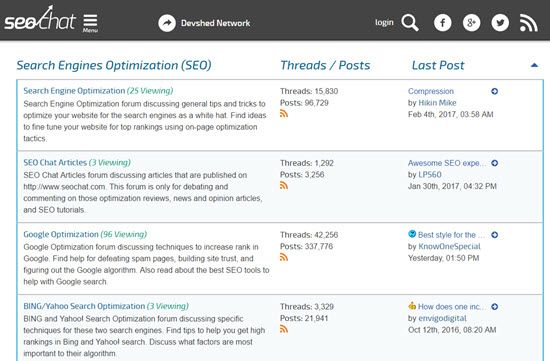 It's a popular forum for getting answers specific to Search Engine Optimization or Search Engine Marketing, especially from Moz experts. It allows you to read every Q&A, however, to post or reply, you need to be a registered community member.
Its usage is free.
If you are into the digital marketing space, then you must be aware of Moz. It's an SEO-focused digital marketing software company. It's one of the best resources for SEO related issues.
They have come up with the Moz Q&A Forum which can be used to get answers to your SEO queries.
However, for posting new threads, commenting, or giving others thumbs up, you need to sign up to Moz Pro.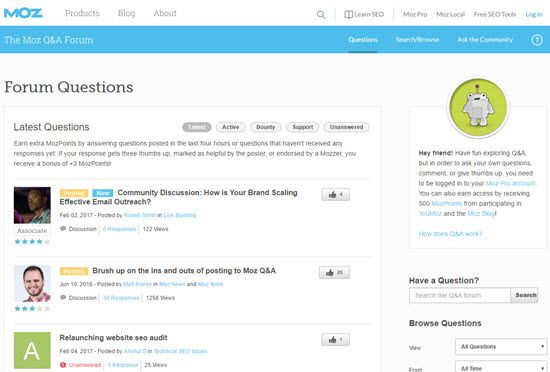 Digital Point is known to be one of the best online communities for everything digital. They have a special forum area that's specifically devoted to search engine optimization.
In fact, Digital Point offers one of the biggest SEO Forums where you can get in-depth answers.
It offers a wide range of topics such as business and web marketing, design, and development. The topics cover numerous ways to make money online.
You can get useful tips on SEO strategies, selling products online, web designing information, and everything related to creating income online.
It even offers a trade buy and sells section where you can post affiliate links. All in all, it's a good resource on SEO topics. You even get the opportunity to network with individuals, businesses, and professionals in specific areas.
Its usage is free.
However, you can find their website a bit clustered in content.
It's a helpful forum along with opportunities.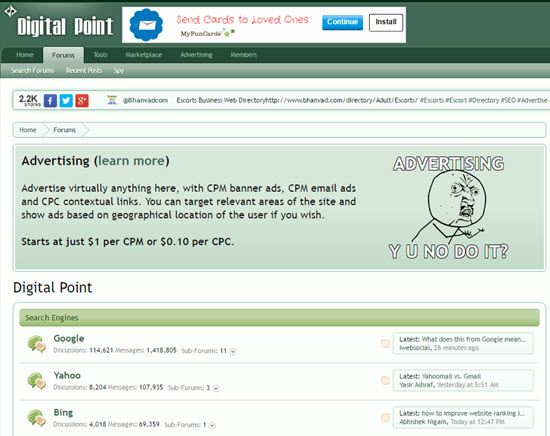 Quora is one of the most extensive knowledge-house on a variety of topics including SEO techniques. Even scientists, famous writers, company CEO's give answers on Quora. It's a place where questions are asked, answered, edited, and organized by its community of users.
Its publisher, the Quora Inc., is based in Mountain View, California. The website went to the public on 21st June 2010.
It offers the best opportunity for improving knowledge about SEO tips. It proves good medium for driving traffic to your website.
Its usage is free.
It offers the opportunity to collaborate on editing questions. You can also suggest edits to answers that have already been submitted by other users. The majority of content moderation is done by the users. However, staff can also intervene.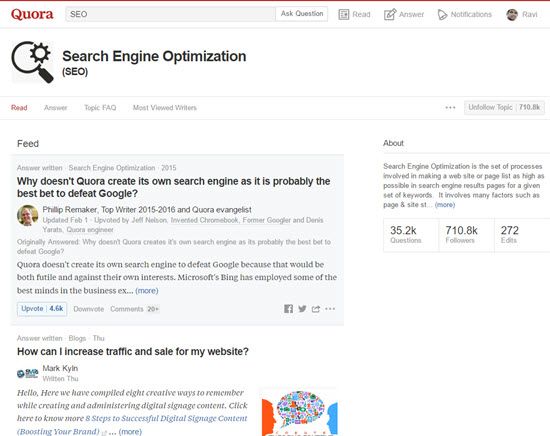 It's a subreddit for getting tips, tricks, news, and case studies on Search Engine Optimization. Reddit's r/SEO is one of the most active and frequented places for internet marketers and SEOs. It allows you to submit questions, posts, or give answers to others.
Moreover, it's a place where you can ask your newbie questions, and it will be perfectly ok. Its usage is free. It offers a great opportunity to talk and learn about SEO on the Internet.
You get real opinions, ideas, excellent feedback, and genuine discussions. If you want to grow as an Internet marketer, then you should be on Reddit SEO.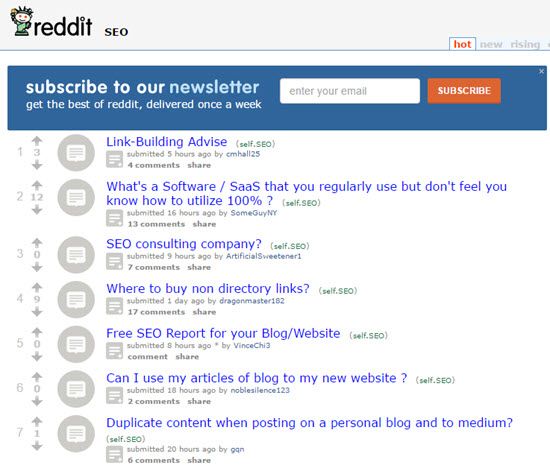 It's another very popular forum for getting answers to different SEO techniques. You can look forward to interesting tips and ideas about what's possible in the SEO world.
Despite its title and the possible first impression, Black Hat World proves an excellent community that is worth your attention. In fact, you will find many white hat guys up there.
It's a great place from SEO and Internet marketing standpoint.
However, it may take some time to find SEO wisdom which is flavored with streams of one-liners and skeletons on avatars.
That said it is one of the best SEO forums that you can get with the live community and strict policies. And you don't have to face any spam.
It helps to improve your SEO abilities.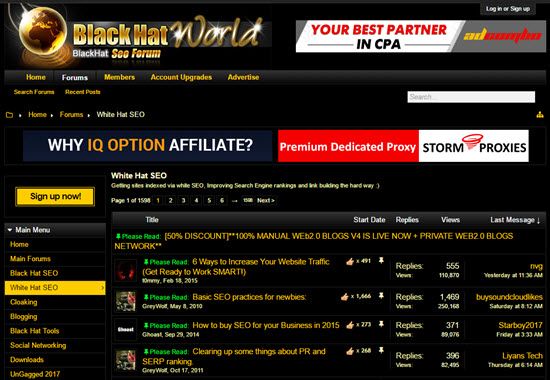 Besides the above SEO Forums, there are a few other popular SEO Forums which can prove useful to you. You can explore these forums which are as follows:
We hope that this Best SEO Forums list proves helpful to you. I hope you liked this post and will share this post with your friends on social sites.