Well, it's official now. The announcement from Google's John Mueller has paved the way for the removal of author images from SERP.
From now on you will not see author profile images and Google+ circle counts in mobile and desktop search results. This comes as a global change and would be soon effective on SERP.
According to John Mueller, Google, has made this change in order to provide better user experience coming up with a consistent design across all devices. By removing author images from Search Results, Google has simplified the way authorship is shown in desktop and mobile search results.
John Mueller comments it is a "less-cluttered design."
The basic motive of including Author Images in search results was to improve click through rates, but Google claims that experiments indicate that the click through rate is not affected in any way once the author images is removed from SERP.
However, there are many SEO experts who widely disagree with Mueller's remarks. They are of the opinion that after removing Author image from search results the click through rate is badly affected. There is a dramatic fall in click through rate when Google removed author image from SERP.
Moreover, they were of the opinion that author's photo do affect click through rate in a positive way resulting in more clicks. This is particularly hard for the ones who had optimized their Google author photo but with this announcement author photos is doomed to go away from search results. As things stand now, only the author's name will be displayed in the search snippet. So no author photo and circle count on SERP.
Google has its own argument for dropping author photos from search results. It has taken this step in order to bring a clean visual design of search results and to provide a better mobile experience to users with a consistent design across all devices. This will also result in more Google Ads at the top and sides of SERP.
That said there are many things that will remain the same.
Google authorship still continues. Author names will be displayed in search results. Your rankings stay intact. The new change will not affect the order of results. Plus: the guidelines for establishing authorship are still in effect. You are required to verify authorship for enhanced snippets. This can be done through email verification or through linking content to your profile on Google+.
With Google implementing the removal of author photos from search results, it has become hard to predict the future of authorship. Time will tell whether webmasters and authors stand to benefit from this step of Google of removing author photos from search results.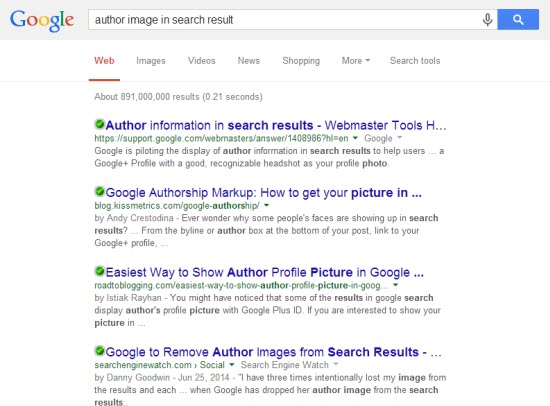 With author photos being removed from SERP, let us see the tips of increasing organic CTR. Hereunder I have illustrated 5 Tips of increasing organic CTR.
Tips to Increase Organic CTR
1. SERP Rankings
SERP Rankings do effect the organic CTR. First page rankings help to build your brand visibility. Moreover, you got to rank your website or webpage above the fold in order to drive substantial traffic. So having a Position 1 will give you better CTR than Position 6 as most of the time web users view information above the fold. Usually rankings 1 to 5 are viewable without scrolling and are listed above the fold. Driven by their navigation behavior, web users are likely to click on listings which are displayed above the fold. So ranking your website above the fold will give you a substantial increase in organic CTR.
2. Title Tag
The title of your web page is defined by the title tag. It typically appears as a blue link on SERPs. You can increase your organic CTR by setting your Title tag right. So you should take time out to carefully draft your title tag. Your title tag should hold the targeted keyword near the front of the tag so that it can grab the user's attention right away and they happen to click on your link. You should frame the title in such a fashion that it matches user's query.
Your title tag should not be over 65 characters otherwise it would be truncated by Google. The title should reflect your brand positioning and should evoke emotion and curiosity among web users. As you go onto develop title tag, you should focus on elements such as word choice, character length, and query match which will help in getting increased organic clicks.
3. Meta Description
Meta Description help web users to figure out what your content is all about before they actually go onto see it. Although Meta Descriptions don't actually influence organic rankings, they do influence users clicking on to your website or link. So never miss out Meta descriptions as they do help in increasing organic CTR.
Meta descriptions can be viewed as free advertising. They provide you an opportunity to put your message across to your audience each time your listing is displayed on the search engine results page.
The Meta Description should contain the targeted keyword which matches the user query. It should not be over 160 characters as Google truncates Meta descriptions which are above 160 characters in length. When writing your Meta descriptions be sure to focus on elements such as word choice, query match, character length, and call to action so as to have an increased click through rate.
4. Rich Snippets
Rich snippets help to increase your CTR. Rich snippets help to stand your brand out in search engine results page. Rich snippets allow you to add HTML markup to a web page which grabs searcher's attention and help to increase click through rate. Rich snippets make search engines to identify specific elements on a web page and display those elements in search results. Many companies are already using structured data markup throughout their websites.
5. URL
Your URL is another vital area which affects CTR. When developing your URLs you should pay close attention to elements such as word choice, folder structure, breadcrumb navigation snippets and query match. You should ensure that you have a well organized site hierarchy and folder structure while marking your pages for breadcrumb information for search engines.
So optimize the CTR factors in your control to net in high performance gains (in organic click through rate).