Looking for affiliate programs that pay well and are fun to promote? You might want to turn your head towards Skateboard Affiliate Programs.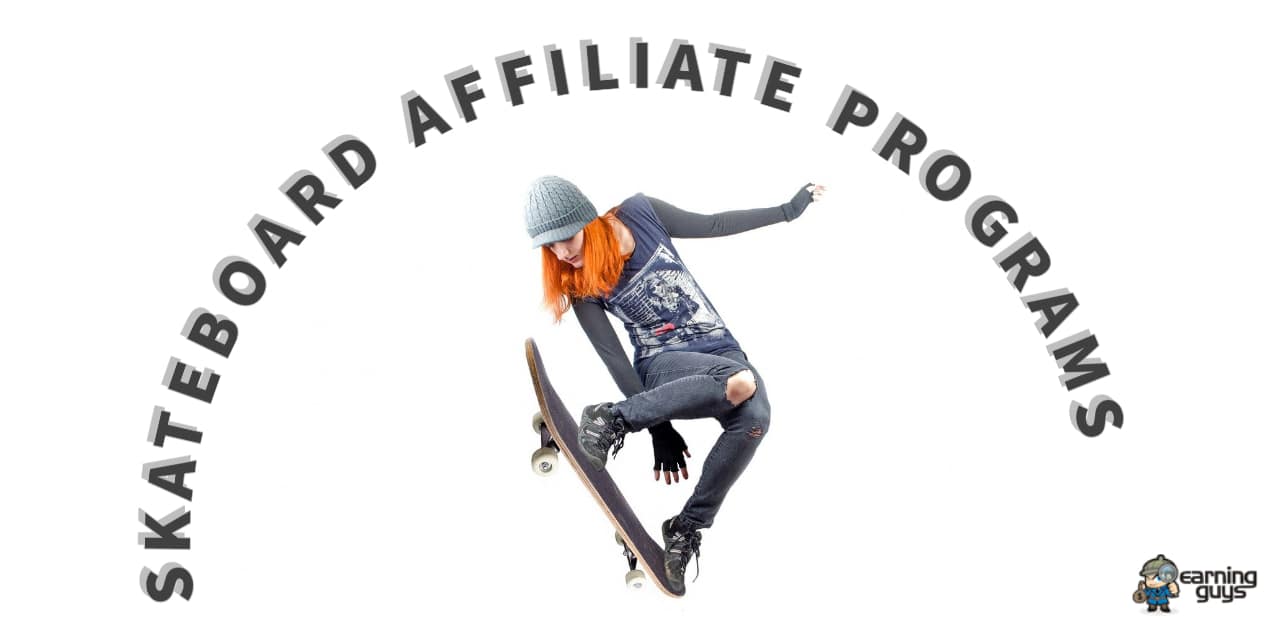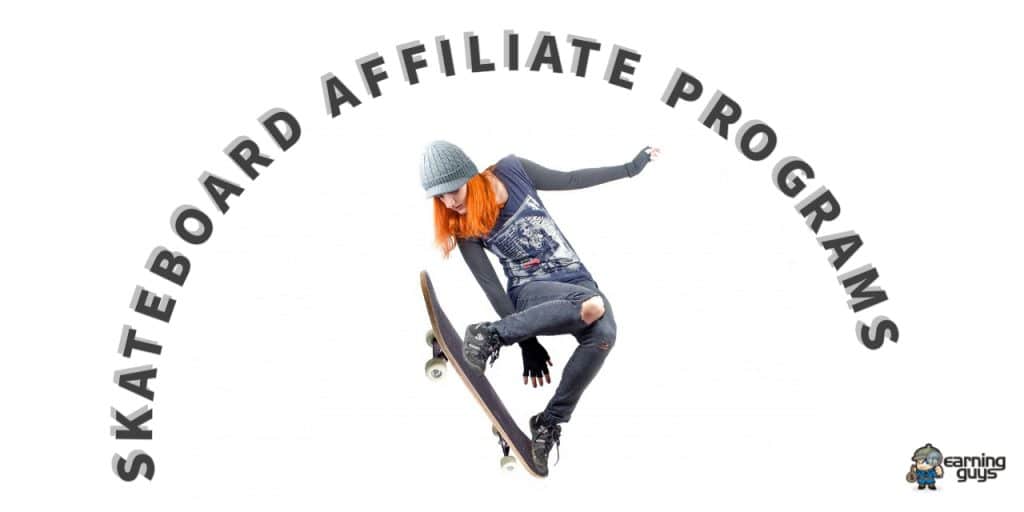 Affiliate Programs, no doubt, are one of the best ways to make money online, but if you don't enjoy what you are promoting, chances are your audience will see right through it.
Not to mention the competition you get in almost every niche is becoming unbearable. If you don't have a well-established website related to that niche, it's not worth joining an affiliate program.
So why am I recommending you try Skateboard Affiliate Programs?
Firstly, not many bloggers/websites promote Skateboard programs because it is still a less explored niche.
Secondly, not only does it pay well, but it is also fun to write about. You don't need to be an expert to run a niched website about Skateboards. You can share personal experiences while promoting these programs. Every little experience can turn into a fun blog post and significantly increase the chances of people using your link to buy.
Lastly, the cookie period (the duration your affiliate link remains active) Skateboard affiliate programs offer can be 2x or even 3x more than any other niche programs.
But which skateboard programs should you join? There are lots of them, and each of them has something unique to offer, so how do you choose the best one for you?
You may also like:
Don't worry; I have prepared a list of the 8 Best Skateboard Affiliate Programs for you to join. These offer great products, good commission, and a long cookie duration.
8 Top Skateboard Affiliate Programs
Let's dive right in!
You can't make an affiliate list and not include the biggest affiliate network in the world, the Amazon affiliate program.
By joining Amazon Associates, anybody with an online audience, including website owners, affiliate bloggers, and social media influencers, can build links and receive referral fees whenever someone uses their unique link and buys anything from Amazon.
They offer varied commission rates depending on what niche you choose to promote. For instance, since we are talking about Skateboards, you'll get a 5% commission for every sale. The commission is decent, considering it all depends on what you choose to promote. Amazon has a never-ending list of skateboard suppliers ranging from as low as $25.99 to $400. So if you successfully promote a highly-priced skateboard, you'll earn well.
But what about the cookie period?
Amazon's cookie period is slightly different from other programs on this list. For starters, they only offer a cookie window of 24 hours. But it isn't what it looks.
Amazon assures affiliates that as long as a customer uses the link to add the product to the cart within those 24 hours. After that, you'll be eligible for the commission until that cart expires, i.e., 90 days. And looking at the conversion rate (up to 10%), you have nothing to worry about.
But here's something even better, let's say you are promoting skateboards and their accessories, so if the customer buys a skateboard, some extra wheels, or bearings, you'll get 5% on each of those products rather than on the total cart value.

The Tactics affiliate network is an excellent opportunity to work with a global leader while making money from every sale you make.
Founded in 1999, Tactics is a leading manufacturer of all things boards and wheels. In addition, they deal with various products, from snowboards, boots, and bindings to outerwear and skateboard decks.
They also have a long list of accessories, including bearings, risers, helmets, etc., for you to promote and for customers to build and personalize their boards.
Besides sports equipment and accessories, they also give you a commission on promoting their catalogue. Their catalogue includes clothes, footwear, and other apparel from more than 300 well-known brands, including Vans, Nike, Volcom, Adidas, etc.
Coming to their affiliate program, they offer an affiliate 6% commission for each sale, which can go higher for selected products and placements.
Their skateboard range starts from $71.95 to $124.95, meaning a couple of monthly sales should earn you a decent passive income.
Once you become an affiliate, you'll get,
A custom affiliate tracking link
An affiliate manager to help you with the promotion strategies
A frequent supply of discounts, everyday offers, and deals to help sell easier.
Although you can join Tactic's program from almost anywhere in the world, few U.S. states like Connecticut and Missouri can't become their affiliate due to legal reasons.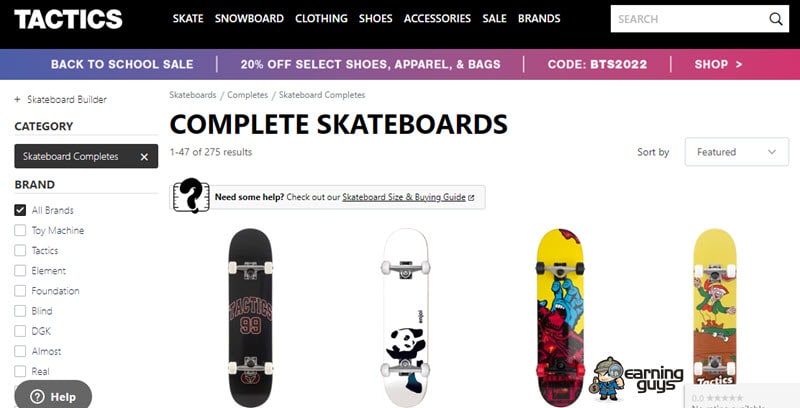 Swagtron is another great choice for beginners. However, if you have an established blog, newsletter, or social media, Swagtron is worth a shot.
Swagtron is a well-known manufacturer of enjoyable and comfy electric vehicles. They provide a large selection of Swagtron products, which are the industry leader in e-rides, including Hoverboards, electric scooters, eBikes, and more.
Their program is pretty simple to join. You can join it today and start earning tomorrow. As soon as you join it, they provide you with a customized link to use for marketing on your website, blog, or social media accounts. They use Post-Affiliate Pro, a widely known and trusted affiliate tracker.
Swagtron offers a flat 5% commission rate on each sale you make, which ranges anywhere from $129.99 to $799.99.
Here's what is great about this program, not only will you earn a 5% commission for Swagtron products, but once you become their affiliate, you'll also get commissions for promoting any of their products that are listed on Shopabit.com. (this includes products from their other two companies, i.e., Waerator, and Viotek).
Their cookie period lasts 30-days. So you can make a good income with just 3-4 sales every month.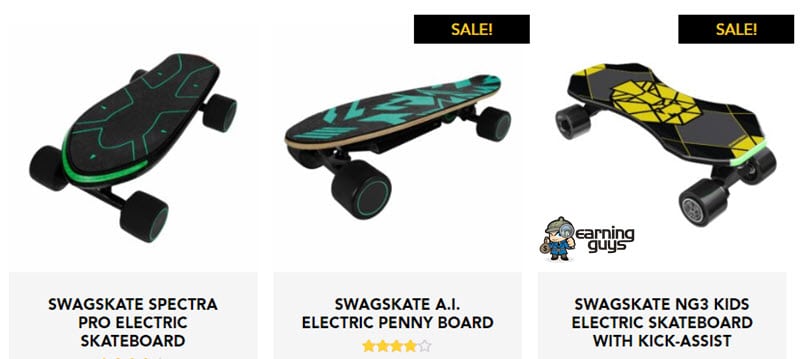 Electric Boarding Company is not a skateboard manufacturer; rather, it is the No.1 Store for e-commuting in the United States. They have an affiliate program that you can join for free.
By becoming an affiliate at Electric Boarding Company, you are given the opportunity to promote the best brands for electric skateboards, electric bikes, electric scooters, electric watersports, and more. Not to mention, they are partnered up with some of the best sports brands across the country. These include Atom, Backfire, enSkate, etc.
To get started, just create an account and paste the connecting code into your postings on social media or your website, and voila! You are eligible to earn.
They offer affiliates a commission of 3% per sale, and their cookie period is 30 days. Considering the skateboard pricing, which starts from $299 and goes up to $2750, even 3% doesn't seem that bad.
Unlike most other affiliate programs, they will aid in providing you with ideas for content centred around their products.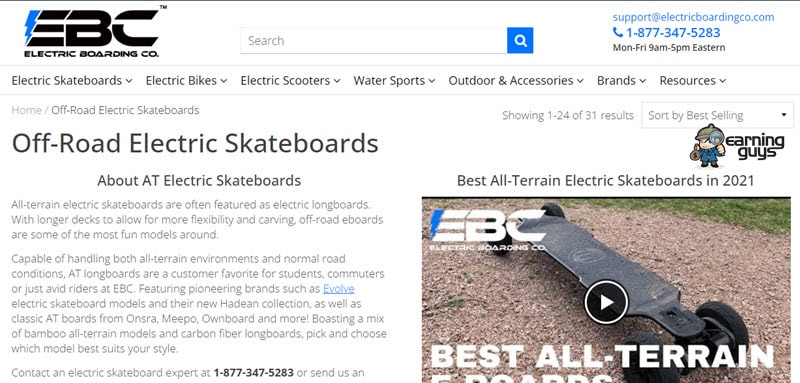 Ambush is another well-recognized skateboard brand around the globe. But rather than skateboards, they deal more so with skateboard-related clothing.
They also have a great affiliate program wherein you get several advertising options with Ambush Skateboarding's extensive selection of skateboard clothing and accessories.
These not just include skate helmets and pads, but also the vanguard of their product offerings are household renowned apparel brands, including Adidas and Nike, for you to promote.
Starting with the commission rates, they offer the second-highest commissions on this list which is 9% per sale. In addition, each unique link has a standard cookie duration of 30 days.
They have good conversion rates, thus ensuring that 30 days are enough to get you a few sales. Other than they also provide regular deals, discounts, and offers to increase your chances.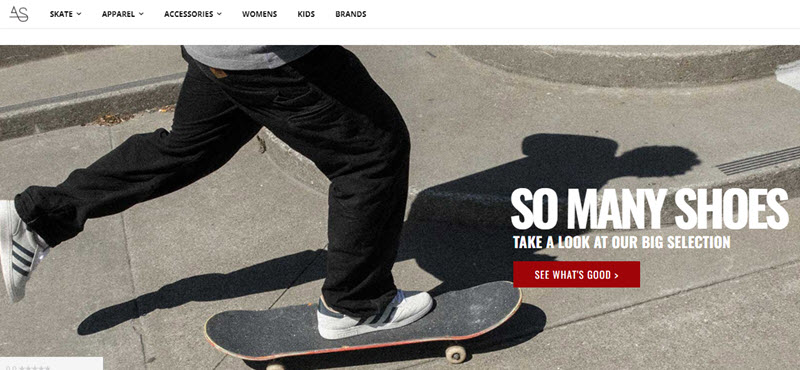 Another great affiliate program you could promote on your site is Bamboo Skateboards. As the name suggests, it's a company that manufactures skateboards using bamboo.
As a matter of fact, Bamboo Skateboards are a few of the companies that started the trend of using bamboo to make skateboards. These boards are getting popular daily and might completely replace wooden boards in a few years.
Their bamboo skateboards are as strong and durable as normal wood ones and are more environmentally friendly. Besides skateboards, they also sell longboards, cruisers, and accessories that you can promote.
Their affiliate program is easy to join and offers a 10% commission on every sale you make.
They also provide you with a 24/7 accessible dashboard to help manage your orders, earnings, and total sales.
In my opinion, this is one of the few programs which are easy to promote. Primarily for two reasons:
It's something unique: Bamboo skateboards have recently gained popularity and, till today, are a fresh concept to a lot of people. So It's easy to attract attention with these.
It's for the planet: Day by day, people are becoming more conscious about the environment, which is a great opportunity to contribute.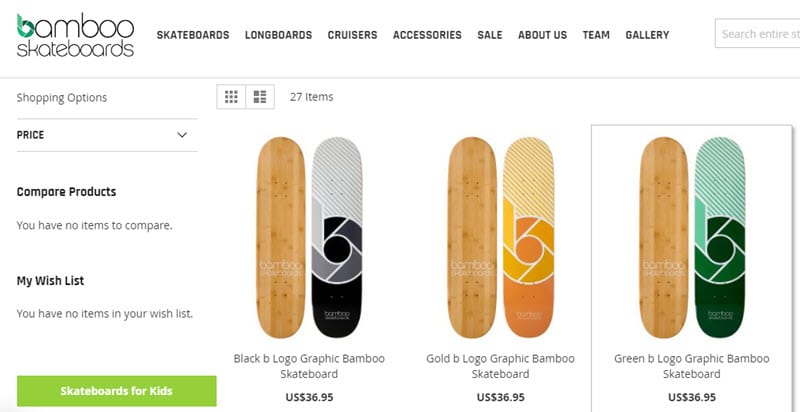 Teamgee.com is one of the few companies in the world committed to providing high-quality electric skateboards at reasonable rates. Like bamboo skateboards, electric skateboards are gaining popularity. Team Gee offers some of the thinnest and most affordable electric skateboards today.
They have an affiliate program called Teamgee Electric Skateboard affiliate program. It is available to join through ShareASale.
Through that program, you are asked to advertise their products by sharing your special links on your blog or social media, and you get paid for each sale that results from the link.
They promise a high conversion rate, which ensures that when you sign up as an affiliate, you'll make a sizable good profit. In addition, they assist you in promoting by providing text links, top-selling newsletters, unique coupons, and monthly discounts.
They give a commission rate of 3% to 5%, depending on the number of referrals you bring. With their average sale value (i.e., $399) and a cookie period of 45 days, the program is worth joining.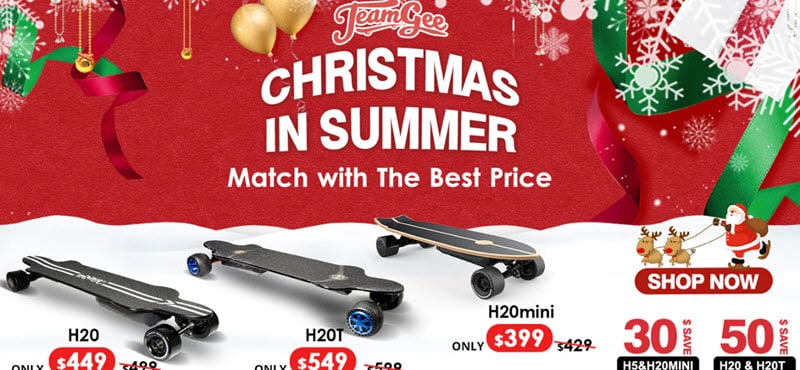 Lastly, an affiliate program that is different from anything else on this list. Founded in Grassracks is a market-leading company that manufactures racks for a wide range of products.
These racks are designed to hold everything from skateboards and surfboards to wine racks and bike racks. Many of them are also eco-friendly and are made of bamboo.
They offer affiliates three affiliate rates i.e.
A flat 8% commission rate for monthly sales up to $599,
A 9% rate if you crossed $600+ in sales and
A 10% commission if you cross $1000 in monthly sales.
Their average order value ranges from $200-230, and all their affiliate links come with a 30-day cookie period. As you would have observed, this program is a bit different from others on this list and doesn't cater particularly to any sports equipment.
However, it can still be a good source of income since you won't be promoting just skateboarding; rather, you'll be asked to promote racks for bikes, surfboards, wakeboards, ski boards, etc.
Moreover, since you aren't necessarily promoting skateboards, you can also use this affiliate program with other skateboard programs.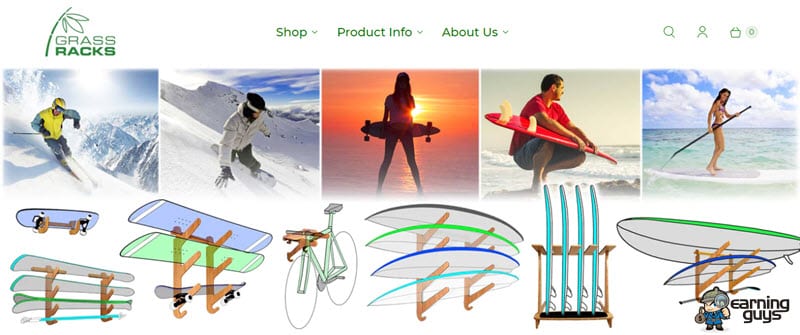 Conclusion
Here you have it, the top 8 best skateboard affiliate programs you can join.
All these brands mentioned above are widely known as well as reliable. In addition, they offer great commissions and good cookie periods, and most importantly, all of them are free to join. Therefore, you can start earning as soon as you join the program.
If I had to pick the best, I'd personally go with either Bamboo Skateboards or the Grassracks affiliate program. They have the most potential to give you good returns and also offer to help you promote better.
Just a couple of sales every month with these two can earn you a good side income.
But there's a catch:
As I mentioned at the beginning, one of the reasons I am recommending skateboard affiliate programs is that they are not much explored compared to other niches like technology or health.
That also means you'll need a loyal audience to make this work. You should have a sports website with good monthly traffic or a powerful social presence.
If you have these, you can be very successful with any of these programs.
I hope you liked this post on Skateboard Affiliate Programs. Also, please do share this post with your friends on social websites.