If you're trying to monetize your travel blog, here's a guide that can help you to make money with affiliate marketing. Herein, we have shared with you 10 Best Travel Affiliate Programs for travel bloggers. These travel affiliate programs pay high commissions and can turn out to be your favorite way of making money online.
We must admit that travel is a difficult niche for earning consistent income through affiliate marketing. However, with the right affiliate programs, you can definitely maximize your affiliate income.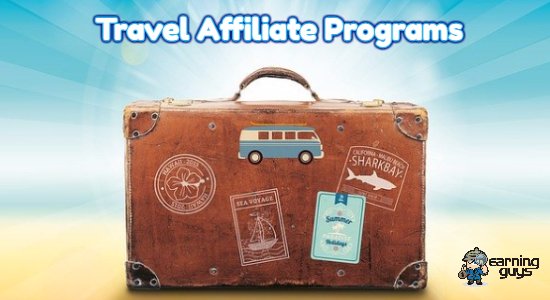 Moreover, you need to come up with the right approach when taking up affiliate marketing. For instance, you should be comfortable promoting the products. You should offer the perfect solution to solve the problems of your readers. You should write reviews and product comparisons for promoting your affiliate products.
Ultimately, your readers should feel like thanking you for recommending the products to them. You should treat your readers as friends if you would like them to like and buy from you.
Well, there are two places where you can find affiliate products to promote:
Affiliate programs
Affiliate networks
What's the difference?
First up, an affiliate program is managed by the company that goes on to sell the product. For instance, Airbnb runs its own affiliate program that is managed by its marketing team.
On the other side, an affiliate network comes as a one-stop-shop for several affiliate programs. It's a place for both merchants and affiliates (publishers). Merchants (businesses) make their products available for affiliates who promote these products in exchange for a commission.
Some Useful Tips for Travel Affiliates
Here, we list out some best practices for travel affiliates for monetizing through affiliate marketing:
You should come up with unique and useful content
You can make your travel website stand out, stand out by focusing on "Quality." So, you should come up with articles that can attract attention and are easily shareable. These articles go on to attract backlinks like magnets, which can prove vital for appearing at the top of search results.
You should give as many details as possible. For instance, you can include specific bus routes, restaurant recommendations, entrance ticket costs, etc.
All in all, you should come up with professional content that goes on to add value to your site. You need to draw your audience with useful & information-filled articles.
They should get the information they're looking for. Lastly, you can recommend an affiliate product or service that aids them in their travel. When they go on to purchase your recommendation, you'll get a commission.
You should insert Contextual Links
You should know that the placement of affiliate links goes on to affect the user experience as well as your SEO rankings. It will help if you include links in the text where your keywords naturally appear. You should not force them in, or try to write around the links.
You can even place your links where your long-tail keywords appear within your content. The good thing for you is the fact that these contextual links do not break up the text of your website, and are still visible to the reader.
Try to make your niche more specific
These days, a large number of travel websites are very general. However, if you want to stand out in the crowd, you need to focus on a specific subject within your travel niche.
It means that you should devote your website to a certain type of travel. For example, your travel website could be devoted to adventure travel, family travel, luxury travel, budget travel, etc. It could even be devoted to travel within one particular area.
You should ensure that you have chosen a profitable niche. One should check what types of affiliate products are available. You should know the commission structure or which niche can give you a better commission.
You should analyze and improve continuously
The travel industry is highly competitive. So, you need to refine your process continuously. You should know what is and isn't working for your site. One need to figure out what's earning you tons of precious backlinks for your website. You need to record and analyze.
Here, an SEO Monitoring Tool can be helpful to you that can help you with keyword rank tracking, organic traffic reporting, and backlink monitoring, as well as competitive SEO analysis.
Plus, you need to update yourself with the latest trends on social media and keep yourself abreast of the current travel news, which will help you to create a popular site. This way, you could be way above your toughest competitors.
So, these were some basic methods that can be used by travel affiliates for doing affiliate marketing in the travel industry.
You may also like: 20 Best Cost Per Sale (CPS) Affiliate Networks
Now, we head over and take a look at some of the most popular affiliate programs that can give you the best commissions. You can use one or even a combination of these for earning the best commission from your travel website.
10 Best Travel Affiliate Programs
Herein, we have shared with you some of the best travel affiliate programs for travel bloggers. Let's have a look at them:
Booking.com is known to be one of the largest hotel websites in the industry. It boasts of over one million places for staying across the world. It's a credible resource. They have an easy to use an affiliate program that is relied and trusted upon by more than 12,500 websites.
With the travel affiliate programs by Booking.com, you can get a percentage out of the commission which they take from each confirmed booking.
It means that when someone goes on to book a hotel using your affiliate link, you will be paid once they complete their stay. So, you can make a better commission when you send more referrals to Booking.com's website.
Its commission rate has a tiered structure. At the lowest end, you can get as much as 25% of Booking.com's commission. However, if you happen to refer over 501+ confirmed bookings per month, then you can get 40%.
Pros include:
Free sign-up
Easy-to-use system
The official WordPress plugin goes on to make the process even simpler
Banner as well as interactive search box options
Cons include:
Minimum payout threshold (monthly) is $100
The commission is counted from 30 to 60 days after the completed booking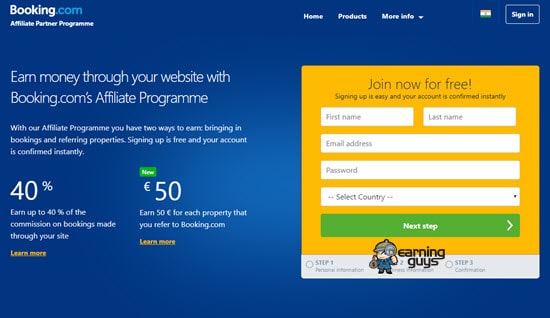 Agoda is one of the most respected travel communities across the world. It is being used by millions of people to find accommodation such as hotels and resorts at the best prices that you can ever imagine. Its affiliate program offers you an opportunity to become an affiliate partner and start monetizing your traffic today.
You can earn 5% commission per each successful transaction such as hotel booking and resort accommodation. So, for each $200 booking with a commission rate of 5%, you stand to earn $10 in affiliate commissions.
The Agoda Affiliate Program sends you commissions every single month. In fact, commission payments are being calculated on the 1st day of each month. So, a guest who makes use of your affiliate tracking link for booking a stay in January allows you to get your commission in your PayPal account in March. You will get your commissions by the 15th of the month once you happen to attain the minimum commission payment of $200.
The Agoda Affiliate Partner Advantage
It offers generous commission rates
Easy integration with promotional tools that are easy to set up allowing you to get up and running in minutes
Its web, app, and promos come in 38 languages allowing you to speak directly to your audiences
You get "top-notch" support. Its support team helps you to get started as an affiliate in minutes
Free and detailed reporting to track your performance, earnings and more
Many customized tools to increase your affiliate commissions
The dedicated affiliate management team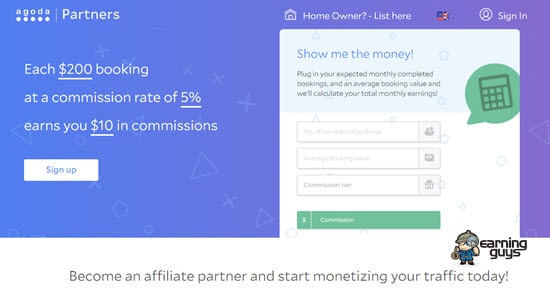 3. Tripadvisor Travel Affiliate Program
TripAdvisor is a very popular website for travel and restaurant bookings. It is being used by millions of people around the world. In fact, TripAdvisor is one of the oldest players on this list.
The TripAdvisor Travel Affiliate Program allows you to partner with this trusted and one of the largest travel communities in the world. It allows you to enhance your existing travel programs and earn additional revenue.
As an affiliate with TripAdvisor, you can earn 50% commission per every successful transaction that you make with your affiliate referral links. Moreover, you can be earning up to 80% affiliate commission based upon the transaction value as well as the kind of product you promote with your travel websites.
So, the Tripadvisor Travel Affiliate Programs provides one of the highest commission payouts in the industry. In fact, it is widely popular with travel bloggers all across the globe that are generating money by offering products as well as hotel bookings through TripAdvisor.
It has partnered with CJ Affiliate to provide you (affiliates) with a comprehensive as well as an easy-to-use affiliate program. You can be an affiliate by applying through CJ Affiliate.
You can expect the following by joining Tripadvisor Travel Affiliate Program:
50% Commission
Incentive programs
Deep linking to more than 500,000 city and hotel pages
Comes with continuous addition of products and promotions
Offers a dedicated and experienced team
As an affiliate with TripAdvisor, you stand to receive commissions every single month. For instance, if you happen to make a successful sale in March, you will receive your commission in your PayPal account in May.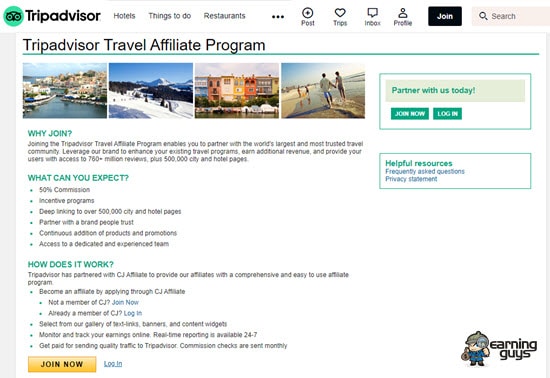 Expedia is the world's leading travel site. The Expedia Affiliate Program allows you to team up with this leading online travel agency for making additional revenue. It has access to over 500,000 hotels across the world that can be used for recommending on your travel sites for earning more commissions.
Expedia affiliate program offers you the opportunity to make from 3% to 11% (per transaction) as commission. The commissions entirely depend upon the type of transactions you make. Here, we provide you the commission rates for various packages:
Vacation Packages (a minimum of three hotel nights): 5% commission/sale – Flight + Hotel, Flight + Hotel + Car Rental
Vacation Packages (less than three hotel nights): 3% commission/sale – Flight + Hotel, Flight + Hotel + Car Rental
Expedia Premium Plus Hotel Transactions: 11% per Transaction which is based on Monthly Hotel Sales
Basic Hotel Transactions: 3% per transaction
Rental Car Transactions: 6% per transaction
Premium Hotel Transactions: 9% per transaction
Activities Transactions: 10% per transaction
Minimum Payout Threshold: $50
Payment Frequency: Once in a month (15th every month)
The Expedia Advantage
World-renowned affiliate team
Superior Inventory that comes with dynamic packages and exclusive rates
Powerful brand ensuring market-leading conversion rates
Additional Revenue made through your links
Complete support ensuring your success all the way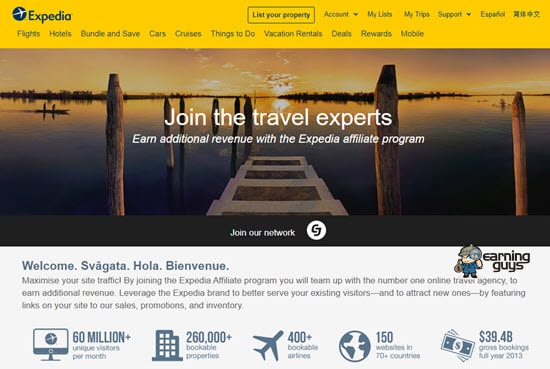 Skyscanner is a world-renowned travel search site that provides instant online comparisons for hotels, flights, and car hire. Its affiliate program functions on a 50% revenue share model. It means that Skyscanner pays you (affiliates/publishers) half of the revenue that it makes per booking from the users that you happen to send to them.
You have the opportunity of driving a large number of conversions promoting its easy to use the search engine. By joining its affiliate program, you can expect real-time reporting as well as fast payments, regular incentives, and promotions.
Permitted Traffic Sources & Activities
Travel websites
Blogs
Social media groups
Deals websites
Advertising Networks
Price comparison websites
Forums
Content platforms
Cashback websites
Subnetworks
Non-permitted traffic sources & activities
Disruptive Ad Formats (Popups, etc.)
Cookie Stuffing
Teaser Networks
PPC Bidding
Toolbars & Browser Extensions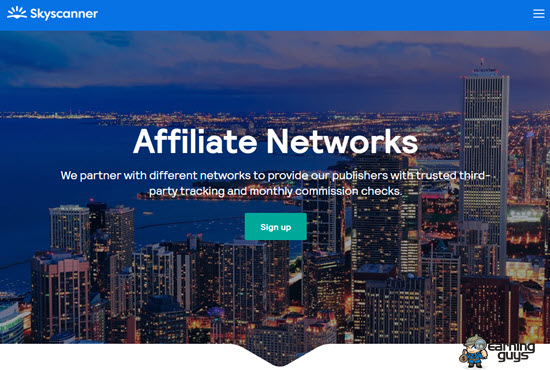 Travelpayouts affiliate program goes on to cover the entire range of travel services such as car rentals, hotels, flights, transfers, insurance, and much more. It allows you to help your travel visitors by organizing their vacation and also increasing your earnings.
Features
30-day cookies: all the user purchases that are made within this period through Jetradar or Hotellook will be credited to your account, and purchase details are available in your dashboard
High Conversion Rate: They are continuously engaged in developing and improving Travelpayouts Affiliate Tools
High Income: You can look up to revenue share that is up to 80% for each sale. So, the more you happen to sell, the higher your income will be. On average, you get 1.6% for a flight booking as well as 6% for a hotel booking
Anyone Can Join: Personal Facebook pages, small travel blogs, as well as high-traffic web portals
How does it work?
Install Affiliate Tools: You need to place the materials on your website thereby helping visitors to book flights, hotels, as well as other travel services
Visitor Books Travel: Your web visitors make use of great deals and go on to book an unforgettable business/vacation journey
You get paid: Get up to 80% of revenue on each sale. Purchase details are displayed on your dashboard when the customer pays for the service. The more the traveler spends, the higher will be your income
They make monthly payouts to their affiliates. Payment systems used include PayPal, Webmoney, and Yandex, WebMoney as well as SWIFT and EPayments. Plus, its support team quickly handles any technical issues that you may face.
Its websites and tools are multilingual, allowing you to work with customers all around the globe. You get cutting-edge tools that go on to ensure high conversion rates. They make use of the CPA model. They offer free case-studies and webinars for their affiliates.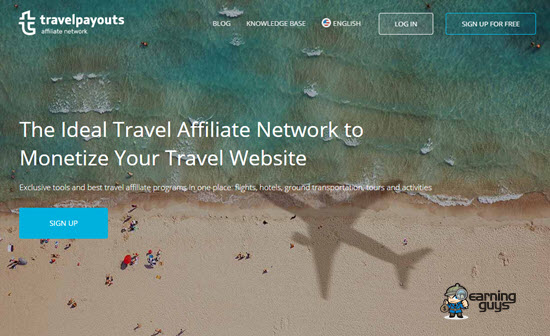 7. ShareASale Travel Affiliate Programs
ShareASale happens to be one of the largest affiliate networks in the world, with more than 3900 affiliate programs. It's home to companies in almost every industry, including travel.
It's a heaven for affiliate marketers where they can find tons of products for promoting on this network.
Signing up for ShareASale is free. Some of the companies that you can promote include Skyscanner, Allianz Global Insurance, Sally Beauty, and more.
It has been a prominent provider of performance marketing solutions for the past 20 years. It uses the latest technology that is known for offering speed, accuracy, and efficiency.
Moreover, it's a trusted Affiliate Marketing Network that is well known within the industry. Find plenty of travel affiliate programs on ShareASale.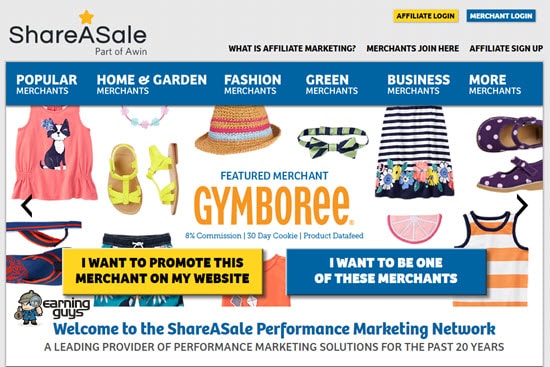 Amazon Associates is the affiliate program of Amazon, which is the world's largest online platform. It is being used by over one million affiliate marketers who go on to promote affiliate products through their sites.
Affiliates can earn a 4% standard commission with Amazon Associate Program for most of its purchase. However, it should be noted that the commission varies from product to product.
Payments are being made monthly when your balance meets the minimum threshold. Suppose you earned a commission of $100 in May, then you will get it by late July.
Advantages with the Amazon Associates Affiliate Program:
You get millions of products to promote. So, you never have to worry about what products to promote for making money as a travel affiliate
Amazon offers pre-designed links and banners for various travel-related products that can be used within your website for promoting effectively. Moreover, all your links will have your Associate Tag.
You get Amazon Associate Support when you face any questions.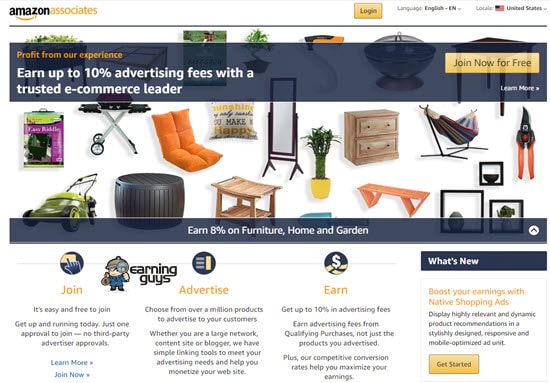 CruiseDirect is one of the most renowned and trusted websites for researching, arranging, and booking reservations online for your cruise. Here, you get the lowest prices, and they even ease your decision-making process. It makes the process incredibly fast and friendly. Plus, you get top-notch support whenever you need a helping hand.
Its CruiseDirect Affiliate Program makes it easy for you to make money marketing with one of the fastest-growing segments on the web. You can earn commissions for each CruiseDirect.com purchase that is being generated from your site. You can earn as much as 3% of gross sales.
They have come up with the latest features and splendid deals for your customers. They help you to make even more money by providing you a variety of travel content as well as traffic-driving banners that go on to land at high-converting pages. Plus, they have made it easy for you to apply to the program, get links, as well as review your sales reports.
Features:
3% commission of gross sales
45-day cookie
PPC Marketing opportunities
Parasite-free program
New Banner Ads as well as Text Ads and Search Boxes
Proactive Affiliate Management Team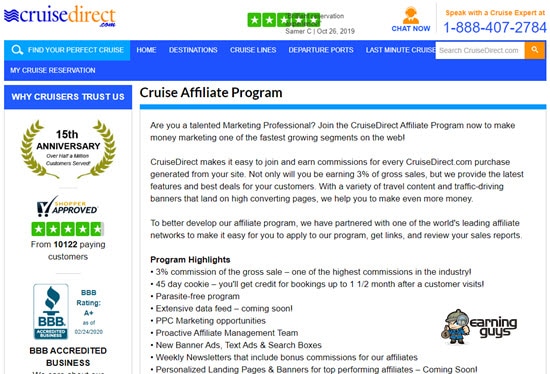 10. CJ.com Travel Affiliate Programs
CJ.com (Commission Junction) is a well-renowned affiliate network where users can get plenty of travel affiliate programs. This affiliate network has over 1500 merchants. The company pays out over one billion US dollars in affiliate commissions.
Some of its merchants in the travel niche include the likes of Priceline, Intercontinental Group, and GoPro. CJ was founded in 1998 and happened to be the oldest affiliate networks out there. It's an elite affiliate marketing provider. More than 3000+ brands have partnered with this network.
Features:
Integrated Toolbox for publishers
Mobile Solutions
Real-time Monitoring
Deep Link Generation & Automation
Customizable Product Widgets
It is free to register with CJ
A large number of advertisers
Reliable payouts with $50 minimum
Comprehensive Reporting Tools
CJ Performer Program for top-performing affiliates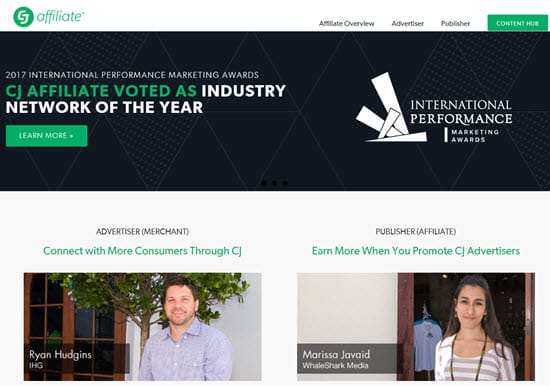 With this, you now have access to a wide range of travel affiliate programs as a travel affiliate. We hope that this post happens to prove immensely useful to you. Thanks for visiting. Please do share the post across popular social networking sites such as Facebook, LinkedIn, and Twitter.