If you're trying to figure out the most effective plagiarism checker tools, we must tell you that you're perfectly at the right place. Here, we have listed the 11 Best Plagiarism Checker Free and Paid. These tools are best in business and help you tackle the plagiarism nightmare.
Producing original content is of utmost importance for your online reputation. In fact, copied content is detrimental to your professional career, especially when you're publishing content online.
So, you need to be cautious about plagiarism. A plagiarism checker tool helps to check the originality of your content. It ensures that your work is free of copied content.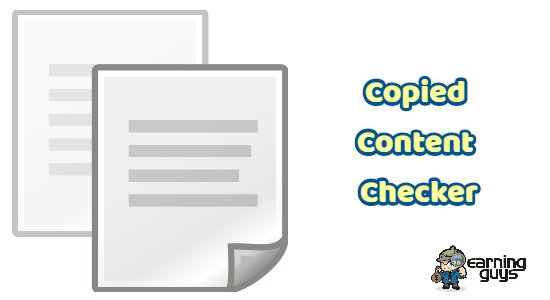 Here, we share with you the key advantages of using plagiarism checker tools:
Plagiarism checker tools have access to a variety of databases. They can detect any incidence of plagiarism by searching through a variety of databases and indexes. So, it helps to clear your suspicions about copied content.
It deters copying amongst learners. When learners know that you're using plagiarism checker tools, they are less likely to copy the work of others.
Plagiarism checker tools prove invaluable educational aid. You can educate the learners on how to improve their writing & research skills to enhance the overall learning experience.
If you find out that any piece of content or assignment has been plagiarized, you can use this opportunity to educate the learners on how to cite references properly.
Plagiarism checker tools help develop moral and ethical boundaries among learners so that they emphasize creating original content. It develops educational experience so that they develop the habit of writing the assignment in their own words.
If you are a content developer yourself, it's always good to run your work through a plagiarism checker before uploading your work into your deliverable. This would help you to uphold your professional credibility and even avoid copyright infringement issues.
Nowadays, Plagiarism is a major concern with e-learning professionals, bloggers, as well as digital marketers. With Plagiarism checker tools, you can protect your work and check the originality of your content.
You may also like: 11 Best Free Grammar & Punctuation Checker
Here's a list of top 11 Plagiarism checker tools available out there. Let's begin:
11 Best Online Plagiarism Checker
Plagiarism Checker by Grammarly is one of the best plagiarism checker tools out there that detects plagiarism in your text and also checks for other writing issues. Its utility lies in the fact that it can detect plagiarism from billion of web pages and even from ProQuest's academic databases.
Grammarly's Plagiarism Checker performs a plagiarism check and lets you know whether your text contains duplicate content. It highlights passages that require citations and goes on to provide the resources you need so that you can properly credit your sources.
Plus, the Plagiarism Checker provides advanced feedback on writing mechanics such as grammar and spelling and even addresses complex stylistic issues such as word choice, tone, conciseness, and more.
In case any part of your text matches something that has been written online or even in a database, it immediately gives you a plagiarism alert. So, it reports plagiarism issues and grammar and writing issues present in your content. It gives an overall originality score for your document and offers writing feedback and corrections across several dimensions.
Plus, it ensures that your writing stays private. Your writing will not be searchable publicly or in any other database. Grammarly's Plagiarism Checker is useful for writers who work to produce original content for the web. A plagiarism scan with Grammarly not only saves your time but also helps to avoid writing issues in your content.
Price: Free & Paid
Copyscape is one of the leading solutions for originality checking. It allows you to verify all new content to ascertain whether it has been copied or stolen from other sites or not. It's the world's most powerful and trusted online plagiarism detection tool.
It's been used by millions of website owners to check the originality of their new content. It searches for copies of existing content online and prevents duplicate content.
Copyscape comes with a free plagiarism checker. It also has two more powerful professional solutions that can be used for preventing theft and content fraud.
Copyscape Premium comes with powerful plagiarism detection capabilities. It has a host of other features such as batch search, copy-paste originality checks, private index, and more.
Copysentry has comprehensive protection features for your website. It can automatically scan the web daily or weekly and email you in case new copies of your content are located.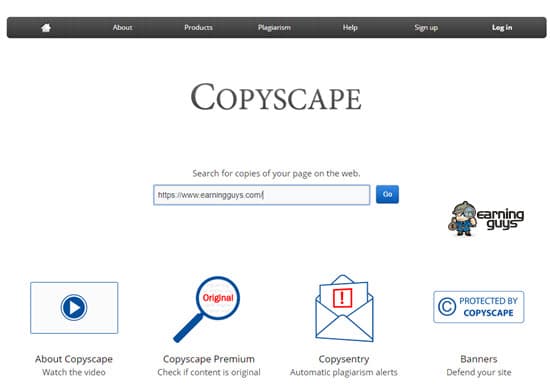 Scribbr Plagiarism Checker has been deemed one of the best plagiarism checkers for students with the largest plagiarism database. It highlights the similarities that are most likely plagiarism. It compares your document with over 70 billion web pages as well as 69 million scholarly publications.
It's 100% safe and confidential. It never adds your paper to its database. You can delete your document right away once the check has been performed. So, your document stays yours.
Scribbr Plagiarism Checker does identify the sentences that are the same as the source. Plus, it can detect plagiarism in paragraphs wherein sentence structure has been changed or synonyms are used, or even text from different sources is combined.
So, Scribbr Plagiarism Checker is more accurate and goes on to detect more plagiarism. It employs the most advanced plagiarism technology to offer you the best plagiarism checker. Its database consists of websites as well as books and journal articles.
In fact, thousands of students are using the Scribbr Plagiarism Checker for detecting, understanding, and correcting plagiarism. It allows you to upload your paper in .doc, .docx, and .pdf format.
Plus, it offers plagiarism support with experts that are ready to answer all your questions. It can detect plagiarism in many languages such as English, Spanish, French, and other major languages.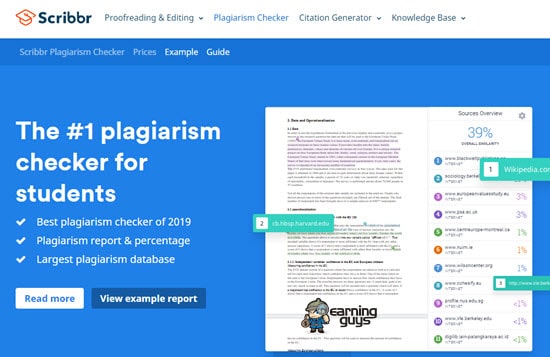 Quetext is one of the top Plagiarism Checker & Citation Assistant for writers, teachers, professionals, bloggers, and webmasters. It helps to identify potential plagiarism in your work. It offers an easy and immersive experience and allows you to find plagiarism with just a click of a button.
Quetext can easily spot exact matches as well as near-exact or "fuzzy" matches using corresponding colors. Its intuitive and interactive snippet text viewer allows you to drill down on your matches easily. It offers a comprehensive plagiarism score that is backed by billions of internet sources.
Quetext makes it easy to check your writing with its contextual analysis, word placement, and smart algorithms. It uses "Deep-Search" Technology to give you accurate results. More than five million professionals, teachers, and students use Quetext to detect plagiarism in their work.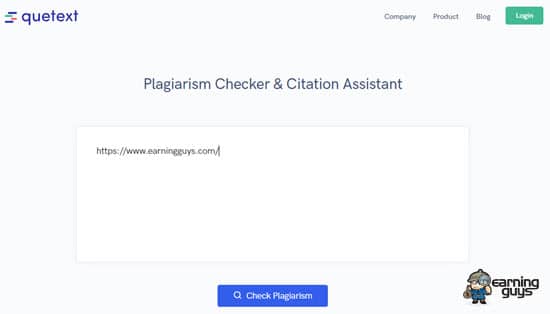 PlagScan is another very reliable and accurate plagiarism checker tool for checking texts. It is meant for both businesses as well as individuals. It doesn't require you to download anything to use the program. Its interface is quite advanced.
The tool gives you three options for performing plagiarism checks. You can choose to paste the text into the appropriate field directly. One can import the file from the Internet by input its URL in the given location. You can choose to upload it from a Cloud Storage Location such as Google Drive, OneDrive, and Dropbox. Lastly, you can upload a file from your location.
Private users need to pay $599 every month. Accounts for schools, universities as well as companies start from $1999 every month. It works with all common file formats. It's easy to use. It guarantees data protection. Your uploaded documents never get shared with unauthorized third parties. It's one of the best solutions to check the originality of any written text. It's useful for single users as well as organizations.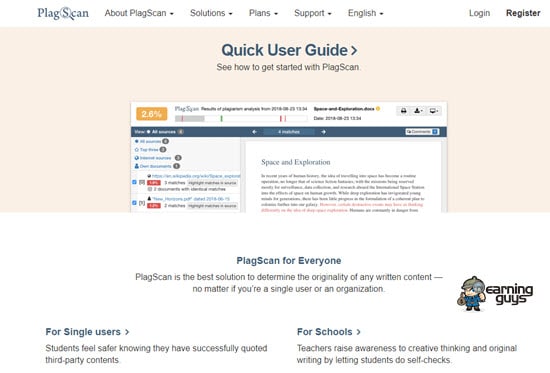 Dupli Checker is one of the most powerful free plagiarism checker tools on the web. It gets the job done as well as possible, which is comparable with the best in business. You don't need to pay anything, whether you're just a one-time user or want to use it for a long time.
The fact that the tool is very easy to use is one of the main highlights of Dupli Checker. It offers a basic layout that doesn't require any previous experience with plagiarism checker tools. You can either copy and paste the content in the text field to detect plagiarism, or you can even upload a Docx/Text file from your computer.
When you sign up for free, you can do as much as 50 plagiarism checks per day. However, you're limited to only one check per day when you do not want to sign up.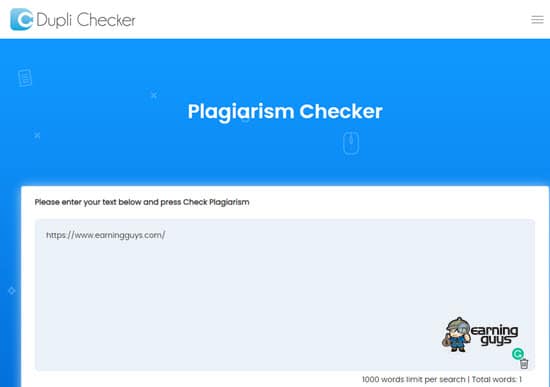 PaperRater is a free and multi-purpose plagiarism checker tool that has been used in over 140 countries. This cloud-based tool offers three services:
Plagiarism Checker
Grammar Checker
Automated Proof Reading
It's developed by Industry Experts and offers accurate results within seconds. It also has a paid version with more functionality, such as accepting longer documents and offering faster results. However, it cannot store the result report.
Its basic version is available free of charge. It allows submissions of up to five pages and grammar and spelling checks, automated scoring, and writing suggestions tool.
The Premium Version is available for $7.95 per month or at $95.40 per year. It offers faster processing times and comes with file uploading ability. PaperRater can be used for plagiarism checks and proofreading. It comes with no ads.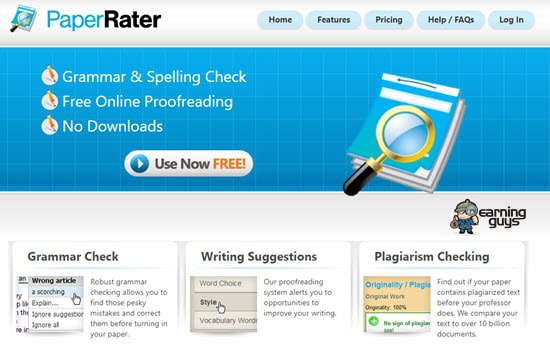 It's a 100% free premium-level online plagiarism checker tool. It's an extremely easy-to-use tool that offers reliable and amazingly accurate results. This plagiarism checker tool can be used to check content such as academic work, website page content, blog post, social media content, term paper, news article, email newsletter, landing page content, and so on.
It has been built by a dedicated team of highly talented developers and delivers results super-fast. In fact, it offers results in as little as 0.83 seconds for 1000 words per search. It guards user privacy and does not save your content in its system. Once the plagiarism check is performed, it goes on to automatically delete it from the system.
This tool is best for marketers who need to check short snippets of text for plagiarism. However, it does not have any database or advanced algorithm. It uses Google's "exact search" for finding matches. It goes on to give you a list of plagiarized sentences.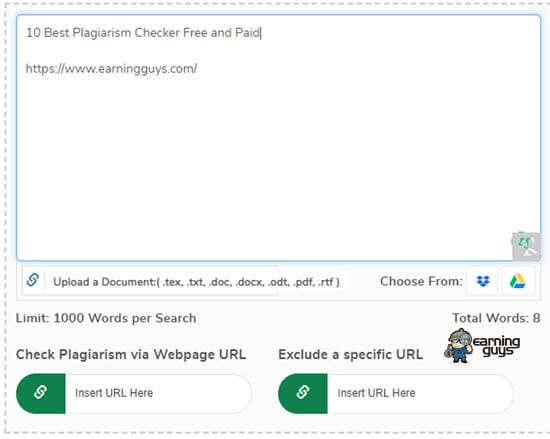 It's a 100% free, reliable, accurate, and powerful plagiarism checker tool for checking duplicate content on your website or blog. You can use this Plagiarism Checker to ascertain whether your content is 100% unique and original.
It's easy-to-use and enables you to do a plagiarism check for max 1000 words limit per search.
You can go ahead to copy and paste your text in the space provided with this Plagiarism Checker Tool. You need to complete the image verification or Captcha.
Lastly, click on the "Check for Plagiarism" button to check your content for duplicate issues. It goes on to provide the results instantly. So, the EarningGuys Plagiarism Checker tool does verify that your text contains any duplicate content or not.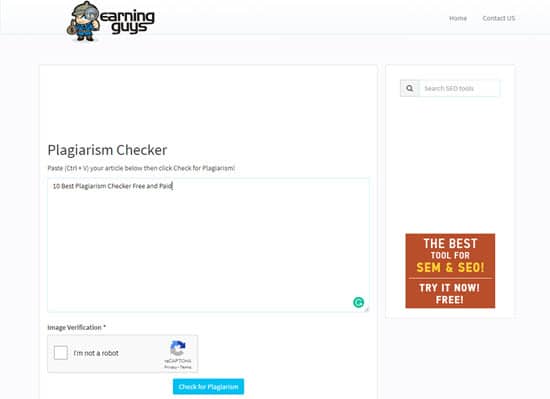 Plagiarism checking tools call up to help you to avoid copied material from other web pages. If you are a student, an academic article or essay's uniqueness is one of the most significant elements of your work. Writers or journalists also cannot allow themselves to publish borrowed information if it is not referenced. Do not take this risk, as you can lose your job or university degree.
Let's try to understand how those tools work and how the online engine knows that some parts of your article were copied and taken from other resources. First of all, the tool should divide the document by taking only short and small pieces of your text (for example, paragraph). After that, the next one is a searching step, where the plagiarism tool searches identical sets of words and compares them with other documents. Your text or part is considered duplicate if there is the same info somewhere on the web.
You do not need to pay for this as it is a free checker tool, and they are very easy to install on your computer or use the online version. They have a user-friendly interface and deliver some hints step by step. There is a possibility to type text or upload different formats of documents, and plagiarism will be highlighted with the other color, which makes all these choking things very simple.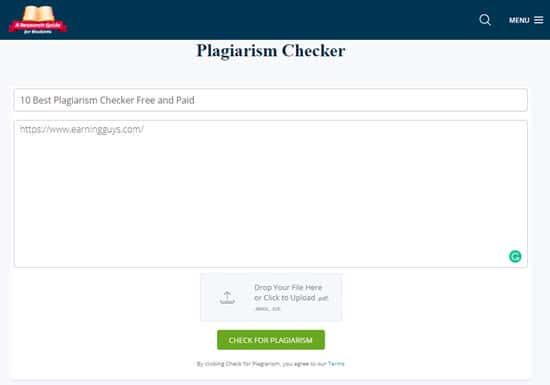 Writer is a top-notch plagiarism checker that stands out among other resources because of its AI system that aims to create clear, consistent, and on-brand content.
One of the excellent parts about Writer is it allows you to define your content's overall tone. You can customize your writing goals based on your needs. Just tell Writer if you want your content to sound informal, formal, informative, or playful, and so on.
Another great feature is the grammar checker tool that will let you know if you can improve word usage and detect any text issues. It will fix all of your grammar, punctuation, and context errors and give suggestions to improve your writing.
It is really easy to use and a great option for teachers, students, writing professionals, journalists, etc.
You can use both of these tools for free!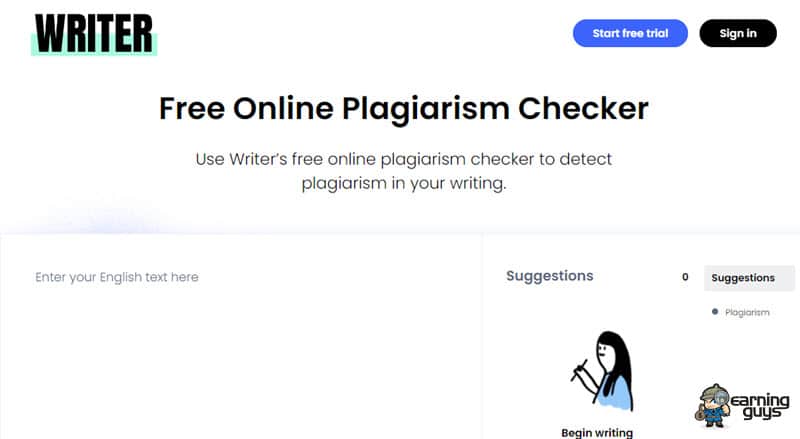 So, that's all in this post. We have listed the best plagiarism checker tools (free & paid). We hope that it proves helpful to you so that you can select the best plagiarism checker according to your needs. Thanks for visiting. Please share the post across major social networking channels. We welcome your comments and suggestions.
Don't forget to check: 6 Best Readability Score Checker Tools