Academic writing does not come easy for many wherein students are required to produce essays, reports, and term papers on a frequent basis.
Moreover, it is very stressful with strict deadlines.
That's why lots of students go for writing services for help.
Here, we take a look at one such marketplace – StudyBay – that not only brings students and qualified writers together but also provides a lucrative opportunity to internet marketers with StudyBay affiliate program.
So, you can make money with StudyBay Academic Writing Affiliate Program.
The StudyBay affiliate program has a high conversion rate, simplified monetization with immense experience in the educational niche.
They are expert at monetizing and converting student/education traffic.
What is StudyBay?
StudyBay comes as an academic writing platform that connects students with qualified teachers and experts for writing original content and academic papers.
It is an internet-based freelance service for ordering student related work such as class assignments and general research papers.
It includes reports, essays, dissertations, term papers, business plans, creative writing, and much more.
All this can be had with few dollars per page.
StudyBay has been designed with the stressful student in mind.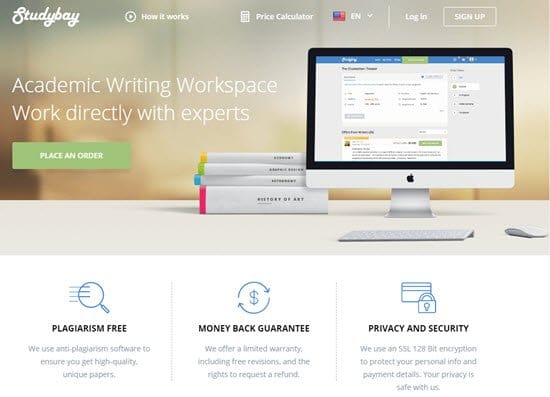 The concept at StudyBay is rather simple to understand.
A student gets an essay or term paper that needs to be written.
However, he or she doesn't have the time, resources, or knowledge to do it.
It is here that StudyBay comes into the picture.
A student can turn to an expert for getting the paper written for him, all for a few dollars per page.
The content is guaranteed plagiarism free and much of its high privacy settings, no one can find out that you used the service.
At Studybay.com, clients (students) and originating authors come together directly (no middlemen), to agree on deadlines and price for their respective assignments.
StudyBay resources are vast and comprise of over 10,000 authors spread over different fields and disciplines.
StudyBay is growing at a rapid pace with over 1000 orders per day accessing more than 57,000 completed assignments in their archives.
StudyBay ensures the highest quality and service.
All their work originating authors are required to pass qualifying criteria. They go through rigorous checks prior to working on the StudyBay platform.
This allows StudyBay to give industry-breaking guarantee for non-plagiarized material.
Moreover, the majority of orders are fulfilled as completed assignments.
In fact, StudyBay has reached the highest percentiles on the market on conversion rates for orders. It is close to 60%.
However, we need to point out that hiring someone else for writing essays for you comes into an ethically suspicious territory because if one is caught, he or she can be expelled or suspended from the academic institution.
That said, the final decision is entirely up to you.
There is clearly a market for such a service and opportunity to make money.
For seeing how the process really works, you simply need to visit their website http://studybay.com, and signup as a Student or Writer.
As a student, you can place orders using their site. You can order any type of content creation you want. You can even choose the education level (high school, masters, Ph.D., etc.) in which you want the articles to be written in.
StudyBay offers an option to sign up as an expert, which is being a freelance writer for the site. You get paid for writing content for the customers at StudyBay.
StudyBay has set up the following guidelines regarding quality and other conditions on their site.
Quality Assurance – All the registered experts possess solid experience in academic writing. They have cleared (successfully passed) the StudyBay competency examination.
Zero Plagiarism Guarantee
Low Price – StudyBay has the lowest prices on the market. Their prices start at $5 per page.
No Intermediaries – You work directly with writers and need not overpay intermediaries. So, you get to save up to 50% of the cost.
The StudyBay Affiliate Program
What if you are not a student or an author?
Well, StudyBay offers a lucrative opportunity to internet marketers in the form of its Affiliate Program.
There's already a big demand for writing services such as StudyBay.
The StudyBay Academic Writing Affiliate Program gives you an opportunity to cash in on this huge demand and earn big commission by promoting StudyBay.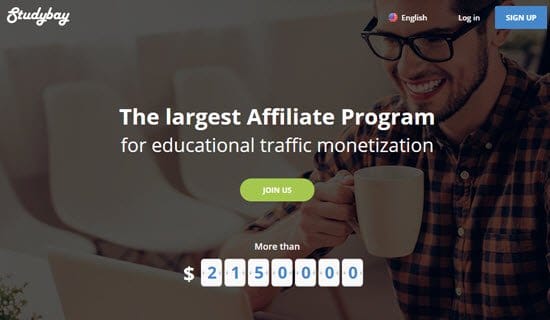 So, if you have a content site or run an ad campaign targeting these audiences, you could be earning as much as 60% on each referral, plus an additional 15% on all the future orders from your referred customers.
In fact, StudyBay Affiliate Program is one of the most unique and transparent programs.
They go on to show their affiliates all orders, which they gain from their referral links, the quantity of bids for these orders as well as all rebills.
Moreover, many factors make StudyBay Affiliate Program highly appealing to the right affiliates.
Now, let's give you the numbers first.
The average bill with a StudyBay customer is nearly $125.
With StudyBay, you can get a very generous commission rate of 60% (High converting affiliate can get upto 80%) on every first order and a 15% commission on subsequent orders.
So, a single essay of $125 can net you as much as $75 payout.
Moreover, according to StudyBay, an average customer places as much as 10 orders. So, you have a good opportunity at residual income. Plus, the conversion rate is very high at around 60% range.
What's more, as a StudyBay affiliate, you stand to benefit in a number of ways.
Here, we list out some benefits as StudyBay affiliate:
An industry beating Conversion Rate of 64% for paid and fulfilled orders.
As much as 10 orders per client on their resource.
24/7 – they convert your traffic even at night, holidays, and weekends.
You get a Personal Manager – available 24 hours per day.
Instantaneous payments on any working day.
Various payment options.
Your referral stays with you forever and does not expire.
Record number of rebills in the niche
Unique promotional materials
Let's show you the benefits of becoming a StudyBay Affiliate with an example.
An average customer goes on to purchase 10 writing jobs through StudyBay. If they go on to spend $120 on their first order, you stand to earn as much as $72 just from that one referral.
If they ordered 9 more articles at $100 each, that could net you an extra commission of $135 from that one referral. And that's good money for you. It's all from just one referral.
The StudyBay Affiliate Program is unique in the sense that it delivers complete transparency.
They also offer a number of tools to affiliates:
Tables and graphs (with orders, transfers, applications, and revenue)
Diagrams and graphs
Division between new orders and rebills.
Plus, StudyBay offers a vast array of Promotional material:
Referral Links
Banners
Buttons and Widgets
Landings
Order Forms and Popups
Keyword List
Division for different streams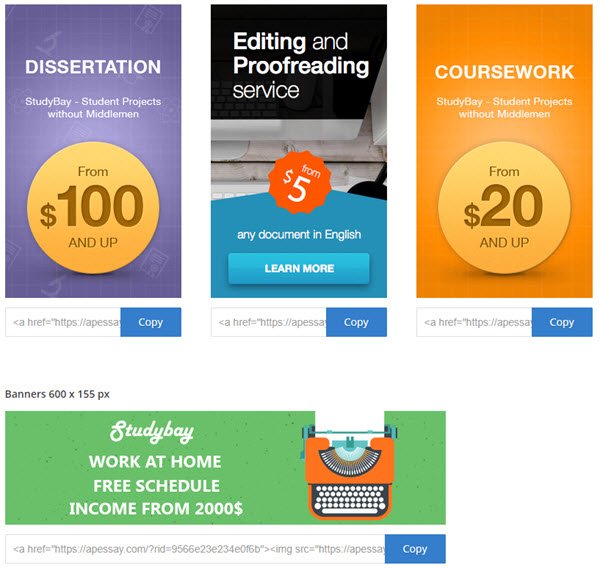 They make instant payments every day, and the minimum payout threshold is just $20. Withdrawals can be made through PayPal, Web Money, Bank Cards (Visa, Master Card).
Thus, there are many reasons for promoting StudyBay. They have the best writers and offer the best pricing. Then, its auction-based system allows you to choose the best offer.
To start promoting StudyBay, you just have to join their affiliate program. Once you get logged in, you can access all tracking links, creatives, landing pages, and much more.
Once you have an order placed through your affiliate link, you can see it on your affiliate dashboard. When the order is confirmed as legitimate, you can withdraw your commission at any time.
Our Verdict
So, you see there is massive money to be made with StudyBay Affiliate Program.
Now, it's your turn to make money with StudyBay Academic Writing Affiliate Program.
Simply get going!