Chatbots come as one of the best tools for businesses that make use of artificial intelligence software and automate conversations with website visitors.
So, they save time and effort by automating customer support. In fact, the size of the chatbot market is growing exponentially. Here, we have listed the 12 Best Chatbots to increase your site conversions.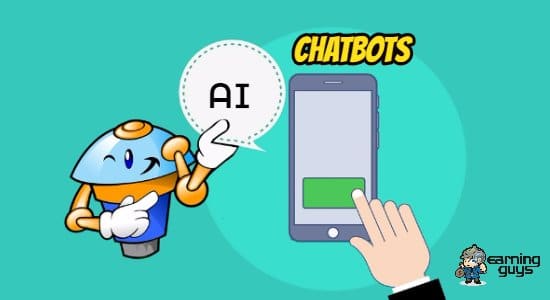 What is a Chatbot?
A Chatbot is a tool that simplifies the interaction between humans and computers. It uses artificial intelligence (AI) software to simulate a conversation (or a chat) with a user using natural language and employing messaging applications, websites, mobile apps, or even through the telephone.
However, from a technological standpoint, a Chatbot is a Question-Answering system that leverages Natural Language Processing (NLP).
According to Oxford Dictionaries, a Chatbot is defined as a computer program that can simulate conversation with human users over the Internet.
So, Chatbot functions like an assistant and communicates with humans through text messages. It's a virtual companion which integrates into applications, instant messengers or websites and thereby helping entrepreneurs to get closer to their customers.
Thus, a Chatbot establishes an automated system of communication with users.
Chatbots help businesses to get rid of routine tasks. They also help in the simultaneous processing of multiple requests from users. All this is done with tremendous speed. So, Chatbots help businesses to gain customers' loyalty.
In fact, consumers are getting increasingly interested in this technology. The 4th International Conference on Internet Science (November 2017) has identified reasons people get motivated to use Chatbots. The main reasons that influence people to use Chatbots are:
Chatbots provide access to information quickly and efficiently.
Chatbots prove as a source of amusement for people. They offer funny tips to people and also help in killing time when users do not have anything to do
Chatbots enhance social experiences. They give a chance to talk without being judged. They also improve their conversational skills.
Chatbots sparks curiosity. They allow people to explore their abilities and try something new
Chatbots can be divided into two large groups:
Simple Chatbots
Smart Chatbots
Simple Chatbots use pre-written keywords to understand and respond to users' questions. However, when a user does ask a question without using a single keyword that the robot cannot understand, it responds with messages. "Sorry, I did not understand."
On the other hand, Smart Chatbots make use of artificial intelligence for communicating with users. It does not use pre-prepared answers. Instead, the robots respond using adequate suggestions on the topic. Plus, all the words uttered by the customers are recorded for processing later on.
Startups and savvy companies are increasingly using chatbots for managing their daily operations, including communication with customers and sales processes. It answers the specific questions of visitors and responds to 100% of messages, thereby converting more visitors into buyers.
How does a Chatbot work?
The two main tasks performed by a chatbot are as follows:
User request analysis
Returning the response
So, a chatbot returns a response that is based on the input from a user. Firstly, a chatbot analyzes the user's request. It identifies the user intent to extract the relevant entities. It understands the user's request to provide the correct answer.
Once it identifies the user's intent, the chatbot goes on to provide the most appropriate response for the user's request. The answer can be in the form of:
A generic and predefined text
A text that is retrieved from a knowledge base and contains different answers
A contextualized piece of information that is based on the data which the user has provided
Data that is stored in enterprise systems
All in all, a chatbot system enhances the customer experience by streamlining interactions between people and services. They help improve the customer engagement process and increase operational efficiency by reducing the cost of customer service.
Not just that, the chatbot helps increase email opt-ins by asking users to email, which helps increase conversion. When you have a user's email, you can respond to the user with more details about your product or services later by email.
Here, we explore 12 Best Chatbots that help to increase your site conversions.
12 Powerful Chatbots
So, let's get started. Here's the list for you:
1. MobileMonkey Best Marketing Bot Platform
MobileMonkey comes as a world-class chatbox builder. It's also a widely popular Facebook Messenger ads tool in the online market place. It offers several formats to choose from, such as live chat, daily webinars, with excellent support, and the list goes on. Larry Kim established it in 2017.
MobileMonkey helps businesses to build leads using the automated chatbots and Facebook Messenger ads platform.
MobileMonkey allows the user to create a Messenger chatbot with the utmost ease. So, there's no need to invest human resources in answering questions all day. It helps you to engage users and entice them to buy your product or service.
In fact, MobileMonkey Chatbots prove an effective medium for an active lead generation. It makes users stay interested. Moreover, MobileMonkey allows you to generate more than 70% open rates. It helps you to subscribe to users. The CTA button allows you to generate potential leads.
MobileMonkey allows you to integrate your Facebook ads in whichever fashion suits you the best. It provides several Facebook ad formats ensuring topmost conversion rates. MobileMonkey provides several remarkable widgets and website chat plugins, thereby efficiently interacting with your audience.
Last but not least, MobileMonkey provides astonishingly remarkable support. It's available in two packages, namely Pro and Premier consulting plans. The Pro package is suitable for small or mid-scale business. It's Premier consulting plan is suitable for larger organizations that have marketing needs.
Pricing: The Pro package at $19/mo and Premier Consulting package at $149/mo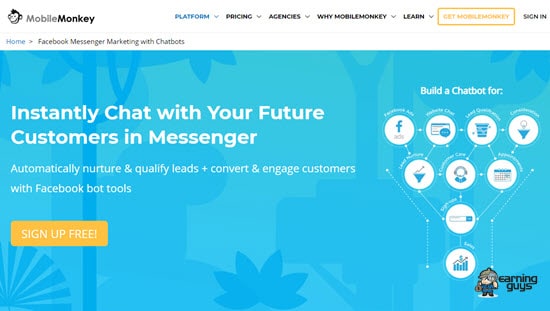 ManyChat allows you to create Facebook Messenger Chatbots for sales, marketing, and support easily and quickly. So, with ManyChat, you can increase leads and sales for your business.
Moreover, it's easy and free to set up a bot inside ManyChat. You can use their visual drag-and-drop builder and set up a Facebook Messenger bot in a very short time. You can pick a template to match your business needs and set up a bot for eCommerce, education, agency, health & beauty, and more.
With ManyChat, it's easy to grow your Messenger audience. For example, you can add subscribers by connecting your bot to Facebook ads. You can even import your existing lists, or capture visitors on your website. So, it offers tools with which you can grow your Messenger audience.
Moreover, ManyChat allows you to broadcast your messages effectively to let your customers know about a new promotion. You can even connect ManyChat with Shopify, MailChimp, Hubspot, Google Sheets, and more.
You can use its native integrations or integrate using Zapier or Integromat. It allows you to automate your Messenger marketing. You can send the messages based on time delays or certain user actions.
So, ManyChat is a phenomenal tool for crafting a Chatbot experience alloying businesses to get a better ROI.
3. Chatfuel Top AI Chatbot
Chatfuel happens to be one of the best ai chatbot platforms for Facebook Messenger. In fact, Chatfuel makes bot-building easy. You don't require any sort of coding skills for using Chatfuel.
Moreover, the free version of this platform offers you almost every feature for up to 5000 subscribers. However, it will show the Chatfuel branding on your bot.
Chatfuel allows you to automatically give answers to the most commonly asked questions by your customers on Facebook Messenger. However, in case the bot is not able to answer the question appropriately, you can handover the conversation to a human agent.
With such automation, you can provide thorough support to your customers. Moreover, you never miss a chat with your customers.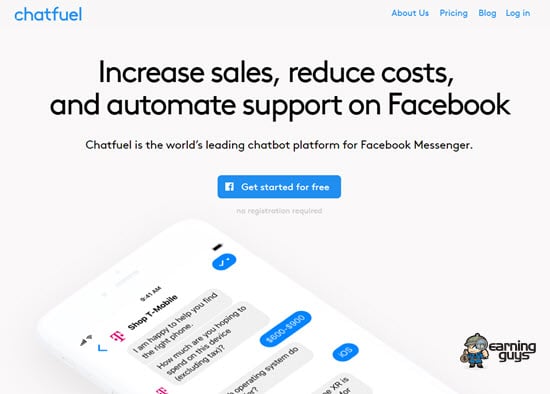 Pandorabots is a leading platform for building Chatbots for customer service, commerce, marketing, B2C messaging, entertainment, and more. It's one of best AI chatbot creation platforms. In fact, it's one of the oldest and also one of the largest chatbot hosting services in the world.
However, using Pandorabots requires some decent coding skills. That said, it offers enough flexibility to allow you to build Chatbots to fulfill your specific business needs.
Pandorabots proves an excellent AI chatbot creation platform for experienced bot engineers offering you a solid interface that speeds up the development process.
Its free plan offers you up to 1000 messages per month (for free), and you can build up to 2 Bots. However, you need to shell out $0.0025 per message for up to 100,000 messages and as much as 10 bots.
Pandorabots allows you to build Chatbots on your website, mobile apps, as well as popular messaging platforms such as Twitter, Line, and Slack. It supports two-way communication at scale and implements AIML open standards.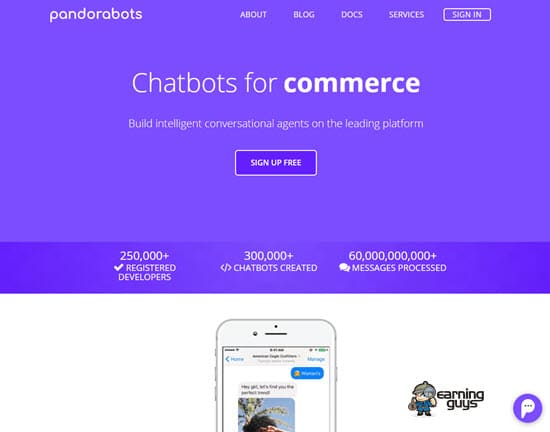 HubSpot Chatbot Builder allows you to build Chatbots on your website with no coding skills required. This Chatbot tool allows you to create bots that help you book meetings, qualify leads, give out answers for common customer support questions, and more.
So, by using HubSpot Chatbot Builder, you get more time to focus on the conversations that matter most. In fact, you can create and customize bots yourself. You need no coding skills. Moreover, HubSpot's bot templates make it easy to get started. Its visual editor allows you to customize the conversation as well as matching your brand's voice and tone.
You can add questions and multiple-choice responses, thereby making each bot your own. Moreover, you can even start from scratch using HubSpot's easy-to-use bot creator for building your bot from the ground up.
With HubSpot Chatbot Builder, your bots get a human touch. The chatbot builder has been seamlessly integrated with HubSpot's free CRM. They can deliver personalized messages using information about a contact offering crystal clear view of every relationship.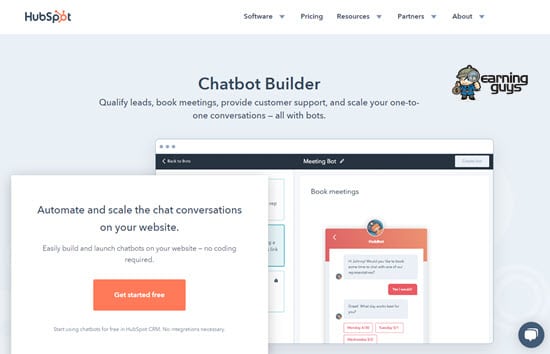 6. Engati Best Free Chatbot
Engati is another popular free chatbot platforms for building your bot. It's free and easy. Moreover, it requires no coding or programming skills. It is available on 12 different platforms, including Messenger, Skype, WhatsApp, and many more. The platform comes with voice feature, contextual, private labeling, analytics, intelligent paths, and more. So, Engati allows you to design your very own chatbot.
Engati comes with amazing features such as its conversation builder which has been built with the philosophy of "simply intelligent," making bot-building a breeze.
Moreover, Engati allows you to make "intelligent" bots that have the ability to maintain context across a flow of questions. So, you get better accuracy as well as more relevant interactions with your bot users.
Engati supports most of the messaging platforms such as Messenger, Skype, Telegram, Line, and Viber. It can be used as a fully-fledged live chat platform. Bot building with the Engati platform is available at a low of $22 per hour. All in all, you get "simply intelligent" bot building from Engati.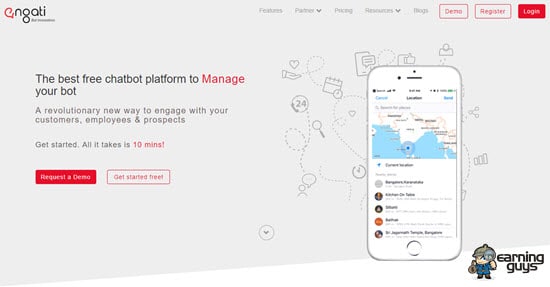 7. SnatchBot Artificial Intelligence Chatbot
SnatchBot is all about "simplicity" as it helps you in building the best possible messaging experience for your customers. The SnatchBot allows you to build the best AI-Powered Chatbot to interact with your users. It comes with artificial intelligence capability and powerful machine learning capability making it the smartest bot available.
SnatchBot allows you to publish your Chatbot on to the mobile devices, web apps, as well as chat services like Facebook Messenger, Line, Telegram, Skype, and other popular channels. In fact, the SnatchBot platform is known for its power, flexibility, and ease of use, allowing rapid and intelligent chatbot development for everyone.
It allows you to create an automated bot. You can even create a Human chatbot. You can design conversations utilizing "Simple" or "Multiple Choice" or even more complex such as action buttons, translation, collecting payments, sending receipts, and more. Plus, you can publish your bot everywhere where ever your users are. No coding or technical skills are required.
Its bots work on the largest list of messaging channels such as SnatchApp, Skype, Messenger, Line, Slack, and more. Moreover, all bots that are created with SnatchBot platform are automatically configured and ready to work with these messaging channels.
The SnatchBot bot-building platform is free and allows you to create unlimited free bots with unlimited free messages. However, a Pro Plan is also available starting at $30.
Its Chatbots can handle everyday consumer requests and improve customer experience. They can perform tasks such as: offer latest news update, book tickets, order food, check weather conditions, automate tasks and execute workflows.
It can handle conversational commerce in almost every industry, including insurance, airline, customer service, information technology, healthcare, education, and more.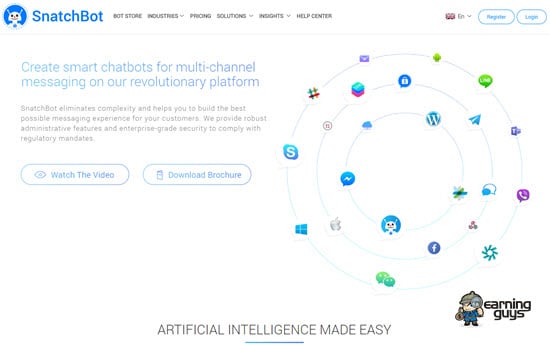 A ChatBot is one of the best chatbot platforms that are most flexible, easy to implement, and easily trainable. With ChatBot, you can automate customer service within minutes. So, you get immediate relief in your support operation. If you care about customer experience, then ChatBot Platform is surely one of the best Chatbot platforms that you should check out. ChatBot can make your customers happy and increase your site conversions.
Its Machine Learning technology and AI allows you to build bots that make your customers happier every day. Moreover, you can create your own bot with no coding skills needed at all. It supports your sales team and generates new leads by turning your visitors into customers.
The bot can perform a range of actions when dealing with a customer. For example, it can provide a simple text answer and even a CTA right in the chat window. Moreover, the bot can reply with images, cards, or buttons leading to the products on your website. They can even put things straight to customers' carts.
Plus, the bot can be integrated into Facebook, Slack, or LiveChat with just one click. You can follow the course of each conversation and look up its conversation history to see how your bot is doing. The ChatBot API allows the bot to take virtually any action using different 3rd party tools.
Well, you can test out the ChatBot features with its free trial option for 14 days.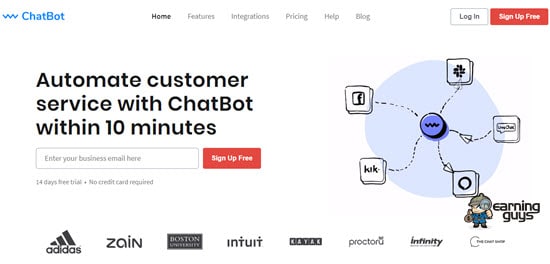 Dialogflow allows you to build AI-powered Chatbots with an engaging voice and text-based conversational interfaces. So, you can connect with your users on your website, mobile app, Amazon Alexa, Facebook Messenger, as well as other popular platforms and devices.
It's user-friendly and intuitive. Its natural language processing (NLP) is one of the best that you can get with Chatbot builders. Dialogflow incorporates Google's machine learning expertise, as well as products such as Google Cloud Speech-to-Text.
It has been built on Google infrastructure and runs on the Google Cloud Platform. Moreover, with Dialogflow, you can create user scenarios that can support almost limitless customer service requests. Plus, you don't require any programming or coding skills.
Dialogflow allows you to build bots for the Google Assistant, Facebook Messenger, as well as other platforms that your users are on. Dialogflow is being used by numerous companies around the world to serve their users and reach their business goals.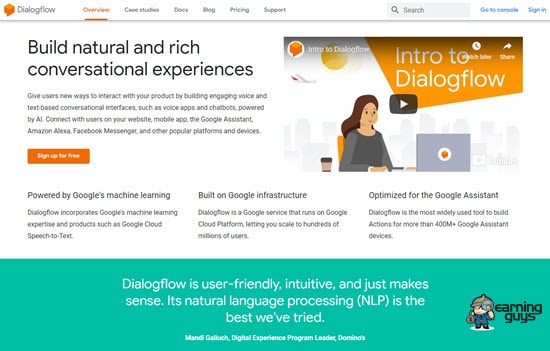 Zoho SalesIQ is one of the best Chatbot that allows you to build live chat for customer support as well as for business growth. So, SalesIQ helps you to increase the ROI on your marketing efforts. It opens doors to connect with real-time visitors. The platform offers the opportunity to build online live chat, visitor tracking, and analytics rolled into one platform.
It allows you to monitor visitors that interact with your website in real-time. You can reach out to your prospects with personalized messages. You can even build pre-defined rules for live chat engagement. It also notifies you when a "big fish" lands on your website. You can even utilize Zoho CRM and focus your energy on those who need your attention. One can set triggers and connect with "hot" and "warm" prospects returning to your website. You can even assign follow-up tasks on Zoho CRM.
Zoho SalesIQ allows you to set up live chat for industries such as eCommerce, Customer Service, Travel, Real Estate, Education, Financial Service, and more. You can target the prospects that need to engage in priority. So, you route the leads to your sales reps based on their expertise.
So, with Zoho SalesIQ, you can make smarter business decisions and increase your revenue.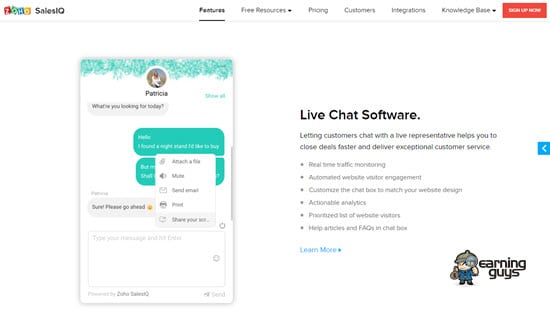 11. Flow XO Create AI Chatbots
Build a Chatbot with Flow XO with zero coding skills required. Moreover, Flow XO offers you a complete solution so that you can build Chatbots, host them, and deploy them across platforms. It means that you are not only limited to Facebook Messenger. Plus, you can build Chatbot widgets for your website. You can even integrate them with suitable third-party platforms.
Its interface is super easy to use.
Flow XO offers you a free version. So, you can test it and get a feel for things. You get the facility for all features on the free version. However, you're limited to 500 interactions. That said, you can build up to five different bots.
Flow XO also has paid versions starting at $19/mo that offers you 5000 interactions. However, for 25000 interactions, you need to pay an extra $25/mo. Plus, you can add five more bots by paying an extra $10/mo.
Alana is using technology to come up with conversational AIs that redefine their roles in our lives. Whether it's for booking appointments, reactively processing inquiries, or upkeeping clients' accounts—Alana will grow beside the business.
How does Alana help create the best AI conversations? Having unscripted dialogue and allowing a human-like flow, understanding conversational language through context, retrieving information, cross-platform application, and many more.
Being the work of lifelong scientists, Alana is designed with no limitation in insight. Alana comes in two flavors—either it uses deep learning but has little controllable functionality, or it comes rule-based and able to converse around a specific area.
Finally, Alana conversational AI keeps memories of every person, can engage with a diversity similar to human conversations, and provides predictive suggestions based on behaviors. With such a diverse set of skills, be sure that Alana can be used in any industry or use.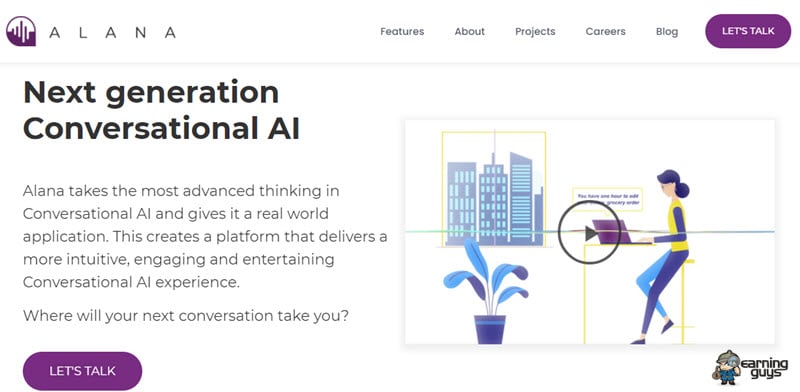 Here, we have mentioned some of the best AI chatbot platforms in the business. So, you can choose the one which you like the most.
Chatbots allow you to provide quick and efficient customer support allowing you to engage with your customers in a more personalized way. We hope that the post on Best Chatbots proves useful to you. Thanks for reading.