Here, you'll discover the 10 Best Post Scheduler for Instagram that can undoubtedly take your Instagram presence to the next level.
Instagram has been listed as one of the most popular social networks out there, with nearly 1 billion active users each month. It has become a preferred platform for influencers and businesses to drive revenue.
That said, Instagram is known as a tough nut to crack when it comes to scheduling. It's because Instagram is a closed social network and requires more attention than any other network.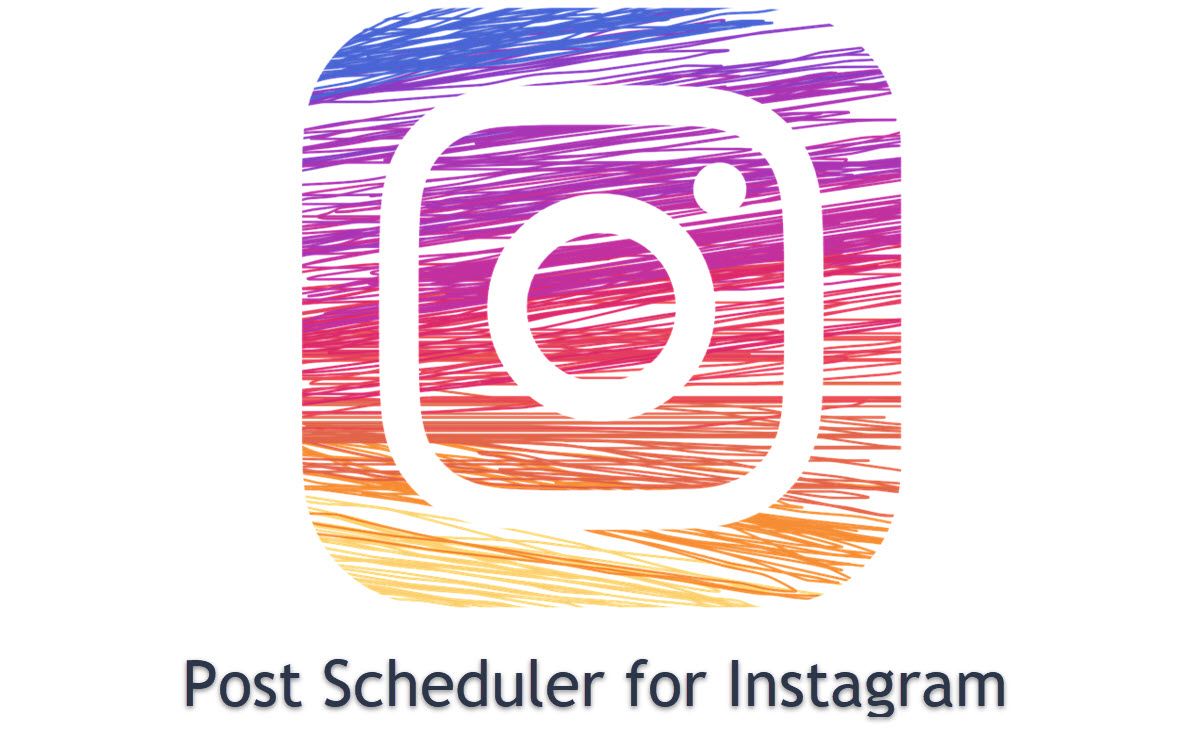 For example, Instagram doesn't allow third-party apps to post to the platform. Moreover, it doesn't allow planning your content ahead of time and publishing it automatically as you can on Facebook and Twitter.
So, when you have to post something to Instagram, you need to be there to push the "Share" button.
However, inspite of these inconveniences, you just can't afford to keep Instagram out of your digital marketing strategy.
Instagram boasts of very high engagement rates. Having an Instagram community is taken as social proof that can be leveraged to increase your conversions.
It means that you cannot leave Instagram. Moreover, you need to explore scheduling apps that allow you to organize, upload, and preview your Instagram posts.
How to schedule your Instagram posts?
You need to follow these five steps for scheduling your Instagram posts:
Create an Instagram business profile
First of all, you'll need an Instagram business profile to use scheduled posts. In case you already have an Instagram account, you can use the "Settings" to change it to a business profile.
With a business profile, you can reap many benefits, including scheduling.
For example, with an Instagram business profile, you can access features such as Instagram Insights.
This tool will allow you to know when your followers are online, their genders, locations, as well as their ages.
You can even add a contact button on your Instagram profile. Plus, you can promote posts as well as add links to your Instagram stories.
So, an Instagram business profile will help you to schedule Instagram posts as well as enjoy numerous other benefits.
Add your Instagram account to your Social Media Management Platform
Well, you will need to use a social media management platform (such as Buffer or Hootsuite) for scheduling posts on Instagram.
In case you don't have one, you'll need to invest in a social media management platform. Once you select a platform, you simply need to follow their instructions for adding your Instagram account.
Scheduling posts on Instagram requires you to plan your feed. It will give your Instagram profile variety. You'll come to know your overall content plan, and you can even make changes if the need arises. Plus, you'll not post the same content repeatedly.
Once you have planned your feed out, you can start to create your posts.
Make sure that your photos are in line with your company's look and feel. This will allow you to have a better brand consistency on your profile.
Well, you can post numerous things to your Instagram account. For instance, it allows you to share photos of your products. You can even post photos of the projects that you're executing.
All of this will allow your audience to know your business better.
Once you have created your posts, you can then schedule them. It requires you to know the best time to reach your audience.
You need to schedule your posts when your audience is most likely to see them. You can use your Instagram analytics to know when your audience is most likely to be online.
However, you don't need to be too rigid with your schedule. It means that you don't have to post at the same time consistently. It will make your profile robotic and boring.
Benefits of Scheduling Instagram Posts
Scheduling Instagram Posts can become a huge game-changer for you!
Simply put, it allows you to work smarter, not harder.
Here, we list out some of the main benefits that you can derive by scheduling Instagram posts. Now, let's explore the benefits of scheduling Instagram posts.
Here, we go:
Scheduling helps to save time
As a blogger, you need to perform many different roles during a given week. It means that you have to make the best use of your time. So, "scheduling" comes as a savior allowing you to get things done quickly.
You can set a designated time (each day) for the task and get it done easily. So, scheduling Instagram posts saves you time.
Moreover, you can schedule many posts in advance to not have to take out time each day to schedule your posts. You become more efficient by scheduling a handful of posts at one time instead of posting them every day.
It also means that it will ensure that your posts reach your audience at the optimal time when you schedule posts.
So, scheduling comes as an efficient option helping you to focus on other tasks as well.
Scheduling helps to build consistency
Your Instagram profile is a way to create some consistency. Your Instagram profile is an extension of your brand and you can carry your brand through your Instagram account.
It means that your photos should carry a similar filter, color palette, and captions. This will allow you to build consistency across your posts.
So, when you schedule your posts, you tend to enforce this consistency on your posts. You can see that all your posts carry across the same style. It gives you the ability to post more regularly as well as curate a consistent looking feed. You tend to incorporate a posting strategy that is working for you.
You can take a break from Social Media
Scheduling posts on Instagram (in advance) gives you the much-needed advantage of stepping away from your phone.
It is very much valuable to take a break from Social Media. It's refreshing to step away. You can focus on other things and return with a new perspective.
You can have peace of mind knowing well that updates are still being posted in your absence. You can be with your family and not worry that your blog or social channels have become stagnant.
It boosts your productivity, allowing you to focus on more important things on your sleeve. With Scheduling, you can be sure that your account remains active.
Scheduling helps you to become more organized
Scheduling your Instagram posts allows you to become more organized. You can put some forethought into your feed. You can plan according to your audience's needs. You can search and draw content using specific hashtags. When you use another author's image, you can give automatic attribution to the original poster.
When you schedule Instagram posts, you can post more frequently. Moreover, it allows you to create multiple posts at one time. It means that you get an opportunity for increasing engagement on your Instagram profile.
So, when you post more frequently, you tend to encourage engagement on your Instagram profile. Your audience will see more posts from you, thereby allowing you to get more brand exposure. It also means that they will get more opportunities for commenting and interacting with your posts.
It will help you to earn more followers. When you constantly post content and promote posts, you'll be able to attract more people to your page. So, this will allow you to increase your followers as well as attract more valuable leads.
Higher engagement will result in more leads, and more people will become familiar with your brand. It will help you to get more valuable conversions in the future.
Scheduling will help you to create better captions
Creating captions is one of the most challenging tasks when you post on Instagram. Moreover, you want that your captions should add more value to your Instagram posts.
Well, you want to come up with something interesting, but it becomes hard to think of it on the fly. The result of this is that your captions will suffer.
When you schedule Instagram posts ahead of time, you'll develop better captions for your photo. You can get enough time to come up with a clever caption. This will also help you to save time. You don't need to spend time each day to come up with captions for your Instagram posts.
So, these were the main benefits of scheduling Instagram posts. Now, let's get started with the Post Scheduler for Instagram.
10 Top Instagram Post Scheduler Tools
Here we explore the 10 Best Post Scheduler for Instagram. Here's the listing for you:
Buffer is complete publishing, analytics, and engagement platform that you can trust. It makes sharing content extremely easy.
Buffer for Instagram supports direct scheduling allowing you to schedule single image or video posts at your best times.
You simply need to hook up your social accounts (including Instagram) for creating a new post within the app. It allows you to select the social accounts you want to use.
However, for scheduling to your Instagram account, you would require an Instagram Business Profile.
With Buffer, you can set up a publishing schedule for each of your social accounts (including Instagram).
Moreover, it places new posts at the right place in the queue. Plus, you can create your own posts inside Buffer. It even allows you to add content with the Buffer browser add-on.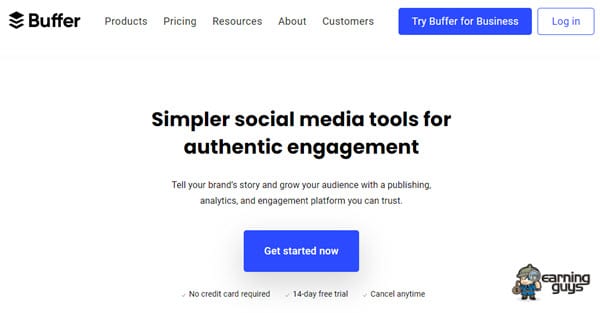 Later is one of those tools on this list that started as a dedicated Instagram scheduling app. However, now they also support other social networks as well.
Later is mainly focused on visual content. You can start with a social message and add an image as well. Moreover, you need to start a post by uploading an image. It allows you to add suitable text to the image.
Later allows scheduling content on Instagram and other social networks easily. You can stay organized using a social calendar. It even offers a "Stories" button that allows scheduling content for your Instagram Stories.
Later allows you to store your graphic images in a Media Library. You can show some detail about each image that you've used. You can add media notes and can even distinguish your used media from unused media.
You can face some challenges in setting up the Instagram interconnectivity. However, once completed, it becomes easy to use.
It supports unlimited media on each plan. You can even upload media directly from Dropbox as well as Google Drive. Later supports scheduling of image posts, videos, stories as well as carousel posts. However, Later does not support scheduling of videos and stories on its free plan.
Its paid plans give you access to Instagram Analytics for monitoring engagement and follower growth.
Pricing: Free plan as well as Paid plans starting from $9/mo.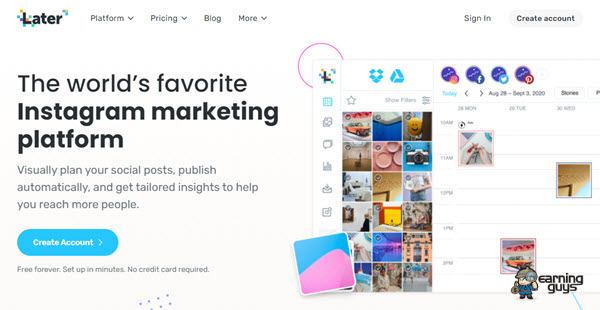 Hootsuite happens to be a well-reputed & popular social media management tool out there. It is largely focused on Instagram scheduling. Hootsuite supports direct publishing. You can schedule and publish content at the right time.
You need to sign up and connect your Instagram account. You would get a prompt for converting your account to a business account.
Hootsuite allows you to:
Plan for viewing and managing all your social content in a single collaborative calendar
Create beautiful and engaging posts for every social network
Schedule posts automatically
You can schedule your Instagram posts by clicking on "new post" at the top of the screen. Moreover, Besides Instagram, Hootsuite also supports many other social networks as well. So, you get the option of publishing to other platforms.
Hootsuite allows you to set up social media streams so that you can monitor messages and replies. As far as Instagram is concerned, Hootsuite allows you to add streams for hashtags, your posts as well as scheduled posts.
Pricing:
Limited Free plan with an offering of 3 social profiles and 30 scheduled messages
Paid plans start at $29/mo with an offering of 10 social profiles & unlimited scheduling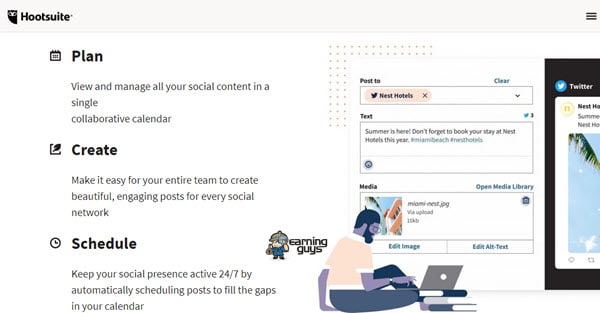 Postcron is one of the easiest tools for scheduling posts on social media accounts, including Instagram, Facebook, Twitter, Pinterest, and LinkedIn.
So, Postcron works out to be one of the best social media management tools out there that allows you to engage your audience, increase your traffic, and save time.
It's an all-in-one tool for posting on Instagram, Facebook Pages, Facebook Groups, Twitter, Linked In, and Pinterest all from one place.
In fact, you can create & schedule your Instagram posts with Postcron. It allows you to schedule full days, weeks, or even months. They send a notification to your phone at the scheduled time.
Moreover, Postcron allows you to:
Add filters, Emojis, geolocation, and stickers directly from Instagram
It allows you to keep all Instagram features
You can engage with your audience directly from the app
It supports bulk uploading
It supports automatic scheduling the super fast and easy way
It comes with ArtStudio integration for improving the creativity of your Instagram images in just a few seconds
It supports Hashtag searching. You simply have to copy & paste them into your post
Add a watermark to your images automatically
Pricing starts at $8/mo up to $169/mo. All plans include a 7-day free trial.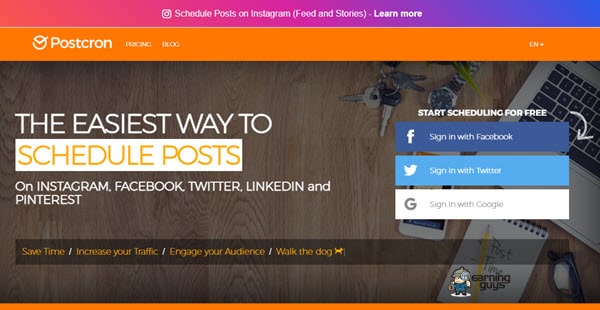 Sendible is quite different when compared with other social media management tools. In fact, Sendible takes a whole new approach to social media management. It makes use of "Services."
These Services are like channels or profiles that are created within your Sendible account. They are used to select features (you need them) from a social platform.
Sendible can be used to work with all the major social networks as well as blogging platforms. It comes with different features for each channel.
For example, Sendible can be used for publishing photos and videos directly to Instagram Business Profiles. So, Direct photo and video scheduling are being offered for Instagram Business Profiles.
You can even schedule carousel posts using in-app notifications and monitor hashtags as well as for analytics.
Sendible comes with many useful integrations. For example, Instagram users can create social media graphics using Canva.
Sendible allows you to schedule post reminders when creating Instagram Stories. You can review all your drafted, scheduled, or queued posts at a glance by using its Calendar View. You can even analyze and report on your Instagram posts.
Pricing starts at $29/mo up to $299/mo. All plans include a free 14-day trial.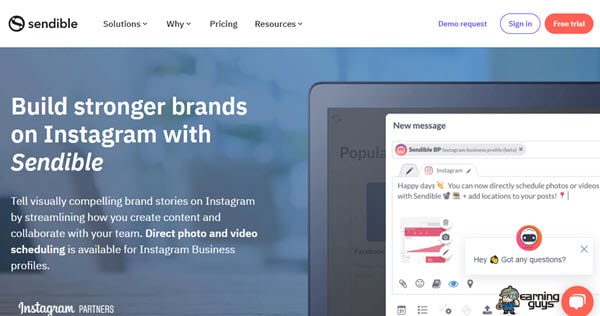 Sprout Social is one of the leading and thoroughly professional social media management platforms out there. However, it does not offer a free plan. Its target customers include large organizations that have heavy-duty needs.
Sprout Social includes a Smart Inbox that can collect all your social messages. It allows you to combine all your inboxes into one. You can even keep them separate. It also allows you to select the types of messages that you want to show here.
Sprout Social offers the facility to use the Feeds tab for monitoring your chosen Instagram hashtags. It allows you to create content for all of your social media accounts.
You can add graphics, links, as well as other material when needed. With its Calendar, you can come to know about all the social posts that you've made or scheduled. Moreover, Sprout Social makes team management a thoroughly seamless process.
Sprout Social comes with a Social Listening Module to power your marketing strategy. It allows you to uncover trends and analyze sentiment as well as extract actionable insights from social conversations.
Sprout Social also provides a wide range of reports for analysis of your Instagram performance.
Pricing:
Standard – $99 per user per month
Professional – $149 per user per month
Advanced – $249 per user per month
(All plans offer a free 30-day trial)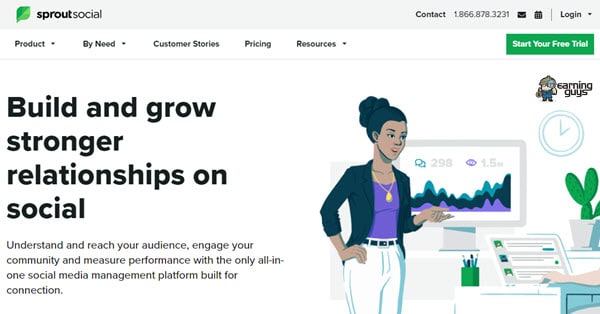 AgoraPulse is another well-reputed social media management platform. Their chiefs highlight being its extremely user-friendly interface. Moreover, it also comes with an easy set-up process, even for "tricky" Instagram.
Another main highlight of AgoraPulse is its Inbox that shows your comments, mentions, reviews, and conversations connected with each of your social media accounts.
AgoraPulse comes with a host of publishing options, thereby making it easy for you to publish content for maximum ROI. It allows you to schedule posts, queue posts, bulk upload posts, or delegate posts.
So, AgoraPulse fulfills all of your content publishing needs. In fact, you can schedule a post simply by clicking on the appropriate time slot.
Its "Schedule Again" feature allows you to schedule content at specific times. You can also designate a frequency as well as the interval for the content to be published. The scheduled item will be repeated as per your wish. It also allows you to schedule Instagram carousels and Stories through push notifications.
Its "Queue" function allows you to share your evergreen content again and again. You can add content to the queue line for publishing once, several times, and repeat using an expiration date.
So, with AgoraPulse, you can maintain a steady stream of content for your followers and maximize your reach and click-through potential.
AgoraPulse comes with three different bulk upload options. You can bulk upload:
Image posts
Text/link posts
Posts from your favorite RSS feeds
It allows you to upload images and make posts. This feature of AgoraPulse is handy if you're particularly active on Instagram.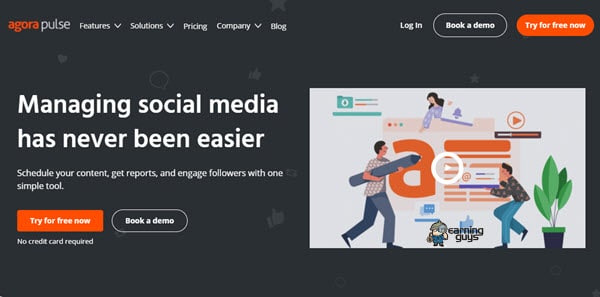 Combin is a complete Instagram marketing and content planning tool. It allows you to automate posts and stories directly by using your computer.
It allows you to manage multiple accounts using your dashboard. It allows you to post updates automatically to Instagram. You can even bulk schedule your posts and save your time.
Combin performs two main functions:
Instagram Audience Management and Attraction
Instagram Stories and Posts Planning
So, Combin allows you to attract new Instagram followers. You can find, engage, analyze, and grow your audience.
You can plan and schedule Instagram content. You can upload images in bulk. You can plan stories and posts for auto-publishing.
Combin even allows you to manage multiple accounts simultaneously. You can connect & grow up to fifteen Instagram accounts using a single computer.
You can use Combin to track activity and growth. So, you can monitor out-coming & incoming activity as well as audience growth. With its engagement activity automation solution, you can stay in touch with your community.
Pricing starts at $15/mo. Its "Starter" plan is free.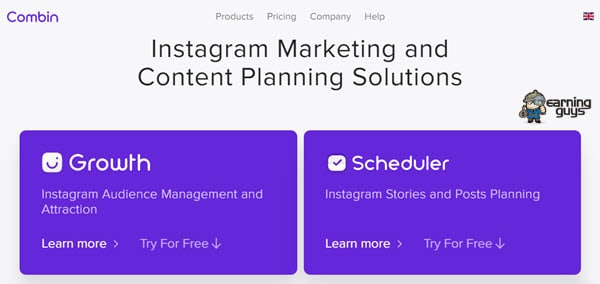 Autogrammer is one such social media management platform that centralizes your social networks' scheduling, including Instagram.
It comes with a free seven-day trial.
It's very easy to get started with Autogrammer. Once you're there, it allows you to add your social media accounts using either the menu shown on the right or by using the green button in the middle.
Once your Instagram account is connected, you will get a prompt for adding a post.
Autogrammer allows you to upload an image directly. You can add a caption and select a time. You can even add multiple social networks if you wish to publish to Facebook & Instagram simultaneously.
Another big highlight of Autogrammer is its interface. It's very user-friendly. For example, you can access the calendar view by simply clicking on the Scheduled Posts option that shown at the top.
Autogrammer even offers a Bulk Upload option. So, you can add multiple files at one time.
Pricing starts at $9.99/mo up to $99.00. Each of its plans comes with a free trial.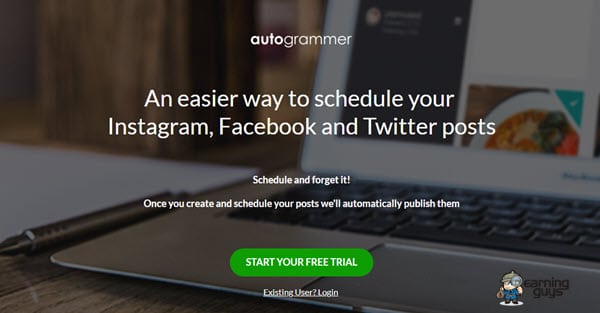 Loomly is one such Instagram posting schedule app that makes social media management easy for you. It offers five pricing tiers starting at $36/mo up to $299/mo.
Loomly requires you to set up a calendar, including a time zone and industry. It gives you the option of scheduling posts right from the application.
Its workflow is as follows:
Draft
Pending Approval
Requires Edits
Approved
Scheduled
Published
The standard practice used for a new post has been listed below:
Set Post Details
Select Social Channels
Define Generic Content
Fine-tune each Channel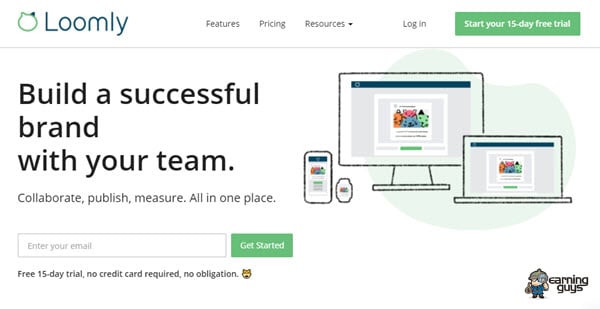 With this listing, we have reached the end of this post on scheduling Instagram posts apps. We hope that it has enriched you with useful information on post scheduler for Instagram. Thanks for visiting. Lastly, we request you to share this post on popular social networks like Facebook, Twitter, and LinkedIn.