Getting success in the online world is not easy.
For it, you just don't need a website.
What you require is an Authority website.
Considering the cut throat competition pervading the online world, building an authority website has become a necessity.
After Penguin and Panda algorithm updates from Google and other search engines (like Bing); the scope for smaller websites has been virtually over. There was a drastic fall in their website ranking in 2012. As a result, there traffic and earnings went down tremendously so much so that lots of websites were wiped out from the online scene.
The only viable solution to deal with this problem and survive Google Algorithm updates is to focus your energy and time in building an authority site.
With authority websites, you tend to rank high in search results thereby improving your site's search performance which helps to bring huge streams of traffic to your website and finally you witness a surge in conversions or sale.
Here under we have described what is an authority website and go on to illustrate different techniques of building an authority website.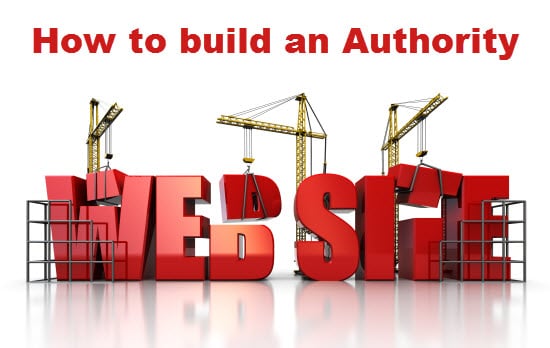 What is an Authority Website?
Well, basically an authority website is a website that is ranked high in search engine result's page. In this context, a website needs to have some key elements in order to be called as an authority website.
First and foremost, an authority website has very high quality content. Their very basic purpose of existence is to inform and teach website visitors. The content of an authority website is so good that people find it thoroughly useful. They feel glad when they land on such an authority website as they get detailed and relevant content for which they are looking at.
Then an authority website has high brand value. It is respected by experts, bloggers, knowledgeable people and users alike.
Authority websites are niche specific and usually focus on one core topic. The topics are thoroughly covered and are rich in information.
Moreover, authority websites are user centric rather than being search engine focused. They provide unique, engaging, and valuable content to their users.
Building an Authority Website
Although building an Authority website is a tedious task and involves prolonged efforts; however if you follow the right steps you can eventually succeed in having an authority website.
So let us see what it takes to build an Authority website.
Step Number 1 – Choosing a Niche
The first and foremost task in creating an Authority website pertains to choosing a niche for yourself. This is important as the niche decides the center of focus for your website. This will decide what you will finally offer to your users. So take some time out, do brainstorming and come out with a niche that you would like to be in. Here, one suggestion falls in place. The niche you choose should not be highly competitive. A less competitive niche means that you would require investing less money, less time, less effort in making your website an authority site. Moreover, you would not have to worry about the competition and can focus on creating quality content for your site or blog.
Step Number 2 – Having a Keyword Friendly Domain Name
The next step that will help you in creating an authority website is about using a keyword friendly domain name. The main thing you need to remember while choosing a domain name is that you have to place the keywords in the URL. So if your domain is abc.com and you are targeting life insurance, then your website URL should be abclifeinsurance.com, not just abc.com. You can go about purchasing an old domain; you can register a new domain, or can even use a domain that you own. The only thing that you have to make sure is to include general keyterms in your domain name. Having a keyword friendly domain name helps to establish your brand so that people are aware what your website is all about.
Step Number 3 – Branding
You should make every possible effort for branding your website. Branding goes a long way in building an authority website. People tend to establish a relation with your website easily when you go for branding it. In this context, your website logo holds an important place. So you should create a logo that is professional and is memorable for your users. The color scheme that you should choose should blend with logo and brand.
Step Number 4 – Keyword Research
An authority website is build around effective keywords. So, keyword research holds an important place in building an authority website. In this context, you should focus on selecting low competitive keywords and building large bank of content around it keeping appropriate keyword density. With low competitive keywords, you can easily rank high in search results (provided to create quality content for it) and thus get high volume of traffic for it. The Google Keyword Planner (You need Google AdWords account to use this tool) is the free tool that you can use for doing keyword research.
Step Number 5 – Creating Quality Content
Creating Quality Content is one of the corner stones for building an authority website. By writing quality content, you rank higher in search results, get more traffic of visitors and the conversion rate also tends to be on the higher side. The content you create should be fresh, unique, and valuable for your visitors. The content should have a higher share value and should help to solve a problem or two of your visitors. Your content should be properly themed (use theme words) and should be rich in keywords. You should not stuff your content with keywords but should keep the keyword density from 2 to 3 percent of the length of your article. The keywords should appear at relevant places and not just anywhere.
Step Number 6 – Social Networking
Social Networking helps to build your websites authority. Social networks such as Google +, Facebook, Twitter, Pinterest, Stumble and Digg are tremendous sources of traffic. You need to build a presence on all the major social networks. Twitter can be used to update your followers about any new content that you publish on your website. You can share your content on Facebook. Likewise, you can build a page for your website on Google+. Social networking sites can prove to be great sources for getting highly targeted traffic to your site and thus can help you to build authority websites.
Step Number 7 – Building Back Links
Building a large and diverse back link profile holds an important place for building an authority website. In this context, you should maintain relevance while writing content for guest posts. You should not use too many relative anchor texts as it is considered as spammy. While commenting on forums and other posts, you should leave good comments. You comment should reflect your experience, and you should be recognizable as a brand. You should avoid doing link exchanges. You should make efforts in getting back links from high page rank blogs or web pages. This gives boost to your rankings, as well.
So you see that building an authority website may take some time, but it eventually helps you to become highly successful in the online world. The above points on how to How to build an Authority Website are not exhaustive in any way but can certainly go a long way to help you build an authority website.