Quality services are what make an affiliate network stand apart from the crowd. ClickDealer is one such affiliate network and a marketing agency that offers quality services to Affiliates / Publishers and Advertisers.
Today, we share with you ClickDealer Review: A CPA Affiliate Network.
About ClickDealer
Ever since its inception in 2012, ClickDealer has been recognized as a fast-growing company.
Moreover, it is now ranked among the top CPA networks all throughout the globe.
ClickDealer is a Global Performance Marketing Agency which is tirelessly developing solutions for fulfilling marketing goals across the industry.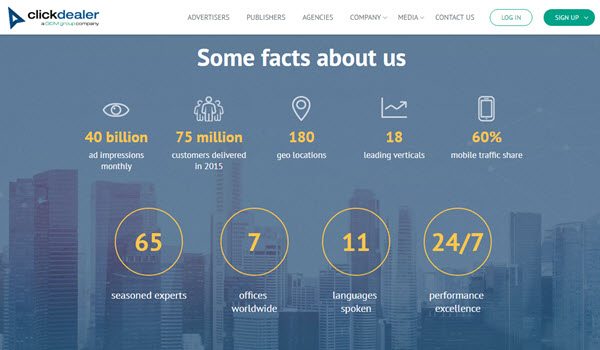 In fact, it has developed a full range of services to help publishers, agencies, and media buyers in obtaining peak performances with their advertising campaigns.
ClickDealer is headquartered in Netherlands and is now expanded to six countries.
It is ever focused on identifying new market opportunities and acquiring new trends first.
If you are looking out for "the highest payouts" and "the best offers," then you should surely check out ClickDealer CPA Affiliate Network.
ClickDealer has hundreds of different offers within their affiliate program.
It offers a built-in loyalty program, plus has years of experience in the industry.
It is serving over 40 billion ad impressions monthly. ClickDealer offers various revenue models such as CPA, CPI, CPL, and CPS.
The campaigns range from anything such as Social Networking, e-Commerce, Gaming, Software download, Travel, Dating, Finance and much more.
ClickDealer has set high standards for online marketing services.
It has been recognized as an industry expert being ranked as one of the best CPA Affiliate Networks by mThink Blue Book and Performinsider.
ClickDealer has also received honors at the European Performance Marketing Awards 2016.
Moreover, ClickDealer is driven by clients ROI maximization goals and delivers top quality solutions to propel online business growth.
It employs cutting-edge in-house technology delivering top performance marketing.
ClickDealer has build partnership with more than 2000 advertisers across 12 major verticals such as Health & Beauty, e-Commerce & Retail, Dating, Mobile Utilities, and more.
ClickDealer has brought exclusive deals with global brands such as Aliexpress, Jumia, and Murka.
ClickDealer has a team of dedicated account managers that are constantly engaged in providing updates, optimization insights, as well as technical support on a 24/7 basis.
More Info about ClickDealer
ClickDealer is a leading global marketing agency.
As stated earlier, ClickDealer is operating since 2012, which is considered a good amount of time in the world of online marketing.
It runs an affiliate program that currently works with numerous brands all throughout the globe.
Its core focus is on e-commerce and mobile.
The company has become a leader in online marketing space for lead generation using various methods and traffic sources like display, social, video, native ads, retargeting, email, and mobile.
It is constantly engaged in helping publishers and brand marketers in growing their brand and reach.
Like other successful affiliate networks, ClickDealer is also running off the CAKE platform. So, it's very clean and easy to use, and perfect for publishers.
The good thing is that CAKE is easily integrated with almost all modern tracking tools.
Moreover, the data needed is easily accessible from the API. Further up, ClickDealer has set up custom reporting which makes the process even more comfortable.
You would be happy to know that ClickDealer has more than 4000 active campaigns running than span over 180 countries and cover most major verticals.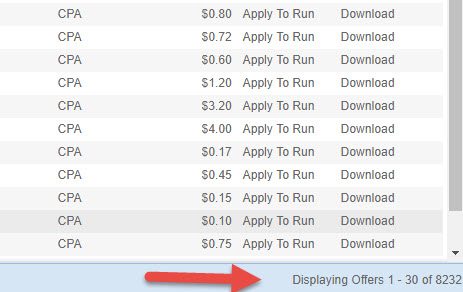 The best thing is that they are handpicked for reliability and potential so that you get an actual opportunity for major profits.
Plus, there are many obscure Geos available for you to scale from lower cost traffic sources.
The majority of offers on ClickDealer is focused on dating, e-commerce, mobile, downloads, and zips offers.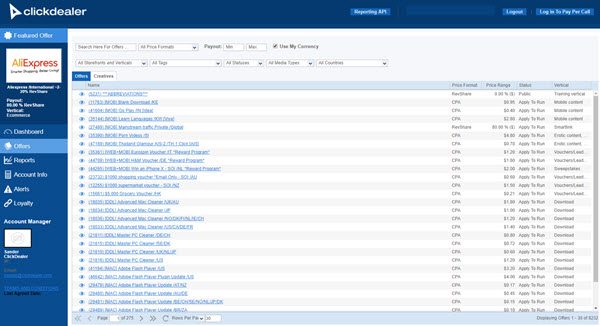 ClickDealer is ever focused on building meaningful relationships with their publishers and advertisers.
They are well known for their events, parties, and meetups at various conferences around the globe.
ClickDealer Best Features
Global Reach
Multi-platform coverage
5000+ exclusive offers
Best commissions
Timely payments
Dedicated support
The affiliates get to promote offers on the web, mobile, apps, as well as social platforms.
Offers real-time reporting system for affiliates.
It conducts contests and meetups for affiliates.
Multiple payment solutions.
Offers workshop, parties, and loyalty program.
Laser-targeted traffic throughout any type of media channel, within any niche and any GEO.
Payment
The affiliates are paid on NET 7 or NET 15 basis. The minimum payout is $500.
They provide numerous payment options such as Payoneer, Wire Transfer, PayPal, eCheck, WebMoney, Paxum, ACH, and ePayments.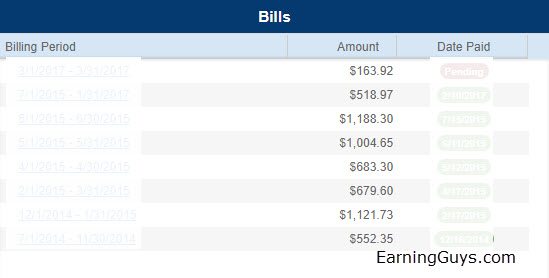 Requirements for Affiliates for joining ClickDealer
For becoming a publisher or affiliate on ClickDealer, you need to explain your promotional strategies to affiliate manager.
They may accept or reject your application based on your site and promotional preferences.
ClickDealer requires that the sites must not:
Promote offers containing adult, spam, spyware, and adware content.
Alter the offer code.
Spam the offers on sites and social platforms.
Encourage others to complete tasks.
Have multiple accounts.
Benefits for Affiliates
ClickDealer creates a favorable environment for its affiliates and is always focused on solving any problem faced by their partners.
ClickDealer adapts its platform and services to affiliates' needs.
It inspires affiliates by holding meetups, contests, and rewards them with a Loyalty Program.
Affiliates can look up to accurate payments on flexible terms. ClickDealer offers a wide range of exclusive offers from top advertisers worldwide.
Then, there are affiliate managers to guide you. Plus, affiliates get detailed reporting and real-time statistics, as well.
Benefits for Advertisers
ClickDealer's comprehensive set of services ensure that advertisers get favorable revenue lift and growth in ROI (Return on Investment).
Advertisers can look to the following benefits by working with ClickDealer:
Promotion of your product in any country.
Smart marketing solutions for every business.
24/7 knowledgeable support.
Global Solutions within CPA Marketing.
Targeted traffic according to GEO, carrier, device, and OS.
Global reach.
Distribution across multiple media channels.
Profound analytics.
Real-time statistics.
100% transparency
Advertisers have access to a team of experienced account managers.
Unique custom methods for getting your offers to the top.
Most relevant mobile traffic ensuring an increase in their profits.
My Experience with ClickDealer
I am working with ClickDealer from 2014. The best thing about ClickDealer is their offer.
One can find offers in any niche and not just that they have some of the best payouts for the offers.
Their affiliate managers are always ready to help you and will share best offers as per your requirements.
Your affiliate manager is available on Email, Skype or on Phone to help you.
Payments are always on time, as you reach $500 mark they pay you on time. I have never faced any problem with them related to payments, offers or affiliate manager.
For me, ClickDealer is one of the best CPA affiliate network, and I always recommend them to affiliates.
Final Thoughts
ClickDealer has made its mark as a CPA Affiliate Network.
With its wide range of services, publishers and advertisers get an opportunity to enhance their mobile monetization and distribution strategies.
In fact, ClickDealer has become a reliable partner in internet marketing.
We hope that this ClickDealer Review has been successful in providing some useful information about the network and its different services that it offers.