Today, you will get to know the essentials about Interstitial Ads. We have also listed the 9 Best Interstitial Ads Networks, thereby making it easier for you to choose the right network for your application.
These days' lots of websites and mobile apps make use of Interstitials or Interstitial Ads for online advertising their products, generating leads, and pushing up the sales. However, using too many of them may annoy your users. Even Google can penalize websites or Apps that use disallowed interstitial ads.
So, what makes something an interstitial, and what are the benefits of using it. You'll come to know all these and much more in this article on Interstitial Ads.
Interstitial ads are one of the most popular digital ads formats because of their high impression rate that tends to increase downloads and revenue.
Let's get to know its definition:
What is an Interstitial Ad?
Interstitial Ads are full-screen, interactive ads covering the interface of an app or site. They are shown between content and placed at natural transition points or breaks, like in between activities or game levels. They are found both on desktop as well as mobile.
Their full coverage is what differentiates them from other ad types, such as pop-up, native, or banner ads. Moreover, as Interstitial Ads cover up the entire screen, this makes them catchier and more effective.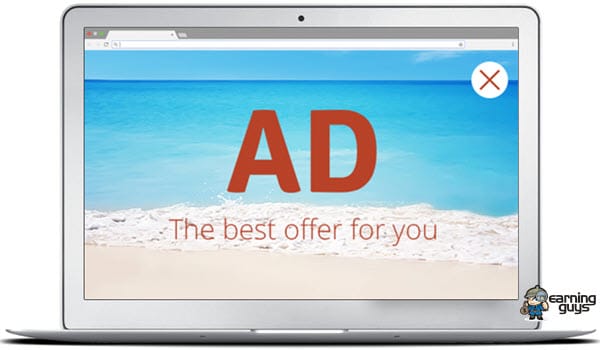 Interstitial Ads can appear as text, image, rich media, and video. Users can navigate past any of these simply by clicking or tapping on the ad and visit its destination.
Moreover, you can close it and continue what you were doing previously. The timing of the close option is dependent on the ad-type.
For example, non-video ads offer an immediate close option. However, interstitial video ads have up to a 5-second delay before they offer a close option.
About Mobile Interstitial Ads
These interstitials are full-screen ads that are optimized for mobile display. They offer an opportunity to monetize your mobile visitors by increasing user engagement. Mobile Interstitial Ads quickly grab users' attention. They maintain high click-through and conversion rates.
Moreover, this latest ad format generates the highest eCPMs across all GEOs and mobile devices. You have the opportunity to reach millions of mobile users across the globe. It gives more room for marketing your message.
Benefits of Interstitial Ads: Why use Interstitial Ads?
Interstitial Ads have been dubbed as "revenue doublers" and are one of the favorites in mobile app advertising. Brands such as Pinterest have increased their in-app installation by as much as 100% by optimizing interstitial ads.
So, there's much reason for publishers to include interstitial ads in their ad inventory. Marketers and advertisers tend to pay a sizeable amount for interstitial ads.
Here, we list out some main reasons why Publishers or Advertisers prefer interstitial ads. It will help you to know the benefits of Interstitial Ads:
Interstitial ads have a high click-through rate. In fact, with interstitial ads, users get two options – either they can click on the ad and check out the offering, or else they can close the button and continue ahead.

So, interstitial ads have a 50% chance of being clicked. Moreover, studies show that interstitial ads have a higher click-through rate when compared to banner ads.
As interstitial ad covers the entire device screen, so they tend to prove compelling and convincing with the effect that users are least likely to avoid it. Users get overwhelmed by the convincing visuals and take action on the ad.
Interstitial ads have a high impression rate and tend to increase downloads and revenue. Companies such as Pinterest and Airbnb have increased app installs by as much as 100% and 300%, respectively, by optimizing Interstitials.
As Interstitial show full-screen ads, they are pretty hard to ignore. So, these ads solve banner blindness.
How to Use Interstitial Ads without getting penalized?
As we have seen above, Interstitial Ads hold many benefits for publishers as well as developers. However, the important thing with Interstitial Ads is the fact that they can attract penalties if not used properly.
So, it calls for proper "timing" with interstitial ads. The ads should not disturb the users while they go on to access some important webpage for information or even while they perform some transactions.
Well, you can avoid penalties on interstitial ads by following Google policies when you run them on your site or app.
Interstitial Ads tend to be much annoying on desktop. With a desktop, you get a big display screen. So, locating the close or continue button becomes many headaches for the users. While on mobile devices, the close button [X] is too small and cannot be located easily.
All in all, you should ensure that the ad is not interrupting the user in any way. The best thing to do with interstitial ads is to show them between natural pauses. So, usually, interstitial ads are displayed after the end of a gaming session or when a user switches between articles.
Moreover, interstitial ads should not be displayed on a site or app that involves a lot of direct user interaction (such as while playing Candy Crush).
So, you should not show an interstitial ad between those interactions. It hampers your users' interactions with your website or app. You can even end up losing them forever.
Here, we list out some important guidelines or best practices that you should follow with interstitial ads to avoid getting penalized:
First and foremost, you should never hinder users' tasks. So, interstitial ads should not be shown between important user activities or interactions, such as something like filling a form.
The best thing with interstitial ads is to show them during unimportant leisure activities. However, make sure that the ongoing task is paused when the user is shown the ad.
Secondly, you should make sure that the interstitial ad is rendered quickly. These are large-size ads that come with rich media and heavy graphics.
So, you need to ensure that your users don't have to wait for the ad to load. Moreover, you should start loading the ad before it's called so that it is displayed without taking much time.
Thirdly, showing too many ads in a short time interval will degrade the user experience and would eventually lower click-through rate.
Last but not least, interstitial ads should be placed between transition points when the user is expecting a break. This would ensure that the user has enough time to have a good look at the ads so that they eventually click on them.
So, you should check your app or site flow and find the best time and place for displaying interstitial ads.
Now, we move ahead and present you with the list of best Interstitial Ads Networks.
9 Top Interstitial Ads Networks
Let's get started:
1. Adsterra Interstitial Ads
Adsterra is one of the fastest-growing ad networks online. It was established in 2013 and quickly become one of the leading interstitial ads networks, all thanks to its quality service.
Now it has over 30 billion monthly ad impressions worldwide (all Geos), has Mobile and Desktop traffic, and 12.000+ Direct Publishers.
Adsterra offers both website advertising as well as mobile advertising for advertisers and publishers. The ad types on offer include CPA, CPC, as well as CPM.
Adsterra offers an effective platform connecting advertisers and publishers, who stand to profit using different ad formats such as interstitials, display banners, direct links, popunders, and video banners.
With Adsterra, you get different ad formats and ad sizes that you can use for maximizing your revenues as a publisher. Adsterra works with high-quality advertisers that are committed to market their brand. Moreover, Adsterra Ads Network is great in pop-under ads.
As far as Interstitials are concerned, you can display full-screen interstitials either horizontally or vertically and exclude banner blindness option with ad sizes of 768×1024 and 1024×768.
Plus, you should ensure that all the traffic must be from legitimate sources. Adsterra does not allow any illegal or adult content. Moreover, Adsterra not only excels in desktop options, but they also excel in the mobile space. You can display your ad in front of the entire screen without disrupting the mobile user to close the ad actively.
Different cost models: CPM, CPA, CPI (PPI), CPC, CPL, CPO, RTB.
Ad Formats: Popunders, Push, Banners, Direct Link, Native Ads, Vast (video), Social Bar, Interstitials
Payment methods are:
Paxum
PayPal
WebMoney
Bitcoin
Wire Transfers
QIWI
UnionPay
Visa
Mastercard
Yandex money
The minimum payment for advertisers: $100
Minimum payouts for publishers:
Webmoney, Paxum: $5
PayPal, Bitcoin: $100
Wire: $1000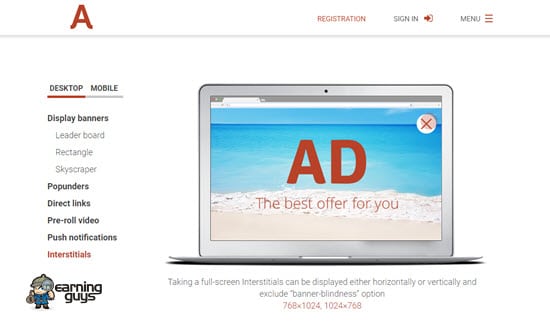 PropellerAds is trustworthy and one of the fastest ad networks around that is known for its timely payouts. It's one of the best solutions for bloggers that are looking to monetize their blog or network of blogs.
PropellerAds offers various ad formats, including:
PopUnder
Interstitial mobile ads
Native Direct Ads
Push Up Ads
Banner Ads
Push Notification Ads
So, you get plenty of options to monetize your blog with the right ad type with PropellerAds. Moreover, PropellerAds is compatible with Google Adsense.
Its Interstitial Ads format comes fully revamped, striking a perfect balance between publishers' revenue & user experience. Its Interstitials allows you to monetize both mobile and desktop audiences.
PropellerAds Interstitials do not distract users and have increased monetization power. Moreover, its interstitials are relevant to website content. It comes with quality offers and creatives, which enhance your website's reputation.
PropellerAds Interstitials do not cover the entire website and so keep the user experience intact. It allows the users to close the ad easily and proceed to the content. Plus, you can "set the delay" and help avoid bombarding the audience with ads in case you're using different formats for monetization.
With PropellerAds, your users enjoy faster ads with significantly reduced load times of ads. So, you get faster ads for faster revenue. Moreover, PropellerAds Interstitials are compatible with all ad networks and ad formats. These ads are perfect for additional monetization and can be easily customized and offer high CTR.
They make weekly payouts, and the minimum withdrawal is as low as $5 only. They offer the easiest payouts with PayPal, WebMoney, Skrill, Payoneer, Wire Transfer, and ePayments.
Minimum Payout: $5
Payment Method: PayPal, WebMoney, Skrill, Payoneer, Wire Transfer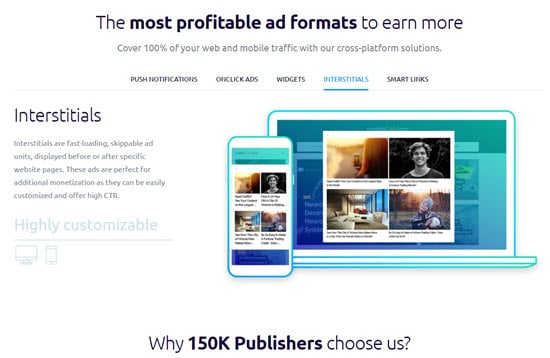 3. StartApp Interstitial Ads
StartApp comes as an "award-winning" mobile media and data company. It uses first-party data and insights for enhancing the mobile experience of mobile publishers, advertisers, and consumers.
Its data-driven solutions allow you to make informed business decisions in real-time. That's not all; you can reach premium global mobile audiences, and can even optimize ongoing media and data strategies.
StartApp uses insight-driven mobile technology for maximizing the publisher's eCPMs, fill rates, engaged users, and revenue. The advanced data insight helps the company to channel ads via programmatic and direct deals.
StartApp implements interstitial advertising at its best so that an advertisement can take over the screen between two pages of your website or mobile apps. It's a more intrusive form of advertising as compared to traditional banner advertising. In fact, StartApp Interstitial Advertising allows you to achieve far higher revenue rates.
StartApp is partnered with Yandex, Baidu, Oath, and Oracle. These businesses go on to use StartApp's technology and data solutions.
AdMob is the world's largest mobile ad network. It was launched in April 2006 as a mobile advertising platform and was later acquired by Google in November 2009. AdMob goes on to offer extensive advertising solutions for mobile platforms such as Android, iOS, Windows Phone, WebOS, as well as all other mobile web browsers. Currently, it is serving more than 40 billion mobile ads each month.
The demand is being captured from Google Ads to access buyers from across the world. It serves responsive ad formats that are being delivered with a seamless user experience.
The ads are being delivered in nature breaks for maximizing the engagement and for reducing the intrusion. Moreover, AdMob is known for delivering a great deal in user satisfaction while building up the publisher's revenue.
Like all other Google products, AdMob also delivers near-flawless functionality as well as easy app integration. So, AdMob serves to be a brilliant platform when you are beginning in the mobile advertising game.
However, AdMob is largely criticized by users as revenues are on the lower side of the chart. So, if you are an experienced player and aim for higher revenues, then AdMob may not be the right platform for you. In this case, you should look for other options on this list which may turn out to be a better option for you.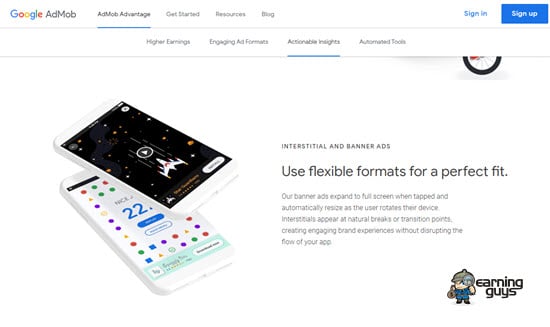 Media.net offers one of the most exhaustive portfolios of advertising technology in the industry for mobile, video, native, display, local and products.
Media.net is credited with the display-to-search (D2S) ad format, which can monetize display placements on a CPC (cost per click) pricing model.
It is achieved by identifying user search intent and relevant search keywords leading to the display of search ads that are bought by advertisers.
This format has allowed advertisers to gain extremely high conversion rates without having to opt for CPM (cost per thousand impressions) based media where they have to pay for media in which users did not engage.
There are several benefits of running mobile ad units from Media.net, such as:
Competitive CPMs driving effective revenues significantly higher
Mobile "in-content" units turn out to be responsive and go on to support all types of iOS and Android devices. So, the publisher can monetize every impression from a single ad provider source
Mobile ads remain "docked" on the screen and so remain viewable all through
Ad units can be customized to blend with the look and feel of a site to enhance the user experience
Media.net has offices in the Middle East, the US, and India. About 90% of the company's earnings come from the United States. More recently, it has been purchased by a Chinese consortium for $900 million. It's free to join. Its customer support is one of the best. Its advert designs blend with the layout of your blog and offer high CTR. It has a powerful dashboard.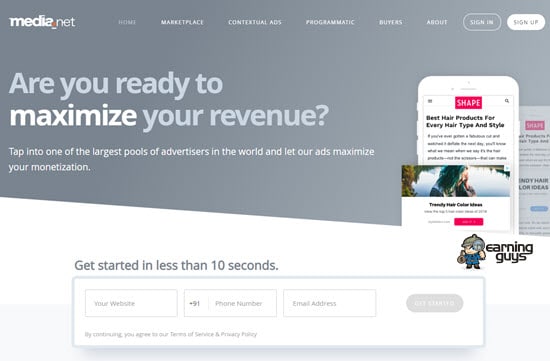 Leadbolt is Australia based mobile ad network entered the business in 2011. They have won an Australian Business Award and countless other awards. Leadbolt serves over 5 billion ads monthly covering 65000 apps in 150 countries.
Leadbolt has numerous features on offer for developers. Its "App Wall" feature is the best one with which you can integrate Leadbolt advertising into your application without writing a single line of code or SDK.
It provides developers a single platform to control their applications. It includes analytical capabilities such as an app engagement statistic with which you can measure your users' engagement to the app.
This feature allows developers to optimize the balance between the application and the ads. It means that the number of advertisements does not cause any countable loss of user engagement.
Leadbolt allows developers to use both interstitial and video ads in their products. So, they can test and come to know which ad type is better for a particular situation and placement. It allows publishers to connect with premium advertising partners using direct deals marketplace directly.
This leads to high fill rates and even increased eCPM levels. Its advertising partners include the likes of Pepsi, Groupon, and Walmart. So, developers can be sure that the earning potential with Leadbolt is truly exciting.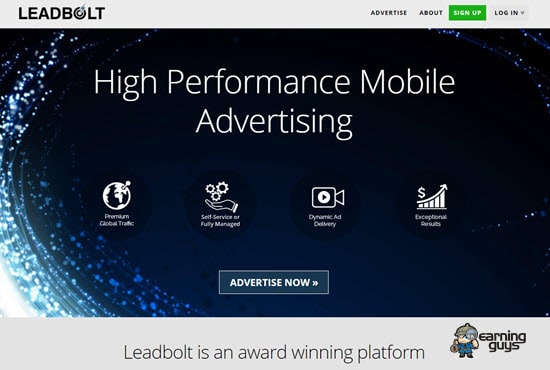 InMobi uses a new way of targeting users, which they term as "Appographic" targeting. Appographic targeting enables users to connect with the type of media and apps that they are most likely to consume. Let's have an example. Suppose a user is booking a flight via an app, and then the user would be shown the ads of hotels and tourism services.
This is achieved by targeting users' existing and previous applications instead of using traditional metrics like demographics or geography.
In addition to this, InMobi also offers in-app monetization, ad mediation, as well as audience bidding for publishers. As far as mobile inventory is concerned, InMobi deals with display, native and video ad formats. Presently, InMobi is working with large publishers such as ABC, TMZ, Blackberry, and Pandora.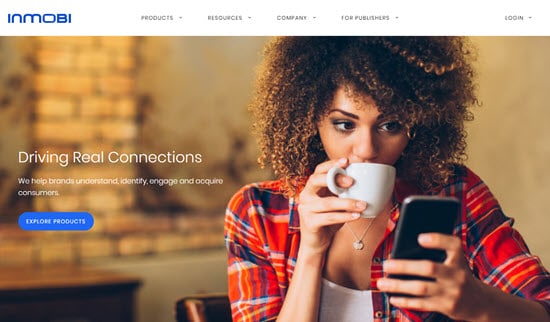 8. ExoClick Interstitial Advertisements
ExoClick was launched in 2006 and had since then become the 4th largest ad network in the world. ExoClick mainly focuses on adult, lifestyle, and entertainment niches. It has recently come up with RTB demand and native advertising.
Ad Types on offer include:
For Desktop:
Billboard banner
In-video banner
Pop-under
Native advertising
Sticky banners
Direct links
Video Banners
In-video ads
For Mobile:
Interstitial
Display Banners
Instant Message
Pop-under
Mobile Redirects
Offer Types: CPM (Cost per Mile)
Traffic Types: Desktop, mobile and tablets
Targeting options include keyword targeting, language targeting, geo-targeting, device targeting, browser targeting, contextual targeting, site targeting, and more.
ExoClick makes weekly or monthly payments via PayPal, Paxum, Payoneer, WebMoney, or Wire Transfer. They offer real-time statistics, multiple formats, and 24/7 friendly customer service. There is a 5% referral program on offer.
Chief highlights
Nearly 100% fill rate
Weekly payments
Clean ads – no viruses or malware
It has the biggest inventory for adult traffic
Stable CPM rates
Works mostly with adult websites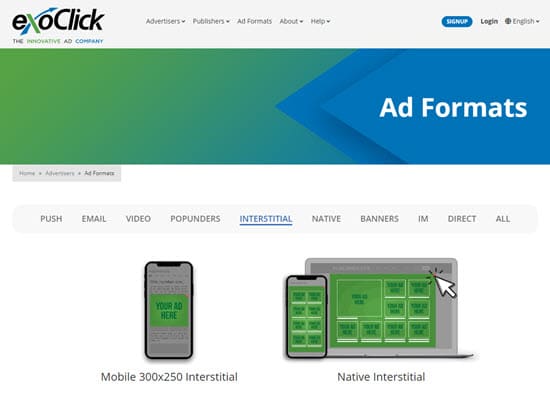 Smaato is another leading ad network that is well known for real-time bidding and programmatic advertising. It's very popular with developers of mobile apps and websites as it offers the opportunity to make high revenues.
Smaato Publisher Platform is a "Dynamic Demand" platform that enables per-impression competition for all advertising sources for maximizing publisher revenue.
The Smaato platform is free to integrate and is connected to more than 390 demand partners. So, there is no downside to their application. Plus, the revenue potential is very promising. However, you need to catch the revenue potential of demand partners.
They are empowering app developers and mobile publishers so that they can reach their full monetization potential by connecting them with the world's leading advertisers. The Smaato SDK offers publishers seamless integration and maximum control of their inventory.
Moreover, Smaato is well known for its high eCPMs and immediate monetization. Its Publisher Platform has everything you need to boost app revenues. Its Demand Platform is a full-featured mobile advertising platform for advertisers and demand partners.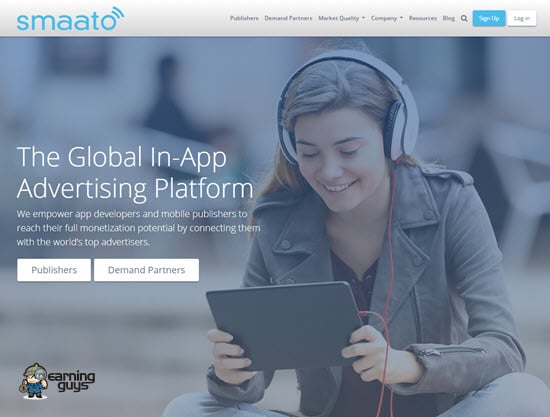 So, we have featured the best Interstitial Ads Networks. However, you should compare them as all these platforms do some things better than others. They are the most reliable ad networks out there that go on to handle billions of ad impressions every month.
You can even test two or three networks and decide which one to deploy for your app. We hope that this list of 9 Best interstitial ads networks makes it a little easier for you to choose the right network for your application.
Final Thoughts
Interstitial Ads offer a chance to generate better revenue. These are the latest and among the most effective ad formats around. However, it's important to use them properly.
With Interstitial Ads, timing and frequency is the key to getting better engagement and retention rate. For example, you should not show an interstitial ad one after another.
As discussed above, you should adopt best practices for using Interstitial Ads and avoid getting penalized. Now, it's time to get started with your first interstitial ad.