When your affiliate marketing campaign isn't bringing results, even though you did everything right, it's time to look into your SEO efforts. Maybe you didn't check SERPs for the focus keyword?
With a simple check like this, you can see what you're missing out on and make adjustments to become #1 in search results. While checking these pages manually takes a lot of time and effort, there are SERP analysis tools that can do the job for you.
Here, we have 10 SERP preview tool options for you to choose from. Some of them are all-in-one solutions that will help you build an SEO campaign from scratch, while others focus primarily on results page checks.
Why Is SERP Tracking Important for Every Affiliate Marketer
First of all, what is a SERP?
A SERP (search engine results page) is what you see after inserting a query in the search field and clicking Enter. There is a lot of data you can get on these pages to improve your rankings:
Ranking leaders for the given search query
SERP features available
Leading ads for the page, and more
So, a SERP checker is one of the best tools for affiliate marketing.
Why? Because it allows you to:
Have a holistic approach to SEO
Research competitors and see how to get to the TOP-10
Have information about what works and what doesn't for your focus keyword before you even create the page
Improve the quality of your affiliate offer page if you already have one
Draw more traffic, get more leads, and, as a result, affiliates
Make your content more visible online
Boost return on investment from your affiliate marketing offer
10 Best SERP Checker Tools
Now that we've established the importance of SERP tracking for every marketer let's review the ten best affiliate marketing tools the current market offers.
SE Ranking is an all-in-one tool for analyzing and improving your SEO strategy. It has everything from keyword research to backlink analysis. The platform also offers an AI-powered SERP checker that enables you to create new pages based on the strategies of your competitors. You can compare your site to theirs, exclude domains you aren't competing with, and check up to 50 organic results.
The tool offers insights into keywords, backlinks, and traffic forecast, providing you with data for over 110 on- and off-page metrics.
You can choose the number of metrics you want to monitor and see graphs that depict the strategies the competition uses, which can help you surpass them.
There's more:
Research keywords that work best for your focus SERP
Find out the best keyword density for your page
Determine the best places to put keywords
Create and optimize headings based on what the other players use, etc.
SE Ranking's SERP SEO tool comes in an all-in-one optimization platform and is quite affordable. A monthly subscription costs $39 for the Essential plan, $89 for the Pro plan, and $189 for the Business plan. You can also request a custom plan and save 20% if you pay annually.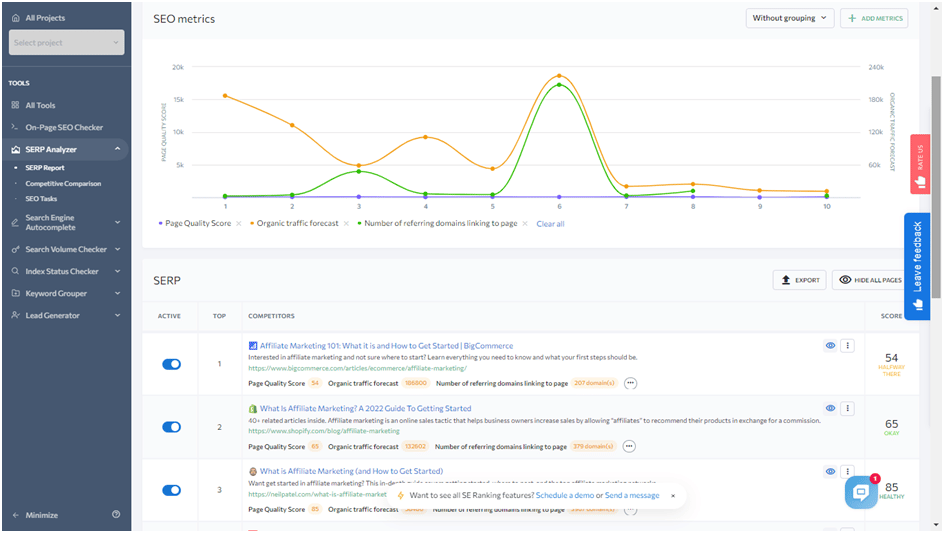 What's My SERP is a dedicated tool that allows you to perform unlimited on-demand checks. It's a live SERP checker, so if you need fresh data immediately, you can refresh it anytime.
The tool is great if you work in a team because you can share the results with your teammates via a URL generated on the platform. What's My SERP is also a decent digital helper for local SEO. You can insert any location and look for specific Google results and Local Map Pack.

There's more:
Custom reports
CPC (cost per click) information for every keyword
Google Analytics integration
Unlimited domain research, etc.
The pricing depends on the number of keywords you want to research per month. If 25 is enough, it costs $4.99 a month. There are also plans for 200, 500, and 1,000 keywords, costing $19.99, $29.99, and $59.99, respectively.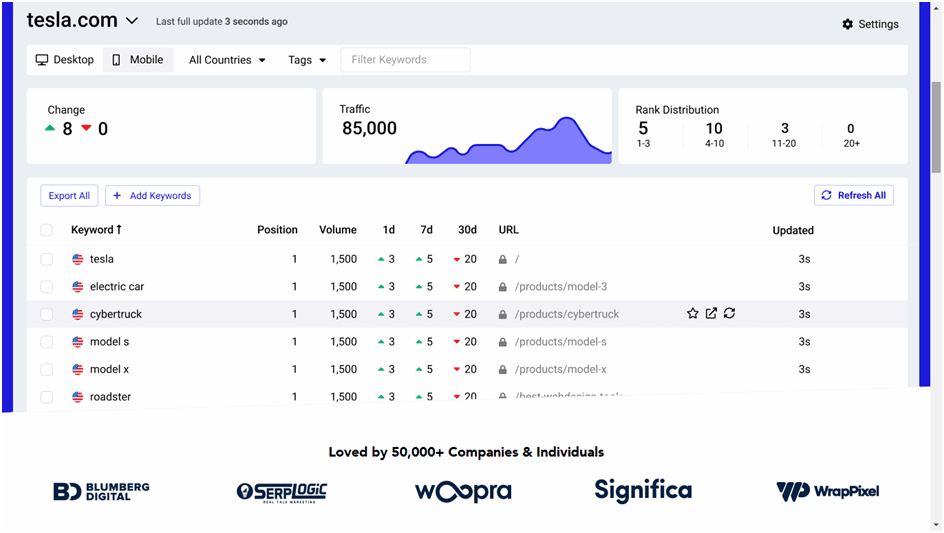 SERPWoo combines SERP tracking with deep data analysis and even 3rd party data to show detailed results. By checking results pages with this tool, you can monitor your rankings or competitors', increase SEO traffic by spotting gaps and filling them, build neat reports, and more.
The platform will even notify you when something comes up that is worth your immediate attention. This allows you to always be on guard, ready to adjust and improve your affiliate marketing strategy.
SERPWoo has more features, such as:
On-page analysis
TOP-100 SERP view
and more
As to the pricing, there are several plans. The Bronze plan costs $49.95 per month, Silver costs $99.95 a month, Gold costs $199.95 a month, and Platinum costs $299.95 monthly. You can upgrade or downgrade the plan at any moment and cancel your subscription.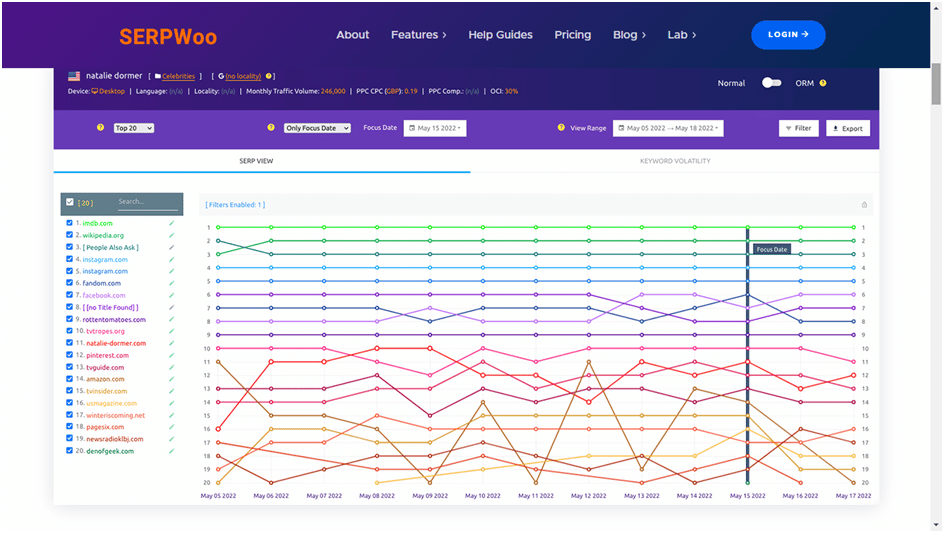 The first thing you see when clicking on the link is a free SERP checker tool. Zutrix allows you to check results pages for any keyword in Google free of charge. The tool uses AI (artificial intelligence) to get high-accuracy data.
Zutrix allows you to check unlimited domains for ten keywords a day with no credit card info. The features of the checker include:
SERP API
Local SERP checker
Keyword research
Rank tracker
and more
There is way too much information on the free checker's page to understand what the tool does quickly, so it's best to try and use it first.
While the SERP checker is free for ten keywords a day, you can upgrade to a paid plan if you like the interface and data accuracy. The Starter plan costs $9 a month, the Pro plan is $28 a month, and the Agency plan is $54 a month.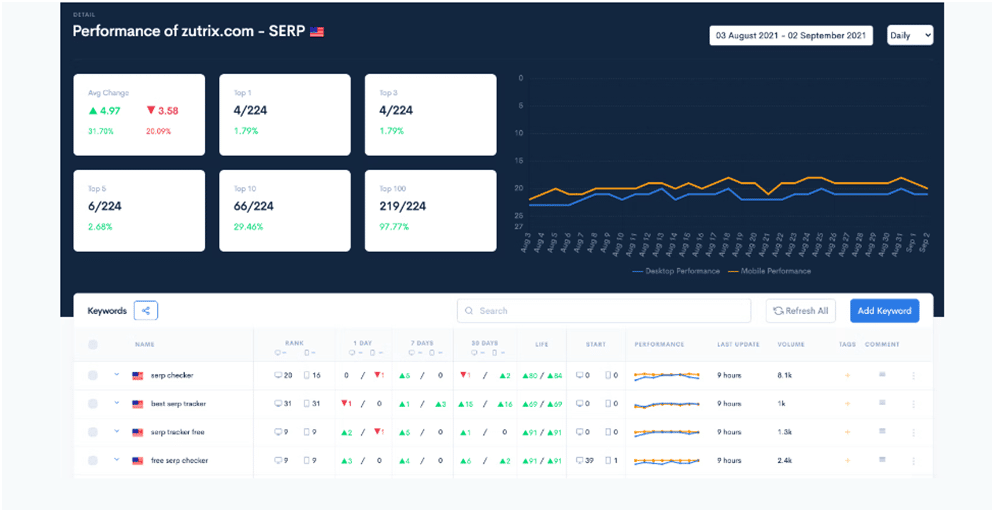 SERP Robot offers a neat Google SERP checker that shows you keyword positions in real-time, at any location, and on multiple devices. You can also track your progress and see what improvements worked and what didn't for your affiliate marketing offer pages.
The features of the tool include:
Phone, tablet, and desktop results
API
Competitor tracking
Alerts, reports, and automatic checks of the needed results pages
Quick on-demand checks
The most popular search engine data, including Google, Yahoo!, Bing, YouTube, and Google Business Profile (formerly Google My Business)
As to the pricing, it's very affordable. You pay for one SERP bot that allows you 300 searches per day. It costs $4.99 per month. You can also get up to 1,000 extra bots.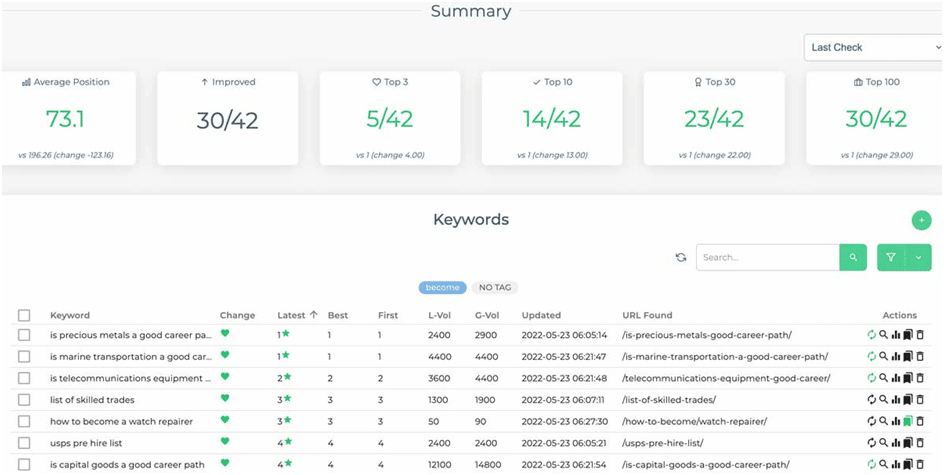 ProRankTracker offers specialized SEO agency rank tracking and reporting. You can track any device and assess the progress of your affiliate marketing page in SERPs. The tool provides actionable insights and wonderful white-label customized reports.
This is one of the reasons why it's a good choice for agencies. The tool is made for SEO pros and agencies, in-house departments, and site owners that do SEO themselves.
The features include:
Unlimited historical data and sub-accounts (but only with the most expensive plan)
High-volume and high-accuracy SERP data
Full support
Reports available in 13 different languages
The pricing depends on the plan. You can use the free version to monitor 100 keywords in one month, continuing with 20 terms of basic monitoring. The paid plans include the Starter plan for $13.5 a month and more, depending on the number of keywords you want to track. Then there's Pro for $89+ a month and Agency for $180+.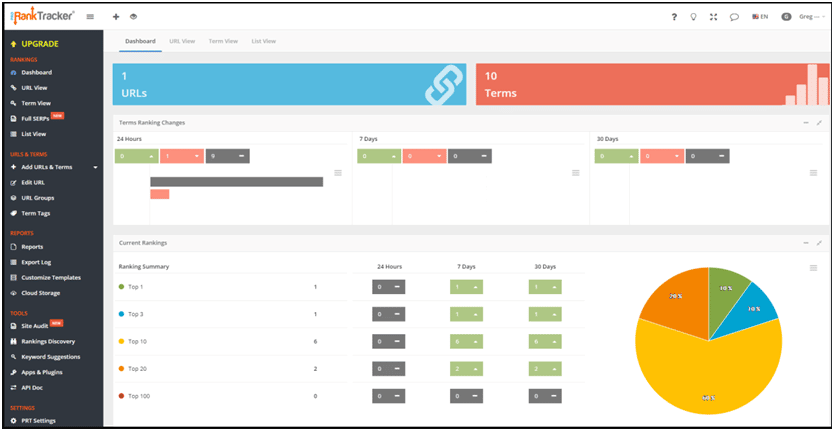 The Google SERP checker by Nozzle helps you research SERPs for your top-ranking pages and social media accounts, domain matches, and more. It saves all the data, so you can visit the history years later and still find your previous results to compare current results with.
The tool will show you:
Whether you appear on the Knowledge Graph in Google
What is your ad-adjusted ranking
How many pixels down your affiliate marketing page is
Regular stuff like search volume, traffic estimation, inbound links, sitelinks, and more
As to the pricing, there are several plans. The Basic plan is $59 a month, Advanced is $119 a month, Pro is $299 per month, and Pro Plus is $599 a month. There are also plans for enterprises that start at $1,199 a month.

Allintitle offers more than just a SERP Tracker. There's an AI-Powered content writing tool, keyword explorer, and more. But we'll focus on SERPs here. Import your keywords and research Google SERPs for each of them.
In the data list, you'll see:
Domain and Page Authority
Citation Flow
Facebook Shares
Backlinks
Estimated traffic
The website says that Amazon affiliate marketers trust the tool. The pricing options are the Hatchling Plan for $49 a month, the Fledgling Plan for $79 a month, the Lite Plan for $100 a month, and the Pro Plan for $150 a month.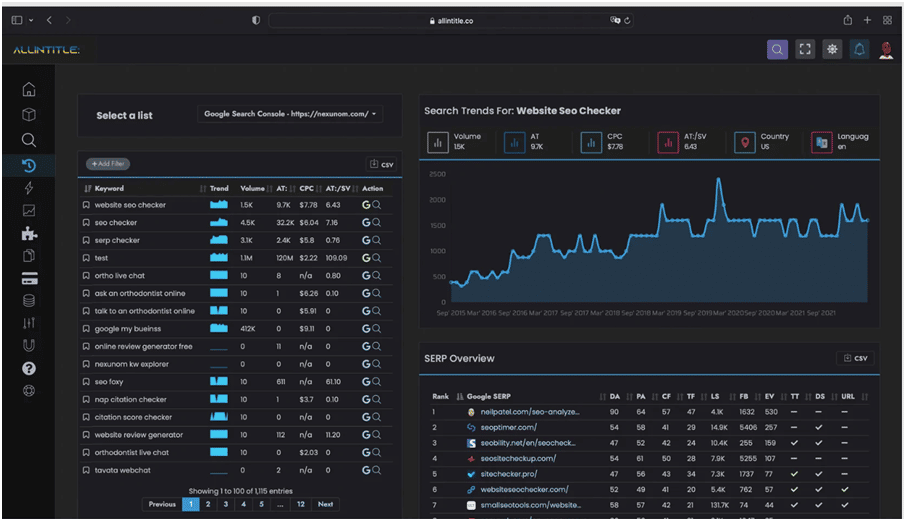 SERP Surf offers a free SERP checker tool. You can use it to track results pages for five keywords in most locations and on multiple devices. You can also choose "Global" to see the worldwide Google results for those queries.
There's a FAQ section on the website where you can find out how to use the tool, why you should use it, and why it may show different SERP results. It's simple, to the point, and without flashy CTAs, buy a paid version.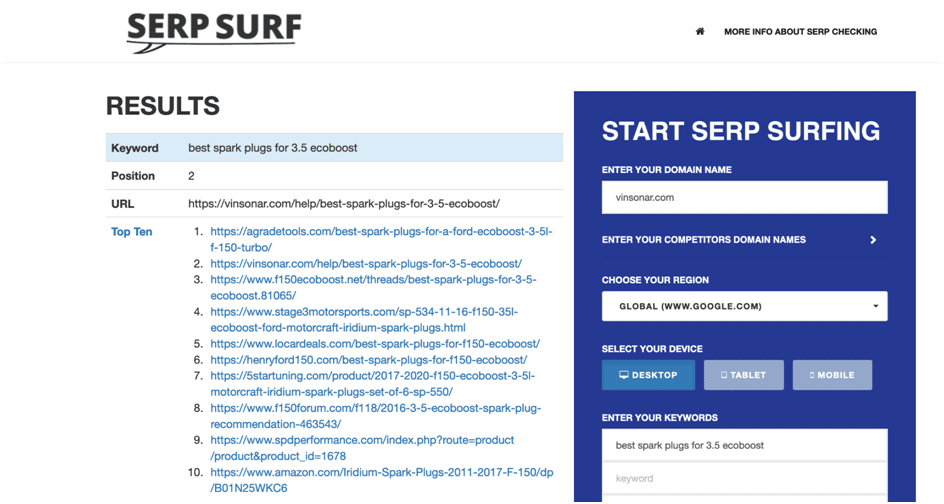 The Thruuu SERP checker will show you how the first 100 results are doing, both for local and international SEO. You can check the data for desktop or mobile in any location. You can also research competitors with the tool to see what you're missing out on.
Export the results into an Excel file if you need to share it with your team. The provider states you can reverse engineer Google's algorithm and hack it (in the good sense) to use for the success of your affiliate marketing campaign.
As to the pricing, one analyzed SERP is one credit. You get ten credits for free and then 40 credits per month for $7, 150 credits a month for $19, and 500 credits a month for $49.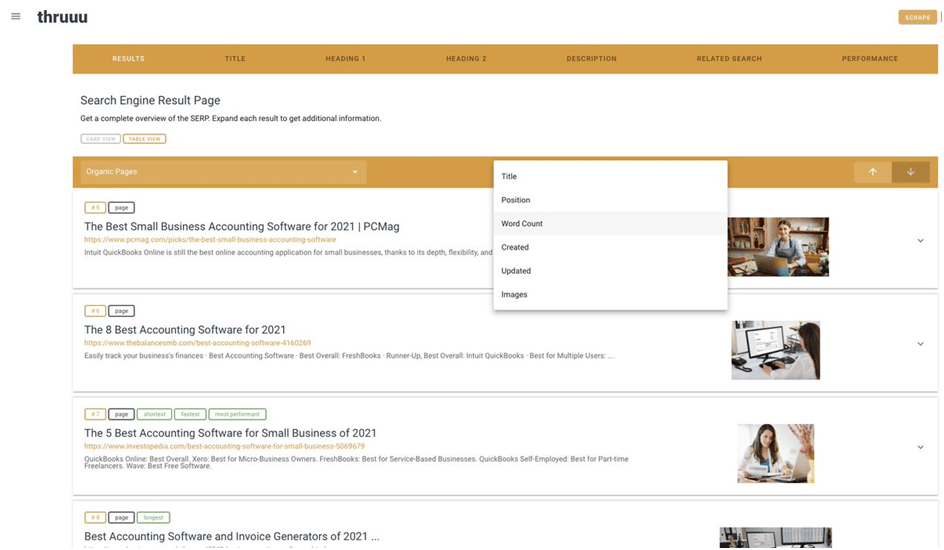 Summary
A Google SERP checker is essential for every affiliate marketer. Using a SERP checker, you can see your page performance for focus keywords, spy on competitors, and access position history.
There are different tools. Some offer a complex approach where you can look into the quality of keywords and backlinks, audit your website, and check SERPs. Others only offer results page checks and tend to be cheaper.
Before you choose the best option for your affiliate marketing strategy, consider your budget and goals. If you need to improve your SEO overall, it's better to choose an all-in-one tool that, for an adequate price, will show you all the data about the performance of your site, the keywords you use, competitors, backlinks, etc. But you can also benefit from a dedicated SERP tool.