Do you want to drive conversions and sales? Well, social proof marketing tools can do the trick for you. Social proof tools offer you a great return on your investment.
Today, we share with you 11 Best Social Proof Tools to instantly increase conversions.
You can use these tools for your eCommerce website and so on. They help you to engage and persuade potential customers who have landed on your store.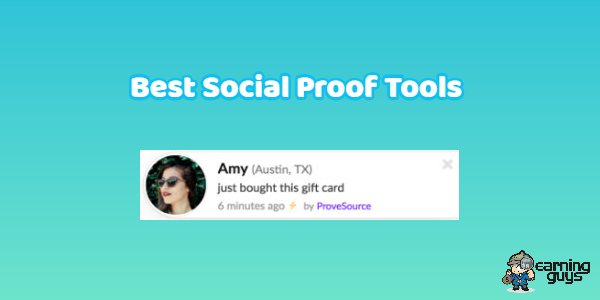 Social proof tools help you to play with the psychological bias of your potential customers. In fact, as much as 95% of people are persuaded more by the actions of others.
So, when you offer them some social proof, it facilitates the process of building the much-needed trust that is essential for converting them into customers.
What is Social Proof?
Social proof is regarded as a psychological theory which describes our tendency to value the opinions or behavior of others to influence our decision.
Most people rely on social proof. For example, people check out social media posts just because they are buzzing with high engagement numbers.
People go for an unknown brand because others are saying good things about it. So, social proof has power behind them that go on to influence the decision of people.
The social proof goes on to validate your choice. You consider other people's opinions as proof and base your decision upon their recommendations. You easily invest your time, money or interest based on social proofs.
So, ads that are loaded with social proofs are more likely to be clicked. People get drawn to the ones with social proof.
Social proofs make a big difference in your online marketing efforts. People simply choose to follow the crowd, and you can take advantage of this fact by having social proofs in your online store.
In simple words, social proofs act as massively scalable word-of-mouth. You get the idea or the "proof" element that if other people are doing it (saying it), then it must be correct.
You can generate and share social proofs using social networks to multiply the discovery of your brand and add to its influence.
The success of a social proof largely depends on the number of people promoting an idea or brand. So, social influencers have more weight than the general public and affect the behavior of others.
With social proof, people act differently and make decisions differently than if they had relied on their judgment. So, social proof has the power of "undue influence" on people affecting their decisions. They help to develop the sense of "urgency" with people, and they take appropriate actions boosting sales and conversions.
It is sometimes referred to as the herd mentality.
Types of Social Proof
Social Proofs can be immensely instrumental in multiplying the discovery of your brand leading to its influence with your target audience.
So, social proof functions as a marketing arsenal facilitating the popularity of your blog, website, or eCommerce store.
Here, we share with you five forms of Social Proofs:
Expert Social Proof: Expert social proof comes from a prominent blogger, business leader or industry expert whose opinions are valued by people. For example, if a popular tech blogger recommends software, then the brand is likely to enjoy increased sales.
Celebrity Social Proof: Celebrity endorsements are a staple to the advertising industry. In fact, celebrities have a profound influence on their enormous fan base. So, when a celebrity endorses a brand, it is likely to be used by people at large.
User Social Proof: Digital marketers share user success stories with their target audience. You can share videos about the use of products and services.
The Wisdom of the Crowd: It speaks of the popularity of a product. So, when you share the "most popular" ones, it invites higher consumption.
The Wisdom of Friends: People tend to rely on the opinion and advice of their friends. It has a direct impact on your decision. When a friend has used a product and goes on to share his/her opinion, you will likely value their opinion and base your purchase decision on their advice.
11 Best Social Proof Tools
1. ProveSource Best Social Proof Tool
ProveSource is a great tool to have on your website for increasing conversions. Moreover, it's super easy to get started with ProveSource. No coding is needed on your part.
You need to copy and paste the script on an existing website. So, ProveSource makes it easy for you to display real social proof activities. Plus, it allows you to design, customize and configure your notifications.
With ProveSource, you are in for more conversions. You can increase purchase conversions on your store or app by highlighting recent orders, product reviews, and various other customer behaviors.
It builds more trust with your new users. ProveSource allows your existing customers to sell for you.
You can leverage social proof creating urgency for visitors to discover new products and buy more. So, ProveSource works for you and increases your sales and conversions. Best thing, no special skills or coding is required on your part.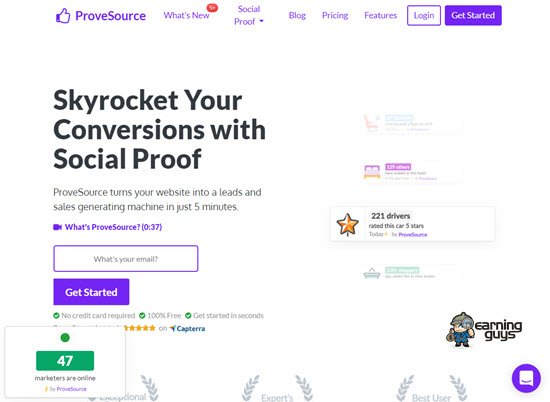 2. Proof Top Social Proof Tool
Proof is social proof marketing software for increasing your leads and sales. It is trusted by more than 15000 websites. With Proof, you can look for an average conversion lift of 10% to 15%.
Proof is all about making conversions easy for you. It's the tool for letting your customers do the selling for you.
With Proof, you get the opportunity of converting more website visitors into signups and purchases. So, you get to save on acquisition and advertising spend. It increases the trust and credibility of your website. It creates the 'fear of missing out' when your visitors see others taking actions and making purchases.
You can show a live visitor count. You can even show the total number of people who have signed up or made a purchase recently on your site. They have added 'Conversion Cards' with which you can convert more visitors by having a call to an action triggered by notification click.
Moreover, Proof is mobile optimized. Pricing starts at $24/mo.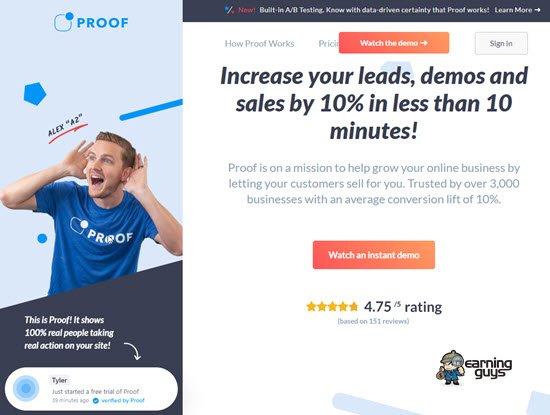 3. Proven Social Proof WordPress Plugin
Proven is a very powerful yet easy-to-use WordPress Plugin for leveraging social proof to increase your sales and conversions.
It comes with seamless integration with the most popular e-commerce and mailing lists platforms allowing you to show recent sales and newsletter signups.
Proven comes with features that allow you to generate more conversions on your website. It offers a super simple setup. You can have Proven up and running on your website in no time.
Proven allows you to customize the appearance of your social proofs. You can change colors, shape, and position and match with the look of your website.
It allows you to create sales notifications. You can control its visibility. You can show Proven to new visitors, logged in users, only visitors to certain pages, and more.
Moreover, Proven comes with detailed documentation. Pricing starts at $39/year (1 site license).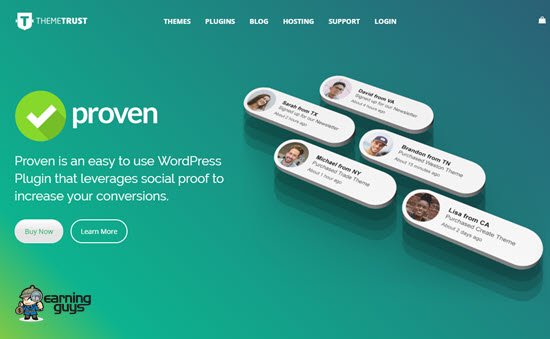 4. Thrive Ovation WordPress Testimonial Plugin
Thrive Ovation is a WordPress Testimonial Plugin by Thrive Themes. It is one of the best ways to boost conversion on your WordPress site.
So, Thrive Ovation offers the opportunity to unleash the power of testimonials on your WordPress site. You can have testimonials organized in one spot by using Thrive Ovation and close the sale.
It's an all-in-one testimonial management plugin for WordPress. With Thrive Ovation, you can easily tap into the power of testimonials. You can display the testimonials with a click of a button.
It integrates with Facebook as well as Twitter allowing you to leverage those social media mentions on your website. You can insert your testimonials on a sales page, a landing page, in a blog post, and even on your opt-in forms or in your sidebar.
Plus, you have the option of dynamically updated testimonials. It offers fully customizable and professionally designed templates. Moreover, with the Thrive Content Builder, you can customize every detail to fit your brand.
So, Thrive Ovation is all about testimonials. Pricing starts at $39 (1 license).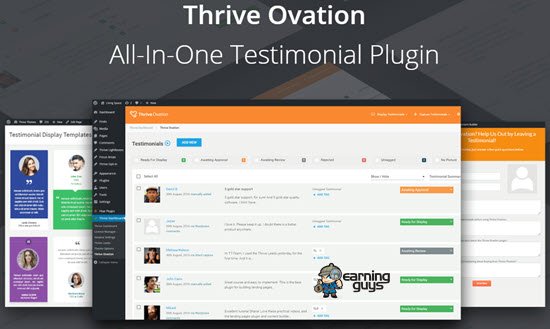 SocialProve allows you to showcase small notifications or Popups on your website as social proofs for increasing conversions for your website.
In fact, SocialProve helps to boost website conversion by as much as 15%. Moreover, it is very easy to set up SocialProve on your website. It just takes about three minutes for setting up SocialProve to any website.
SocialProve allows you to show recent orders and active users in your website. It helps to build trust with new users as they see other people using and taking action on your website.
It's an easy and powerful way of showcasing social proofs on your website. It provides the opportunity to turn the potential customers into real signups.
You need to copy and paste the SocialProve pixel code to your website. Plus, you can edit and customize the SocialProve notifications for your website. SocialProve offers simple and sleek notifications.
In fact, it offers four types of notifications:
Live Activity Notifications
Live Count Notifications
Visitor Combo Notifications
Timer Action Notifications
Moreover, SocialProve is free, and you can cancel at any time.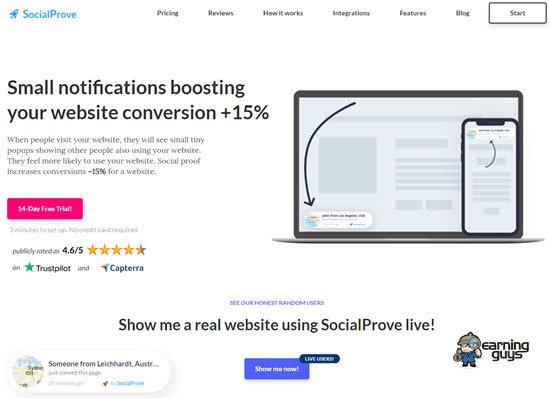 6. LetConvert Social Proof Software
LetConvert unleashes the power of social proof helping you to skyrocket your conversions. It offers the power of FOMO, Social Proof, and Real-Time Alerts thereby converting more visitors into leads and sales.
LetConvert allows you to showcase:
Recent Activity Alerts: Allows you to showcase your visitor's recent activity
Power Trails: You can showcase how many conversions took place on your website
Live Visitor Count: You can show how many people are online
Mobile Optimized: You can display alerts on mobile
Custom Curation: Upload the email list and show them on your websites
Moreover, LetConvert offers complete customization. You can choose different fonts, colors, animations, and customize the alerts completely.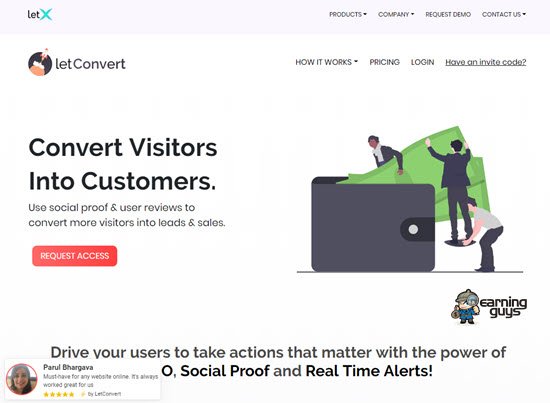 7. Fomo Social Proof Tool
Fomo is one of the best social proof tools out there. It allows you to add the holy grail of social proof on your website for increasing conversions.
With Fomo, you can show what your visitors are doing. So, Fomo builds credibility for your website. It drives a sense of urgency for your customers who get the urge to 'get it first.' Plus, Fomo fits your style.
It offers custom themes, CSS, and more. You can even monitor Fomo ROI by connecting Google Analytics, tracking events, or A/B testing.
Moreover, Fomo is easy to use. It's a marketing tool that doesn't require HTML/CSS know-how. You don't need to work with codes. You only have to click just a few buttons.
Last but not least, their support is super responsive.
So, Fomo is all you need for driving conversions on your website. Now, make your customers sell for you with Fomo. It's the easiest way for increasing sales and conversions by showing off customer interactions.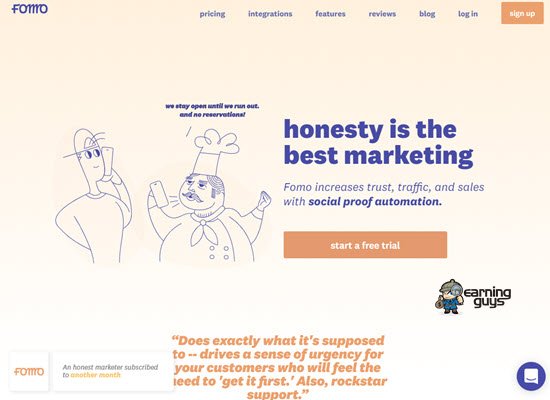 Fera is one of the best urgency and social proof apps for your Shopify store. It's best at sales and conversion optimization.
It allows you to add notifications such as countdown timers, low stock warnings, as well as recent shopper activity thereby encouraging visitors to purchase.
It helps to increase store credibility by showcasing recent customer purchases and add to carts.
You get developer friendly and fully customizable designs.
Pricing starts at $9/mo; however, there's even a free option for stores with up to $1000 revenue/mo on average.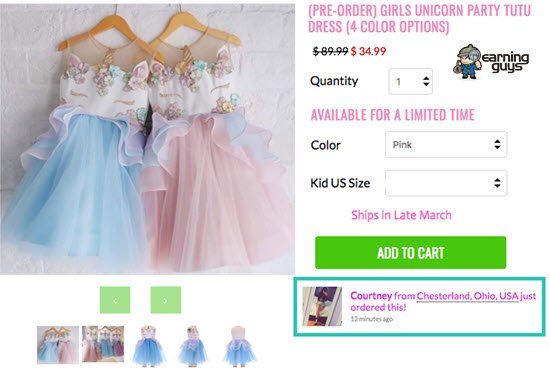 9. Repuso – Testimonials & Reviews
Repuso is all about showing testimonials on your website. It is one of the best social proof tools out there.
Repuso goes on to monitor all your social media channels for reviews by your customer.
Reviews are also collected through its widgets. It allows you to select your favorite reviews in its dashboard which can then be displayed in the widgets.
The tool notifies you and achieves the stuff with exceeding efficiency all in real-time. So, Repuso help's to increase your website's conversion. It can showcase the selected reviews in the floating widget or inline on your most popular pages.
Repuso allows you to collect testimonials from various channels including:
Facebook page
Twitter account
Instagram account
Zendesk account
iTunes app
Google Play app
G2Crowd
Thumbtack
GetApp
Delighted
Moreover, Repuso allows you to organize your testimonials. Plus, you can create various showcase widgets (such as floating, grid, inline) for your website. It can even add a rich snippet to your page to boost your search rankings.
So, Repuso is all about showcasing your visitors' satisfied testimonials from real persons to boost the conversion rate on your website.
You can start with Repuso for free. Its Starter plan comes at $6/mo and offers you an opportunity for unlimited testimonials. Its Professional plan is available at $12/mo with unlimited testimonials, unlimited channel types, and unlimited widgets.
WPfomify WordPress Plugin offers you the opportunity to increase conversions on your website with social proof instantly.
It displays recent sales & signups. You can display the purchase notifications and create urgency with the timed notifications bar.
So, you can display purchases, signups, and reviews on your website. It increases your website's credibility and allows you to convert your visitors into subscribers and visitors.
It leverages the FoMo technique (Fear of Missing out) to convert visitors into customers. You can keep a pleasant user experience as you can control how and where the notifications are shown.
So, WPfomify proves a great solution for your lead generation process. It offers an immediate positive impact when you add it to your website. WPfomify even integrates with popular WordPress plugins & Web Services.
WPfomify comes packed with amazing and powerful features to boost your business. It offers the opportunity to display real-time activity notifications. WPfomify is mobile optimized and works beautifully on all kinds of devices. It offers plenty of design options.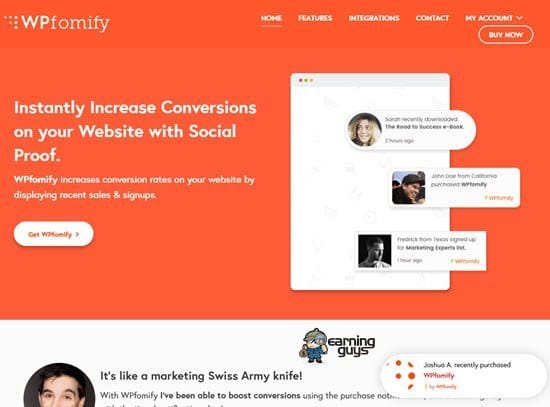 Provely allows you to add social proof to any site. It incorporates the FoMo tactics (Fear of Missing out) to boost, conversions, signups, and sales on your website.
You just have to add one line of code to your website. Moreover, there is no technical experience needed to add Provely to your website.
It will automatically detect new signups to display. You have to create and design your pop-up widget. Then go on and embed it on your website or page.
You can customize your Provely Popups and run three types of campaigns. For example: You can display lead or sale notifications to visitors in real-time on your site or page. It's perfect for large volume sites.
You can even display lead or sale notifications that rotate through a select period. They are perfect for medium volume sites.
Moreover, you can display past, historical lead or sale notifications from customers that previously signed up. It's perfect for small volume and startups.
Provely allows widget customization. It offers a library of sleek popup templates. You can choose your preferred color scheme for your widget so that your visitor's eye is pulled to your social proof.
Provely works great on various platforms including WordPress, Magento, Shopify, Thrive Themes, Leadpages, Instapage, Optimizepress, and more.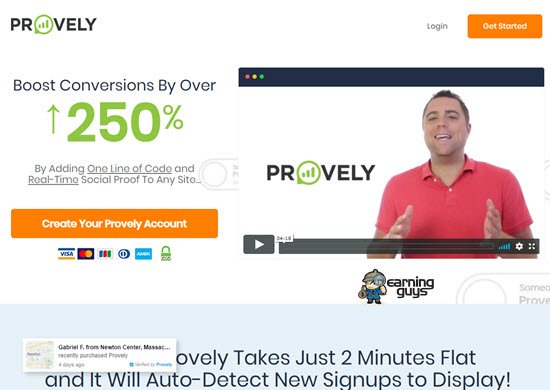 Who should you use Social Proof?
Social Proof is a great marketing arsenal for every digital marketer who wants to skyrocket sales and boost conversions on their website.
It proves indispensable for E-commerce and SaaS product owners. Social Proof helps to build trust in your store, products, and services.
It is useful for advertisers who want to grab their prospect's attention and convince them to choose their brand.
Agencies can benefit by incorporating social proof into their clients' marketing strategies.
Most effective Social Proof Strategies
Testimonials
The Testimonials are regarded as one of the most powerful social proof elements to have on your website. Testimonials help to win the confidence of visitors with their power of objectivity.
It achieves high credibility for your website as someone outside your brand does the talking for you. Testimonials encourage users to subscribe and complete the form. It persuades users to purchase on your website.
You can include real attributions and photos in your testimonials for better results. You can even go for video testimonials.
Customer Reviews and Ratings
Customer Reviews and Ratings are immensely powerful social proofs that you can use on your website for driving sales and conversions.
In fact, Amazon has successfully leveraged customer reviews and ratings to power the sales of their products on its eCommerce store.
Ratings and reviews usually incorporate a scoring system (for example 5-star system) as a source of social proof. It accounts for the opinions of actual buyers.
So, they go well with your potential customers.
You can collect and display product scores on your store to voice the opinions of your customers in front of your target audience.
Reviews and ratings bring out the usefulness of the products. It builds a positive impact on your audience and helps them in the decision making process.
Influencer Endorsements
Influencer endorsements are seen as the most powerful social proofs out there. They have an immediate impact on the behavior of your target audience.
So, when you get a compliment from a well-known person who is respected by your audience, it goes on to build the much-needed trust and credibility for your website.
People value their opinion and base the purchase decision on their advice and comments. You should add influencer endorsements to the home page of your website so that it catches the attention of your visitors immediately.
Influencer endorsements are never over-looked. Moreover, they are valued by your visitors. It's coming from someone whom they trust the most.
It successfully delivers the comfort that buyers seek. So, influencer endorsements help to boost your conversions easily.
Badges
It's a form of social proof that comes as badges, certification, seals, etc. It's the most popular approach to boost credibility with potential new customers. Badges are used to gain the trust and confidence of your potential customers.
So, you need to display these meaningful icons on your website for establishing credibility. You can display a variety of badges on your website demonstrating media recognition, excellence award, website security, and BBB accreditation.
Subscriber Counts
Subscriber Counts make the numbers play for you. It's a very powerful social proof to use on your website. It's a proven fact that people like to join the crowd.
So, numbers matter and people want to go for a product or service that has numbers backing it. When you have a sizable list and tell people about it, you go on to build a "positive" feeling for your brand.
Most successful bloggers employ this trick. They tell the numbers straight away to their audience. Subscriber Counts is a way to advertise your success with your potential customers. When they see that you have the numbers, they trust what you have to offer to them. They pay more attention to your offering and join your subscription list.
It's this value that has made Subscriber Counts a very useful social proof for bloggers and website owners.
Social Connections
Here, you play the number game with your social network connections. Many successful brands over the Internet have used this simple strategy to boost their conversions.
You can use website widgets or plugins and showcase your media likes, follows and so on.
For example, the Moz blog uses the Facebook social plugin to showcase the "like" count as well as the profile pictures of people in their Facebook network.
So, you can showcase your social connections and compel people to "like along." It shows people that your blog or website is active and useful.
Test Results
You can use various types of test results as powerful social proof and deliver the much-needed comfort to your buyers.
For example: The "Trusted Store" card from Google.
It's a certification based on numerous data points and acts as a reference showing the criteria to shoppers that help them to make a purchase.
Concluding
So, Social Proof influences people to take the necessary action by showing them that others are doing it.
Social proof drives uncertainty away from people and helps in the decision making process. They go on to build the trust and credibility for your website or brand.
So, Social Proof acts as a powerful marketing strategy in your online communications for driving sales and conversions.
You can use these social proof tools for instantly increasing conversions. These are the best ones out there. Get started now and skyrocket your conversions by incorporating social proof on your website or blog.