Do you want to learn about affiliate marketing? Well, you can gain knowledge about affiliate marketing by joining Affiliate Marketing Forums.
Affiliate forums or Internet Marketing Forums help you to learn every aspect of affiliate marketing.
In this article, I have featured 11 Best Affiliate Marketing Forums so that you can learn about affiliate marketing easily.
These affiliate/internet marketing forums allow you to ask questions, and you can keep learning and growing day by day.
Affiliate forums are where maximum conversations (asking and replying to questions) occur with regards to an affiliate marketing business.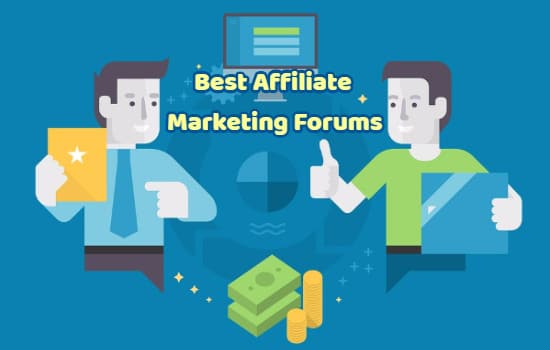 Why should you join the affiliate marketing forum?
In fact, affiliate marketing can turn out to be an assiduous journey, especially when you are all new to it.
You can be facing tons of questions about affiliate marketing.
Being an affiliate eventually requires you to be aware of every affiliate marketing concept so that you do not struggle with your affiliate marketing efforts.
Getting your first client can be quite tough for many newbie affiliates. Moreover, affiliate marketing can be filled with many ups and downs.
Just like a "stitch in time saves nine," an affiliate forum can turn out to be a savior for you.
You can get quick answers and very helpful solutions at internet marketing forums.
Participating in affiliate forums provides you with the opportunity to get solutions and answers to the questions that are just holding you back from tasting success as an affiliate.
Moreover, the affiliate forums can be regarded as a great affiliate marketing tool. In fact, they are a fundamental part of being an affiliate.
By joining affiliate forums, you get access to an online community that can provide you with valuable information.
It's a place where you can get some help, learn about affiliate marketing, find business partners, and can make friends who have the same set of interests as yours.
In fact, if you ask me what makes a successful online marketer, well, it's none other than the ability to learn something new.
It's important for you to know what you could have done better to profit from online marketing.
An internet marketing forum is the best place where you can get all the information that matters most to you as far as online marketing is concerned.
Here, you can be in touch with people who understand perfectly well what you're talking about and are ready with an answer.
Moreover, building a successful online business is something that you cannot achieve on your own.
The inputs from successful online marketers can turn out to be the best source of information for you.
So, by joining affiliate forums, you get the opportunity to access the biggest source of information out there.
You can get to know new affiliate marketing techniques, even new methods, and the motivational support essential for being successful in affiliate marketing.
You can find affiliate tutorials, landing pages, banner ad examples, and the biggest thing on how to test your campaign angels.
In an affiliate marketing forum, you can start your affiliate campaign follow along, and other affiliates will help you to get success in your affiliate campaign.
You can also follow other affiliates to follow along and learn what mistakes to avoid and how to make your affiliate campaign successful.
Affiliate forums are the centralized locations for topical discussions on a large scale (centered on affiliate marketing).
Choosing the best affiliate forum
There are scores of affiliate forums with memberships that sometimes run over one million.
So, it's a daunting task to find out the best forums for affiliate marketing.
While it is not important to know the technical side of how forums work, it's certainly important that you join the best among them.
You just don't want useless advice coming your way. You just don't want whimsical bullshit. As an affiliate, you just don't want to waste your time on these trashes.
Moreover, you would like to get "success formulas" that "make money online" a reality for you.
You want golden nuggets of information that make your affiliate marketing journey easy and profitable.
In short, you want Internet Marketing forums that go on to deliver solid info. You want the best tips coming your way. You want to have the best solution for your relevant issues.
Herein, I have revealed the best affiliate forums that offer effective engagement in the discussion and message boards.
So, let's start with the list and explore the 11 Best Affiliate Marketing Forums, which can be game-changers for your affiliate career.
Here's the list for you:
11 Top Affiliate Marketing Forums
Stack That Money (STM Forum) is an authoritative forum on the affiliate marketing community with a reach that continues to expand.
STM Forum was launched in January 2011. It offers case studies, guides, high-quality information on a variety of topics and acts as a core networking hub for industry veterans.
It's your gateway to affiliate marketing.
It is suitable for the experienced ones who need a networking hub and even for newbie affiliates who want to launch their first campaign online.
They also provide higher education, host conferences and local networking events.
At STM, you will find lots of tutorials, case studies, landing pages, banner ads, follow along, and answers to your questions.
They are continuously improving and expanding the forum so that it turns out an immensely valuable place for information for affiliates.
Moreover, Stack That Money is especially for CPA affiliates with some of the most vocal contributors to the industry.
You will certainly be impressed with the caliber of advice that gets given away. The community is driven by successful affiliates who share many of their best strategies.
It's a premium affiliate marketing community that is slightly expensive but highly recommended.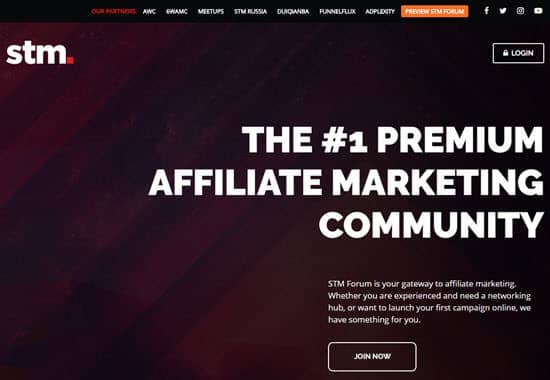 Aff Playbook is a world-class affiliate marketing forum offering case studies, lessons, and exclusive tools.
It was launched in 2009.
In fact, Aff Playbook has grown to become one of the leading affiliate forums in the online marketing industry. Aff Playbook has over 3600 members and proves one of the best resources for mastering all aspects of affiliate marketing and networking.
It has been launched with the sole purpose of making you a successful affiliate. In fact, the forum helps you in building a successful affiliate business.
You can learn how to build high-income campaigns. There are many affiliate networks that post in the forum and help members out.
Aff Playbook has built a great reputation in the affiliate marketing industry. It offers step-by-step lessons, case studies, and tips on popular traffic sources such as PPV, PPC, Facebook, and more.
Moreover, you learn how to turn your traffic into a real business.
In fact, there's more with Aff Playbook.
It runs a very active community and offers you the opportunity to network with successful people in the industry.
There are lessons on building landing pages, implementing code, and tracking. There are guides on the product and offer creation. So, you learn to run your business for maximum profit and scalability.
Aff Playbook is one of the first to introduce a subscription model. You will need to subscribe to gain access to this best forum about Internet Marketing.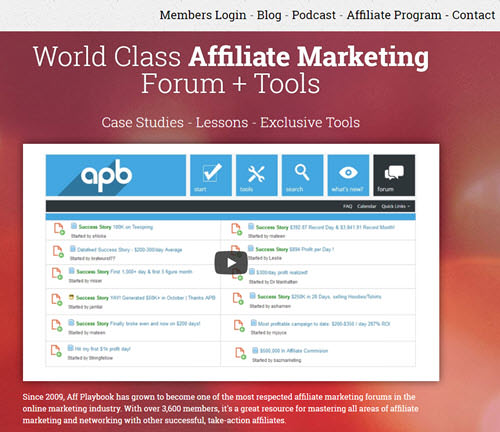 3. AffiliateFix Affiliate Marketing Forum
One of the most popular affiliate forums that deserves to be in the top 10 is AffiliateFix. It is a great forum simply because it's free and active. All the topics and discussions have been wonderfully organized.
It is a forum that is specially designed for newbies and beginners with a focus on creating newbie affiliate marketers as an expert in their respective areas.
AffiliateFix has a section featuring Case Studies and Success Stories where you come to know how other people are succeeding in affiliate marketing. It features step-by-step tutorials on getting started with affiliate marketing.
Another important sub-forum on AffiliateFix is traffic sources which show you ways of getting traffic using PPV, PPC, mobile marketing, eCommerce, display media, SEO, and more.
All in all, AffiliateFix proves a great affiliate marketing forum for learning from other well-versed marketers.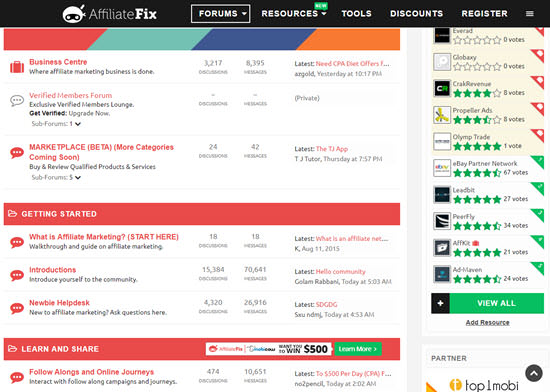 4. Affilorama Affiliate Marketing Forum
Affilorama is another popular and most professional affiliate marketing forum online. It has well above 115,000 articles posted and has about half a million members.
Affilorama is regarded as one of the most reputed affiliate forums online. The forum has topics posted on a variety of subjects relating to affiliate marketing.
There are topics on market research, keyword research, and keyword product tools, among many others. It has topics on video marketing, social media networks, and PPC ads on Facebook. Plus, there's the SEO and Link Building topic section.
So, you can learn the latest SEO techniques for making your website search engine friendly.
There's also a section devoted to PPC. Here, you get information on creating landing pages, Google AdWords, and more. Then, additional sub-forums focus on content creation and website building. There's even a section dedicated to affiliate marketing programs.
The best part of Affilorama is that it is completely free to join. Plus, they also offer awesome affiliate marketing training as well.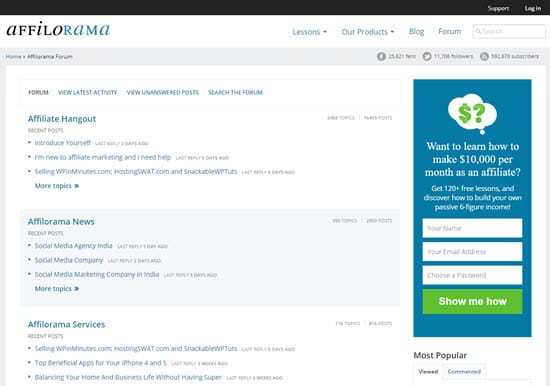 5. affLIFT Affiliate Forum
affLIFT is an affordable and popular affiliate forum. It offers more value for your price.
With affLIFT, you can race ahead and profit from your affiliate marketing efforts. It's a useful platform for beginners as well as professionals who are already making money with affiliate marketing.
affLIFT has much useful information. It has helpful and friendly members of its community.
It's an amazing forum that allows you to take your affiliate marketing skills to the next level. Although affiliate marketing has a steep learning curve; however, with affLIFT Community, you have the perfect marketing advice that helps you to become a successful affiliate marketer.
At affLIFT, you hang out with like-minded people. Moreover, affLIFT is growing from strength to strength.
It already has over 4500+ registered users with over 5000+ messages in the forum. So, at affLIFT, you get lots of affiliate marketing tips and tricks studded with some great information. Its community covers everything you need to know about affiliate marketing.
affLIFT makes you a better affiliate. One comes to know how to set up a campaign on popular traffic sources. You get to about tracking software for optimizing your campaigns. You come to know how to create landing pages. One can learn how to optimize traffic for getting the best ROI. They even publish case studies.
Its monthly subscription starts at $20 per month, wherein you get premium access, affiliate guides, follow along, case studies, and everything else.
The yearly subscription comes at $200 annually. Plus, there's also the lifetime membership plan for $350.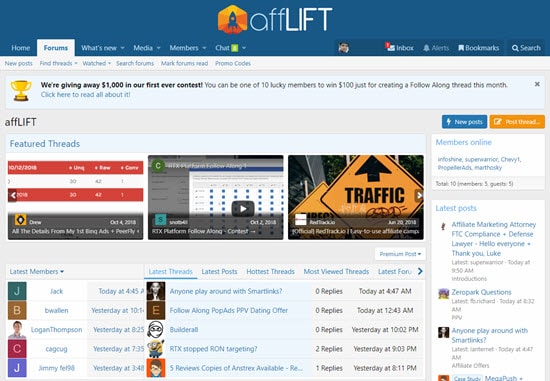 Warrior Forum is a powerful, interactive, and very useful forum for affiliates who want to make money online. It's also a marketplace, as well.
Warrior Forum is the first forum that every internet marketer joins. It covers all topics related to internet marketing, from SEO to affiliate, social, blogging, and much more.
It's an active forum for all serious affiliates and marketing experts with threads on all sorts of effective web marketing, networking and sales of products and services, and much more.
It offers an interactive platform for discussion on affiliate marketing. You can learn new affiliate marketing trends and share your experiences with other fellow members.
Members go on to discuss online money-making topics. You can get guidance from industry veterans. Beginners in affiliate marketing can learn effective affiliate marketing techniques.
Digital Point proves a great forum for affiliate marketers in many ways. It's a huge international forum where affiliate marketers from different parts of the world gather to discuss ideas and put up things for sales like domains websites, graphics, articles, eBooks, and templates.
It is one of the best places for discussion on affiliate marketing. It has various threads covering topics such as search engine, design & development, business & marketing, development & trade. You can even buy and sell digital products on the Digital Point Marketplace.
It offers sections entirely devoted to SEO with Google. It also has sub-forums on website design, website development, as well as business and marketing topics. It's a place where you can get some valuable ideas and can even outsource your affiliate tasks if required.
WickedFire isn't like other internet marketing forums in the sense that it requires you to properly understand its rules of engagement and the culture they love.
However, it covers threads on various topics, including SEO, affiliate marketing strategies, design & development.
Many will find WickedFire quite polarizing. So, you should be an expert at filtering good information from the general bullshit. It can turn out to be quite an intimidating place for a newbie.
Moreover, it's not easy to have "money knowledge" with zero posts. You need to establish some good working relationships with fellow members.
That said, WickedFire does provide an excellent buy/sell area enabling you to do business with some very talented freelancers who are well versed in affiliate marketing.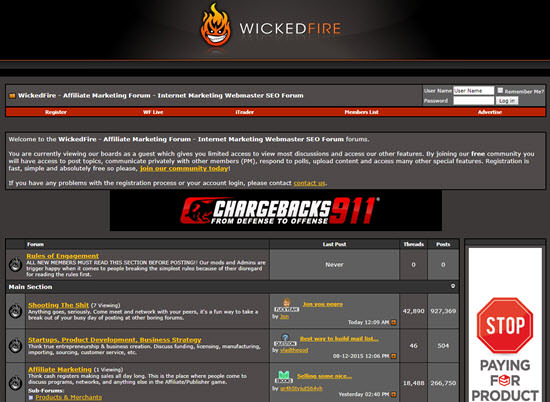 Wealthy Affiliate is an amazing affiliate forum. If you want to know about affiliate marketing quickly and easily, then do check out Wealthy Affiliate.
It has an amazing community of like-minded entrepreneurs. Wealthy Affiliate has been running successfully for over ten years and has built up a very large community base.
It has some awesome tools to offer, such as a keyword research tool, live chat, WordPress themes, and more. What's interesting is the fact that you can buy your own domains and can host them right there as well.
Moreover, Wealthy Affiliate proves one of the best affiliate forums for beginners. It's a great place to learn with thousands of blog posts, articles, questions, and discussions that are constantly going on within the community.
You can signup as a free member of Wealthy Affiliate. However, there's also the opportunity for paid subscribers that is best for its growing community.
Forum topics range from SEO, Video Marketing, PPC, WordPress, Affiliate Programs, and more.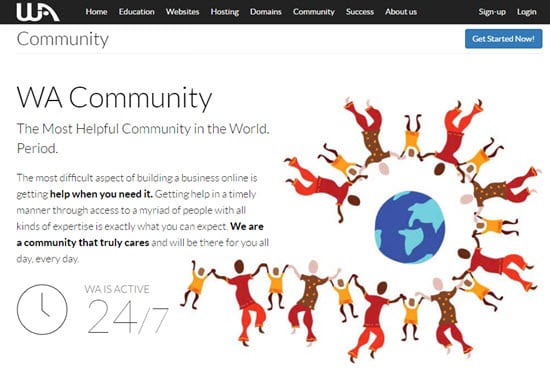 10. CPA Elites Affiliate Marketing Forum
CPA Elites is a well-known CPA Marketing Forum running successfully since 2013. It's got great information and is definitely active.
It covers topics that you might not find anywhere else.
For example, they have a section that is entirely devoted to VIP Private Discussions. They offer CPA Legends Discussions. It even has a section featuring Open Discussions. Then you get cryptocurrency discussions. There's also a sub-forum on SEO, Social Media, Programming & Graphics.
It offers support for a newbie, guides, advanced tutorials, and exclusive tools. You can easily navigate to all the different forum sections.
They have helped turn newbie affiliates into legend earners.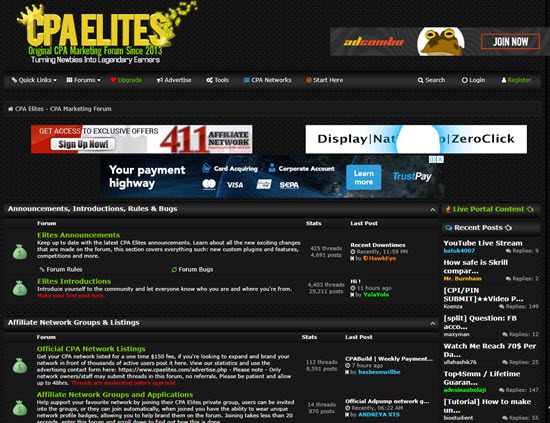 If you want to learn the basics of affiliate marketing or encounter problems on your way to affiliate marketing, then you should certainly check out The V7 Network.
It's a place where you can enhance your affiliate marketing skills. It's an affiliate forum where members are actively helping each other to grow and learn.
Be confident that none of your problems will be left unanswered. Here, experts go on to share their relative ideas and help others to grow in their respective fields.
They are active discussions on web marketing, web development, web design, and webmaster marketplace. The V7 Network proves one of the best affiliate forums for beginners.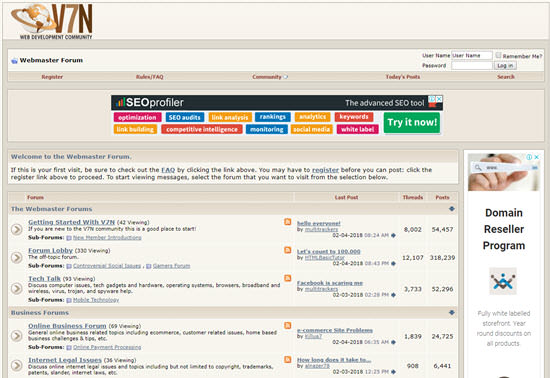 That's all in this presentation on Best Affiliate Marketing Forums. We hope that it proves a very useful resource for you. If you liked the post, please share it on Facebook, Twitter, etc. We welcome your comments and suggestions.