Your online success gets quantified by the volume of traffic you are able to generate, the number of conversions or leads, and finally the sales figures.
As such your efforts should be focused on delighting your customers.
You continue to get the patronage of your customers, once you make sure that you add value in the lives of your customers.
You have to ensure that you stand out from the rest of the competition.
That's the only way to survive and thrive in the online world.
Blogging or otherwise you have to figure out amongst the best.
Well, if your efforts are directed towards delivering the best to your target audience, internet marketing techniques can go a long way in spreading your message and can help you a lot in generating the right traffic, leads and sales for your online business.
In this context, offering a free eBook to your target audience can come out as a viable strategy for driving visitors to your site and getting the conversions and leads. Offering a free eBook is a strategic and important part of Email Marketing. You can offer free eBook to your target audience in exchange for their name and email addresses. You can then follow it up with a series of Email Marketing Campaigns so as to close your leads and get the desired sales.
A free eBook can serve as a starting point for a fruitful and long lasting relationship with your clients. A free eBook comes out as a powerful medium for promoting your products and services to your target audience. Rather than compelling the customers, a free eBook actually delights your customers. The results are obvious. You get leads. You get conversions, and most importantly you get happy and loyal customers.
In one of our previous articles, we have come up with a detailed post highlighting the importance of building a free eBook for your target audience. The post has been titled as, "Why to build a free eBook".
Once you are aware of the importance and benefits of offering a free eBook to your target audience, you would then surely employ free eBook as one of the main elements of your overall internet marketing efforts.
However, you need to understand that coming out with an ordinary free eBook will not serve your purpose in any. Your free eBook has to be remarkable and extraordinary in every respect. It should be capable of adding value in the lives of your visitors.
In this perspective, you need to know the techniques and the art of writing an outstanding free eBook. You need to be aware of how to write a high quality free eBook. Hereunder, we present to you a series of steps that you should need to know in order to build a remarkable free eBook. You invariably require writing a high quality free eBook if you wish to stand out and make your place in the hearts of your target audience. Hereunder, you get a detailed knowledge of How to Write a Free eBook. Using the steps listed below you can come up with awesome free eBook that will be loved and adored by your target audience.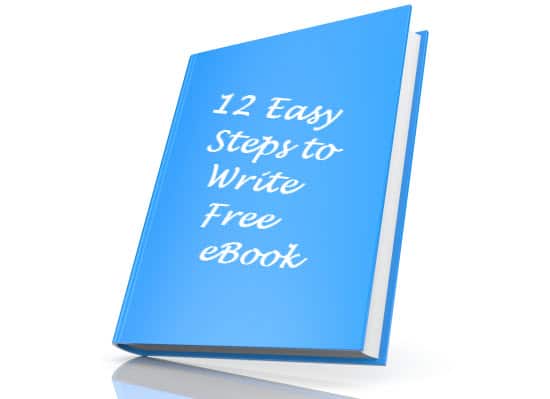 Step 1: Decide the Topic of Your Free eBook
Well, after seeing the numerous benefits of making a free eBook, you might feel quite tempted and motivated to come with your own free eBook. However, it would be a suicidal attempt to take the plunge without having any idea of what you would be writing in your eBook. So if you are ready to take the challenge of writing an eBook, the first and foremost thing you need to do is to decide the topic of your free eBook. The topic of your eBook has a huge impact on the success and popularity of your free eBook. It is one of the important factors that determine the success of your eBook.
So you need to have a clear concept about the free eBook that you would be writing. It always helps to choose a topic in the niche in which you have full command or mastery. Then only you will succeed in making a positive difference for your visitors. You need to be specific rather than being general. Your eBook should be successful in adding value in the lives of your target audience.
This will only happen when you choose such a topic for your free eBook that provides solution rather than giving an overview. In this context, it is important to know what your readers are looking for and expecting from you. A thorough research and analysis proves beneficial for you in coming out with the right topic. It helps you to give most value to your readers.
If you are starving for great ideas for your eBook, you might well be comforted if you look at the related blogs in your niche. You get knowledge and inputs about what products are being promoted and what is basically liked and followed in such blogs. This can really give you great ideas for your free eBook.
Step 2: Make the Announcement
Making the Announcement of the launch of your free eBook is an important part of the pre-launch process. So as soon as you decide that you would be offering free eBook to your readers and finalize the topic of your eBook, it would be highly beneficial for you if you make the announcement for it. This serves a dual purpose.
Firstly, it keeps you going and motivated. You know that you have a deadline before which you have to be ready with your free eBook. You have public accountability which you have to fulfill. Secondly, it keeps the buzz going. Your readers are excited and look forward to the launch of the free eBook. They may even share the message with their friends and help to spread the buzz. You can make this announcement on your blog post or even advertise and promote it on various social media channels such as Twitter, Facebook, and LinkedIn.
Step 3: Look for the Options
Once you have the decided the topic for your free eBook, it's time to look for the options with respect to writing the free eBook. Well, if you consider yourself a prolific writer, have the expertise, and the time, you can very well take the challenge of writing the free eBook. However, if you lack any of the above factors, then you can surely go for outsourcing the task. For example, you can hire freelancers who have experience and expertise of writing eBook in your chosen niche.
Step 4: Begin by Writing the Outline
Usually a free eBook ranges from 3500 to 5000 words. However, you may come out with free eBook that are longer than 5000 words. Both of these scenarios demand that you should be focusing on the writing aspect and should not wander off your topic. With a blank document in front of you, there is every possibility that you can be distracted from the topic at hand. You would not like to waste your time wondering what to write next.
So before actually writing the content, you should first prepare the outline for your free eBook. You can adopt any style of writing the outline that suits you. Basically, you should list down all the headings and sub-headings that appear in your topic. Each of the sections should be accompanied with one or two important points so that you are clear what you have to write in each of the sections. You should even mention any resources or references that you feel important for writing down your free eBook. Once you have the outline ready with you, your work of writing the eBook becomes a lot easier.
Step 5: Drafting the Content
Drafting the Content actually constitutes the writing part for your eBook. Preparing the outline really helps in drafting out the content for your free eBook. You should break your eBook writing into manageable chunks. There is no need to sit for long hours. Scheduling dedicated hours for drafting the content for your free eBook really organizes the task pretty well for you.
Further up; be focused on drafting the content for your free eBook. You should not involve yourself in other tasks and should avoid distractions at any cost. So you should keep yourself away from Facebook, Twitter, or emails. At this stage, editing and formatting your text should not be your concern. You can do it later on. Just keep moving and complete the drafting the content.
As far as style of presenting the content is concerned, it is essential to back your information with facts, figures, stats, or research studies. This adds up weight to your eBook. Your work then becomes more authentic, real and true. You can even complement your text with real-life examples and case studies relevant to your topic. This way you make your content more appealing to your readers. It provides uniqueness and adds value to your content.
Step 6: Add Graphics and Images
Once you finish drafting the content for your eBook, the next step should be to include graphics and images in your free eBook. The relevancy quotient of your eBook is drastically increased once you include graphics and images in it. It also makes your eBook more attractive and appealing to your readers.
However, you need to select the graphics and images quite carefully. The graphics and images should precisely relate to the topic of your eBook.
Here are some examples of graphics that you might well be useful for your free eBook.
You can use Diagrams so as to explain important concepts
Charts to highlight the statistics in a visual and interesting way
Small Graphics to focus on tips, quotes or warnings
Illustrations and Photographs so as to make your content more appealing
Having said this, you should not overuse this element (graphics and images) in your eBook. This spoils the relevancy, usefulness, value and beauty of adding graphics and images to your content. Moreover, it takes lots of time in finding suitable graphics and images for your eBook. You may also have to append or change some portions of your content just to explain the graphics and images that you have added in your eBook.
With respect to graphics and images, you should mind the copyright laws. So if you go on to use images from Flickr, which have been licensed as Creative Commons always give credit and link back to the owner in your eBook. Otherwise, if you have kept the budget for your eBook, you can even consider purchasing stock photos from Fotolia or iStockPhoto.
So set up graphics and images in place once you complete drafting the content for your eBook.
Step 7: Edit and Update
Once drafting is done, and you finish adding graphics and images to your eBook, you can safely assume that you completed the hardest portion of coming up with your eBook.
Now you need to revise, edit, format, and polish your eBook so that it shines and looks attractive to your readers.
So begin the work of redrafting, editing and formatting your eBook.
The redrafting, editing and formatting of your eBook should typically include the following gamut of activities:
Edit the Structure so as to make sure that the chapters and sections are in proper sequence. Take one page at a time and check whether you have covered all the points in each of your sections. Check for any repetitions. Edit and update any sections which are too short or too long.
Once you have worked on the structure, you can move on to add quotes, examples, and links to your free eBook content. You can include a quote or example in your sections so that it becomes easy-to-read. You can even consider for creating a pattern. So adding a quote at the beginning or at the end will go on to create a nice pattern in your eBook. Revising and editing sentences or paragraphs may also work in your favor.
As you go on editing your work, you should also check for the flow and tone used in your eBook. So, you should rewrite the sentences which are too complicated, ambiguous, over-long or clumsy. On the whole, the tone should be consistent throughout your eBook.
Step 8: Format Your eBook
Once the editing part is over, you need to format your eBook. Everything should be set in the right style and format. You need to format each of your headings and sub-headings including the text. The font you use should be modern as well as easy to read. The font size for your text and headings should be bigger than what you keep for your normal work or school document. You should be using "bold" to emphasize important key points or use "italics" to emphasize key words. Also, you need to style the quotes in a different format and can consider using a magazine style "pull box" for highlighting tips. Your eBook pages should be numbered. Your eBook pages header or footer should also invariably include the title of your eBook.
Step 9: Add Table of Contents and Appendix
A mark of highly successful and professional free eBooks is that they always include Table of Contents and Appendix. So once you are over with formatting and styling of your eBook, make sure you add a table of contents and appendix in it. Adding table of contents in your free eBook is necessary as it facilitates reading of your eBook. Your readers get clarity about on what page they would get the content they are looking for. Whereas an appendix lists references and resources for further reading. An appendix can list down tutorials. It can include a list of references and resources such as blogs, websites, books, products, and services. An Appendix can also include notes for sections in your eBook.
Step 10: Design the Front Cover
After completing the hard work of writing the text, editing, and formatting, here comes a relatively easy task of designing the front cover for your eBook. Designing the front cover tests your creativity more than anything else. However, if you are not an expert in designing, there is nothing to worry, as you have other options, as well. You can always check out Fotolia or istockphoto for an eye-catching and awesome image for the front cover of your eBook. Then you can even outsource the work of designing the front cover to a professional graphics designer. Once you are through with the design of your front cover, you should then preferably convert that image into a book shaped template. There are tools which allow you to do this easily. However, you might well have to chip in some extra dollars.
You may well consider these tips for designing the front cover for your eBook:
The title of your free eBook should use a clear, big font
The subtitle or strapline should appear in a smaller font
You should not use too many colors. Preferably use two or at the most three colors.
Have two or more designs for your front cover and pick the best one out
Step 11: The Final Touches
Well, your free eBook is almost ready to be published and promoted on the web. It just requires the final touches. However, before giving the final touches, you do require to convert the word document (of your free eBook) into PDF file. You can use Adobe's Acrobat software for getting the PDF of your free eBook. Then comes the final stage of proof-reading and link check up. This will provide you the opportunity to do the final check. If anything is obviously wrong, do go ahead and correct it. Also do check the links and see whether they are working properly.
Step 12: Finally Get in Rolling – Publish, Promote & Publicize
Now you are finally ready to roll out your free eBook. It can now be published, promoted and publicized. You can use an FTP program to upload your free eBook. You can even publish your free eBook on your blog. You can offer free eBook to your subscribers. Your free eBook is an important element in your overall internet marketing strategy. You can give your eBook as a freebie to your website visitors in exchange of their email addresses, and names.
Your free eBook launch should be well publicized and promoted on the web. You can employ social media channels to get the message across to the target audience. You can even come out with a post on your blog focusing the launch of your eBook. Tweeting about it, sending emails to the target audience can surely help you to spread the message quickly across to people.
So you see that by following the above steps, you can surely create an awesome free eBook for your target audience. You come to know the steps for writing a free eBook. The process of writing a free eBook has been adequately detailed so that you are at ease while creating your free eBook.
An extraordinary, remarkable, outstanding, and valuable free eBook for your readers can go a long way in building the brand value of your blog, product or services. A free eBook can prove immensely useful for getting you the leads and conversions. It can further help to build up your mailing list.