I am using the ThirstyAffiliates WordPress affiliate link management plugin for the past few months, and this is the time to write a ThirstyAffiliates review. A lot of affiliate marketers look for a good affiliate link management plugin, and ThirstyAffiliates is one of the great plugins every blogger must have who does some affiliate marketing.

Before telling about ThirstyAffiliates, one should know why they need affiliate link management software or Plugin.
Why you need affiliate link management software or Plugin
If you often use affiliate links on your website or blog, you must use an affiliate link management software or plugin. The reason for using an affiliate link management software can be many; I am listing a few of them.
1. Your website readers may not like affiliate links because they may feel that you are suggesting them products because you earn commissions from those products or services. Affiliate link management software hides ugly affiliate links and converts them into links targeting your own website like http://www.yourwebsite.com/recommends/abc; this is called links cloaking. In this way, your visitors don't know you are using affiliate links or not.
2. If you are using one affiliate link on plenty of pages and now the affiliate link is dead, then what will you do. You may need to change that affiliate link on pages manually, and it is a time-consuming process. With the affiliate link management software, you need to change the link once, and it will be applied to every page where that link is placed. It will surely help you save your time and give you more options to experiment with your affiliate marketing. You can test changing affiliate landing pages by just changing affiliate links in one place.
3. Knowing affiliate link performance (Clicks on affiliate links) is important for every affiliate marketer. Yes, you can get this data from your affiliate program or network, but what if you are using plenty of programs and affiliate networks. You have to log in to every affiliate program or network to get those details, but with affiliate link management software, you can track all link's performance from one place. This is another time-saving feature in affiliate link management software.
There are many more benefits of using the affiliate link management software or plugin, and ThirstyAffiliates comes with many features, including what I have listed above.
ThirstyAffiliates is a WordPress plugin for affiliate link management. As this is a WordPress plugin, you can't use it as standalone software,
What are the features of ThirstyAffiliates? I am not going to tell the details feature list of ThirstyAffiliates, just a shortlist. You can check all features at ThirstyAffiliates website.
Link cloaking/shortening
Customizable link URL prefixes
DoFollow/NoFollow options
Open affiliates link in a new window option.
You can add images to affiliate links.
Affiliate link statistics tool for click analysis
Web crawler & robot blocking in statistics
Quick statistics on affiliate link list screen
Automatic keyword linking add-on
Automatically adds affiliate links site-wide
I have used some affiliate link management plugins before, but I was not satisfied with them and was planning to switch to a new plugin. But there was some concern before moving to a new plugin.
As I was already using the affiliate link management plugin and plenty of pages with an affiliate link switching to another plugin, I had to change the affiliate link on every page. This can be a difficult task, and I was searching for a plugin that can make this task easy.
ThirstyAffiliates comes with Importer Addon (with the Premium version), which can import affiliate links from the MBP Ninja Affiliate plugin and updates affiliates' links on all pages automatically. This solved my concern about updating affiliate links.
What I like about ThirstyAffiliates
Easy to Setup: It's not about installing the plugin but the settings of the plugin. ThirstyAffiliates settings are very easy and minimum, which do not confuse and can be changed easily as per your requirement.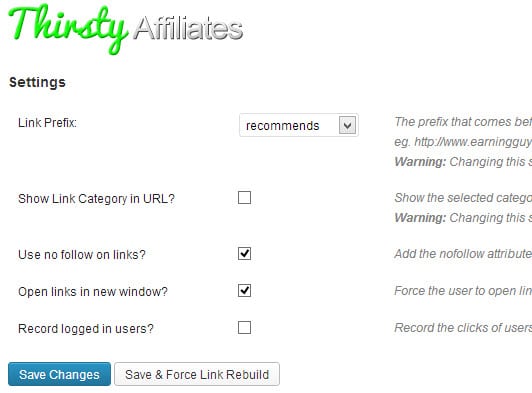 Adding Link: Adding a new affiliate link is very easy in ThirstyAffiliates; enter link name, Affiliate URL, choose affiliate category and save it. You can add a new affiliate link in just 30 seconds.
Applying Affiliate Links: Adding affiliate links to a keyword is very easy in ThirstyAffiliates. ThirstyAffiliates plugin adds an icon on the toolbar of adding a new post or page. By clicking the ThirstyAffiliates icon, you can choose which link you want to insert, or you can search for an affiliate link. In one click, you can convert a keyword into the affiliate link, and if you have chosen to NoFollow and open the affiliate link in a new window, those settings are auto-applied.
Statistics: With statistics add-on (comes with Premium and Professional version), you can track how many clicks you have got for all affiliate links or for a particular affiliate link. This helps me to track affiliate link performance from one place.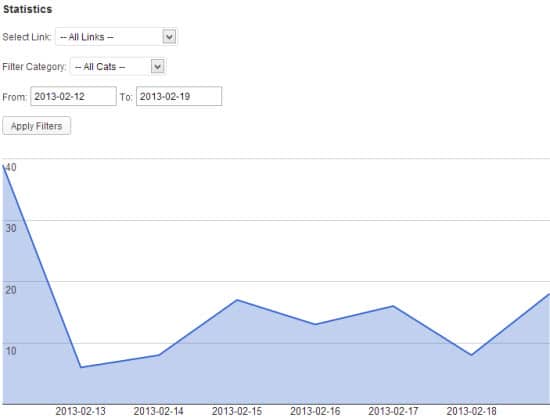 AutoLinker Addon: When I purchased ThirstyAffiliates auto-linking affiliate link feature was missing, and this was a negative thing for ThirstyAffiliates, but recently they have added AutoLinker Addon (comes with only Professional version), which can convert a particular keyword into the affiliate link sitewide. In this way, you can increase your affiliate earnings.
Support: When you buy a premium plugin, the first expectation is support, and ThirstyAffiliates win this area. Support of ThirstyAffiliates is awesome; you will get a quick response and also an accurate reply.
Pricing: Pricing of ThirstyAffiliates is reasonable I have bought some plugins for a $97 single site license. ThirstyAffiliates offers three options, and all are unlimited site options which is the best part. ThirstyAffiliates price starts from $39 for the Standard version, which can be okay for many bloggers, Premium version, which cost $59 and comes with two add-ons Statistics Addon, Importer Addon. The professional version comes with all features and also with AutoLinker Addon and costs $79.
Should you buy ThirstyAffiliates?
If you do some affiliate marketing on your blog, then you must use ThirstyAffiliates. It is a great product with good support, and you won't be disappointed with this plugin; yes, ThirstyAffiliates comes with a 60-day satisfaction guarantee.